Brownie
Here is a wonderful example of a battle where Brownie is worth his weight in gold... for me anyways.
Check out the video and then check out more about the card and the strategy I used for this battle.
---
Brownie
Brownie is one of the best cards in the earth splinter. Pound for pound, mana for mana, Brownie may be the best card in the game. At 1 Mana, delivering an extra speed and an extra melee attack to all friendly monsters while coming to the table with 1 attack (which his opportunity ability will turn into 2), 6 speed (which his quicken ability will turn into 7) and 3 health (which Lyanna Natura, if you are using her as a summoner) will turn into 4.
As a reward card still in print (for a very brief amount of time) you can pick him up for very cheap. I made sure to max my Brownie out while he was still in print, and cheap. Who knows what price this card will be fetching in a year!?
I throw Brownie into the mix whenever I am using green and have an extra mana to spare. He fits in really good when I am using some melee cards and want a bit more power to their punches.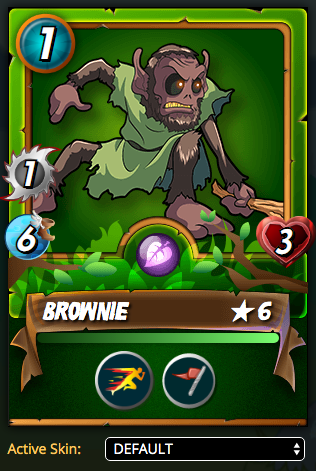 ---
Let's talk Strategy
Lord A is pretty good upfront in a melee mayhem battle. He has shield and thorns and if someone comes with magic, he also has void and reflect and a bunch of health. He is a great tank.
The Brownie is a great option for melee mayhem as he is fast, buffs the speed of the team, and boosts the melee attack of the team. His speed makes him very hard to hit as well. As you see in the video, the brownie dodged the opportunity hits from the opposing team keeping him in play the whole time.
The War Chaang was a good option combined with the Brownie because (at the level I have him at) he will do 5 damage per turn. Two ranged plus 3 melee. The other reason I put him in was the high amount of health that he has. He can take a bunch of hits and do a ton of damage.
It was a low mana battle, and I took a risk playing these 3 cards. The War Chaang was the main damage, Lord A was the defense (that kills those that hit it) and the brownie added an extra attack for the War Chaang and was great opportunity bait (that is really hard to hit). I got lucky with the 2 dodges that Brownie pulled, but they were calculated into the strategy.
He made a really smart play putting in the goblin sorcerer as his sneak attack is magic. War Chaang has the ability to retaliate on melee attacks (which is another reason he was a good option at the back). War Chaang's health was enough to weather the storm. Had I played an enchanted defender instead, the goblin would have killed him in 1 hit.
---
This post is intended to be an entry into this contest.
If you are looking to get into the game click here.
If you are looking to get into a guild that is growing and are serious about this game... keep an eye on Archmage Arius' Disciples. We are currently full but always looking to improve. I am on here enough, so you can drop me a line and read my last blog post and see if this guild is right for you.