This week's Splinterlands battle challenge theme is Serpent of Eld.
I don't often use the Serpent of Eld as I have some other cards I prefer to use as my tank, like the Sea Monster or Chain Golem. Today's daily quest was the water splinter and I had an up close and personal battle that I thought would be appropriate to try and use my Serpent of Eld.
The battle can be found here

##Rules were Armored Up and Up Close and Personal
With a 44 mana cap
Armored Up: Means all monsters have 2 armor in addition to their normal Armor stat.
Up Close and Personal: Means only monsters with melee attack may be used in battles.
Summoner Selection:
In this particular battle the summoner selection was not that important. I was trying to complete a water splinter daily quest and both of the water splinter summoners I own, Alric and Bortus, give magic buffs. This was a melee monster only ruleset so neither summoner would provide buffs that help me, so I went with Alric because he was listed first... Even though Bortus is a ninja turtle.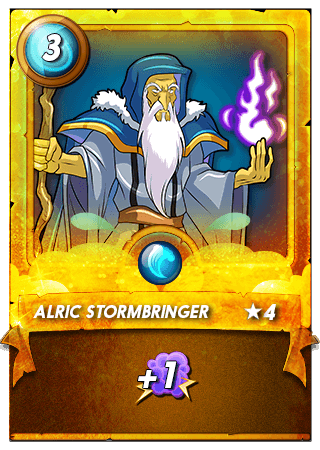 ---
Monster Selection
1rst Position: I choose the Serpent of Eld for this position because of the dodge ability. Dodge increases the chances of evading melee or ranged attacks, this is really useful in a ruleset where only melee attacks are allowed. The serpent also has a decent melee attack at 3, a decent amount of health at 6, and above average speed at 4 which will also help evade attacks.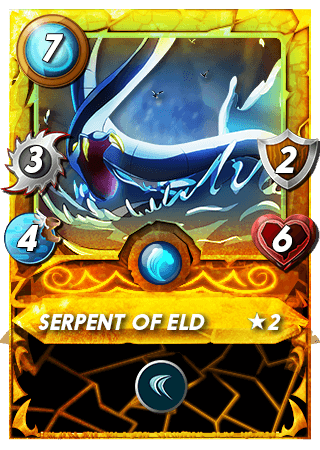 ---
2nd position: I used my Wave Runner in my second position because it has 2 melee, 5 health and the reach ability which allows it to attack from the second position. In hindsight I should have used my electric eels because they have the same stats but electric eels costs 1 mana less.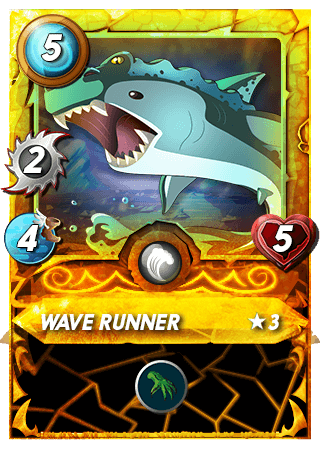 ---
3rd position: I put my feasting seaweed in this position to protect it from the frontal attacks and I wanted to utilize the opportunity ability. With a 3 attack and opportunity this is a nice card that will do decent damage to the weakest of my opponents monsters.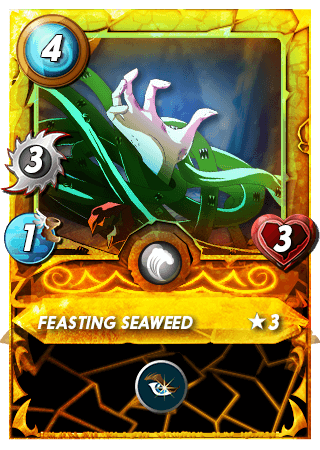 ---
4th Position:
I choose the Parasitic Growth for position 4 because it is a little bit of a weaker monster in terms of health and I wanted to make sure it was protected from frontal attacks. I used the Parasitic Growth for the same reason as the Feasting Seaweed in that it has opportunity. 2 Monsters with opportunity really slash my opponents team.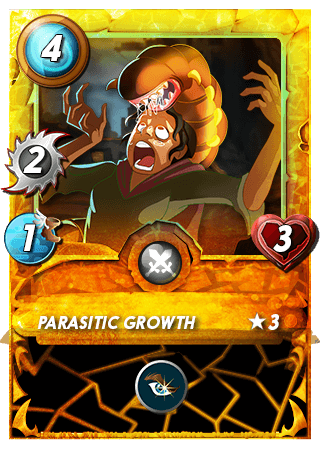 ---
5th Position:
I choose the kraken for this position because it has taunt and demoralize. I was expecting my opponent to use some monsters with sneak and or opportunity and was banking on the taunt ability to draw the attacks to my kraken. Demoralize is a great ability for an Up Close and Personal rule because it weakens the melee attack of my opponents by 1.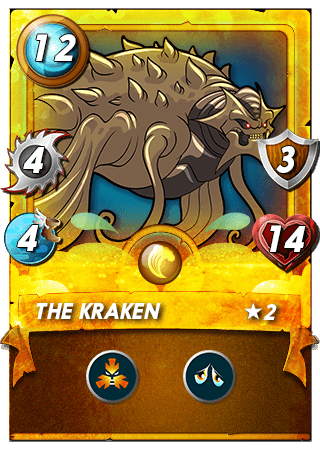 ---
6th Position
I picked War Chaang as my rear monster because it has retaliate which gives it the chance of attacking its attacker. This is a great ability for the rear during an up close and personal rule because I have a greater chance of having my opponent use the sneak ability. I also like the ranged attack of the War Chaang because it has the potential to land an attack on my opponents tank every round.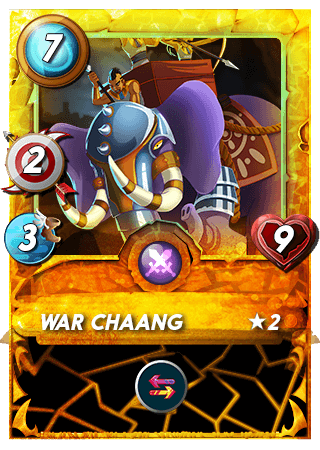 Conclusion:
My strategy worked pretty well for this battle. The Serpent of Eld made it through 2 of my opponents tanks. I was surprised it did so well against my opponents Goblin Mech.

Next time I try this line up I will put the Kraken in the 3rd position instead of the 5th to protect my opportunity monsters better and make them last longer.