Greetings, people from @steemmonsters, @splinterlands, @steem-ace and @battlegames
Today, exactly now, rest just 10.495 packs to a new card appear and we receive our airdrop.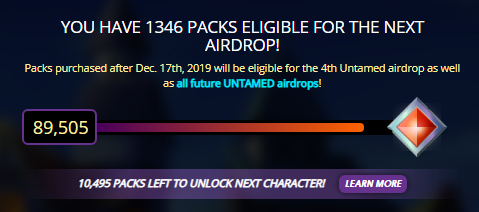 I know that 10,000 packs is quite a lot, but at the pace I'm seeing, I imagine that in another week we will be able to receive the new card on the airdrop.
I confess that I'm a little excited, because I have 1346 packs eligible for the next aidrop.
What card will come in this airdrop ?? Will it be another dragon splinter card ?? It will be more of a summoner. I don't know how this scheme works with all these 14 aidrops that are occurring, but, I think they are just dragon cards. I imagine that another good summoner must be coming around !!!
In those 1346 packs that I have eligible, I imagine that at least one gold card will come. I hope it has a good card value, since, I usually sell all the gold cards I win and just stay with the "normal" ones.
So that's it folks, the number of packs that we need to buy for the next card distribution is almost running out. Let's see what comes !!
Thanks and good game to all !!!