Greetings, people
I am very happy. Today, i reach finally the league champion 2. Its my better result playing steemmonsters game.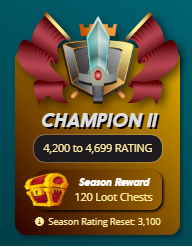 The interesting thing about this is that I will now receive 120 cards at the end of the season. Maybe I still can't reach champion 1 and receive 150 right. I find it very difficult, but it is a goal to try.
I wish all the players of SteemMonsters a happy father's day to anyone who is a father and good game to all !!!
I don't know how it is in your country, but today, here in Brazil, Father's Day is celebrated.
To the next!!