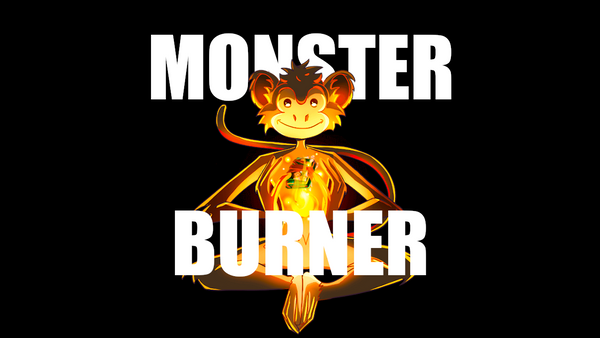 The purpose of this post is to introduce and answer some basic questions about a new project called Monster Burner.
What is Monster Burner?
Monster Burner is a project created to increase the value of your investment in Splinterlands by decreasing the supply of (burning) certain cards. Maintaining the balance between supply and demand will help protect against large price drops and has the potential to increase the value of your Splinterlands cards and stimulate the market.
Who are we?
We are Chris (@threejay) and Mike (@citrus-soap), two Splinterland Mavericks who enjoy the game and all things decentralized.
How does it work?
Each day, a post will be created on both Hive and Steem with Splinterlands news and Monster Burner stats. All liquid payouts from each post will be used to buy and burn copies of a specific Splinterland card, to be chosen by the community on each post. All of the DEC received from the burns will go right back into the community and never dumped on the market.
How do we return 100% of the DEC back into the community?
Host Splinterlands Tournaments, hopefully at least one every week.
Create a free guild for new players with no donation requirements.
Promotions, events, and giveaways.
Why burn these beautiful cards?
Decreasing the total supply of a card will bring up the value in the long term. If supply is decreased and demand stays constant the value of the card should increase. Some of the older reward cards especially were over-printed and are currently under-valuded.
How do we decide which cards to burn?
We don't choose the cards, you do. In each post, we will be asking for you to choose one common card from that day's featured splinter, plus one rare card at the end of the week. Each day of the week will feature one splinter on a fixed schedule. Follow the instructions on the daily post to cast your vote.
Monday = Fire
Tuesday = Water
Wednesday = Earth
Thursday = Life
Friday = Death
Saturday = Neutral
Sunday = Rare
What will the Steem/Hive power from these posts be used for?
For now, nothing. We have plans for another project that will make use of the voting power in a fun way that will benefit the Splinterlands community, so stay tuned.
How can I support the project?
The best way is to add @monster-burner to your auto-vote list on https://steemauto.com/ and https://hive.vote/, especially if you have a curation trail.
Vote for the cards that you want to be burned in each post.
Manual votes, re-blogs, and any other forms of spreading the word are also much appreciated.
Is there any way to earn from supporting this project?
The main goal of this project is to protect and grow your Splinterlands investment, not to be a direct earning platform. You can of course earn via curation, and possibly delegation further down the line.
Is this an official Splinterlands project?
No, but we will certainly value any input from the Splinterlands team and would love to collaborate if the opportunity arises.
We hope with enough love and support, this project will grow into something special and allow us to help the newest of players all the way up to the OG players. Any further questions, concerns, feedback, or project ideas please jump into our discord and don't be shy.
https://discord.gg/eXuVTwk