**# Starter Pack Expirament Status Update 26 | Daily Rewards | Card Sales | League Status |
Into Post, Update 1,Update 2,Update 3 Update 4, Update 5, Update 6, Update 7, Update 8, Update 9, Update 10. Update 11, Update 12, Update 13, Update 14, Update 15, Update 16, Update 17, Update 18, Update 19, Update 20, Update 21, Update 22, Update 23 Update 24, Update 25
This project is to see what is possible from a starter deck only, with no investment other that what is earned in game. The project was started on 1/9/2019 and is still running strong.
Recap of prior season ending 6/15/2019
TLDR
Season Status: Gold 2 - New high for me
Missed a few days rewards due to a business trip. First ever since the start.
DEC Balance: 2500? -
Potions/Orbs: None
Daily Rewards from last season 54
Highlights - High value cards
GOLD Goblin Mech
EPIC Phanton Soldier
EPIC Manticore
EPIC Brownie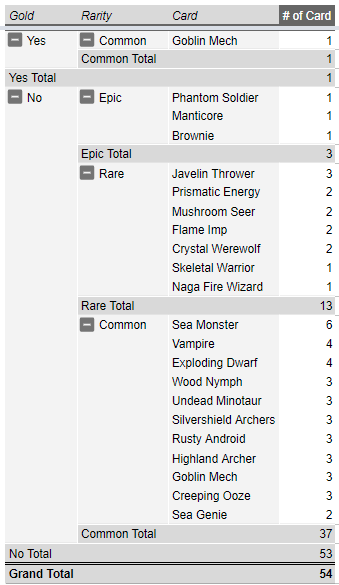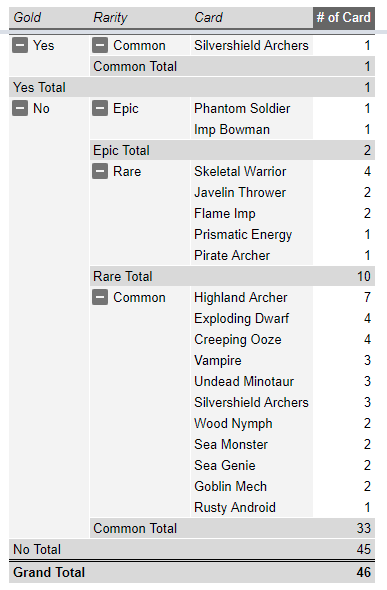 Gold Foil and EPICs, with the increased prices these are really helping build out my deck, but the increased prices has also hurt getting some of the better cards that used to be so cheap!
Season Rewards from 6/15/2019: 26 Cards
Highlights - High value cards
EPIC Brownie
EPIC Daria Dragonscale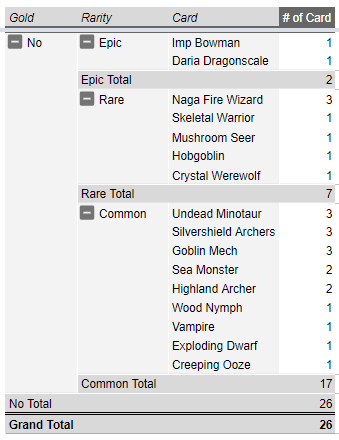 Life Time Deck Hit Rate

Staying pretty consistent over time of around 0.8% Legendary - I can't complain!! Pretty amazing to think I have pulled 786 cards from playing... all helping to get better everyday.
Sold Cards 87 | 7.931 STEEM | 0.676 SBD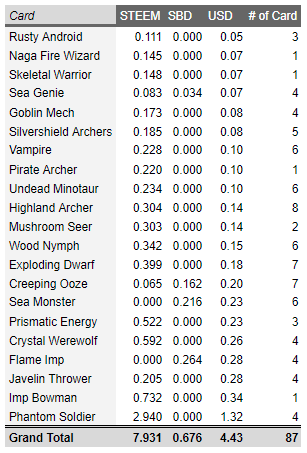 Purchased Cards 0
I need to buy some, but building up steem for the moment.
Total Bought/Sold and Balances
#Cards Sold: 632
STEEM Balance: 10.862
SBD Balance: 0.676
DEC Balance ~4500



!


Total Award Cards

786 Cards
6 Legendary
13 Gold Foils





Dark Energy Crystals

This is great, I keep earning more and more. I want to gamble for potion or orb, but I think he best I can do is just sell for STEEM and buy cards. There are so many new Promo cards, I got to get some to help me out.

Summary.

DEC keeps building, I am close to 4500 at the time of this post, that is about 11 STEEM ,and while cards have gone way up, I think I am still way ahead!

If you want me to write something about playing from a starter deck let me know.

If you know someone new to SM / Splinterlands feel free to show them this series to show what you can do over time to a deck if you focus on it.

Check out my primary account @senstless progress - constant investment and hoping for glory!!

Want to get in the game - join via my link!

https://steemmonsters.com?ref=senstless

Monster On!


Follow me on Weku
Follow me on Steemit
Follow me on Whaleshares
Follow me on Trybe