In this part one of many Orb opening series, I am going to open an orb and show off the cards I get inside and talk a little about each card.
The orbs can be bought for around 2400 DEC and DEC can be earned in-game so you can earn these orbs to open just by playing or you can buy DEC on the steem-engine exchange.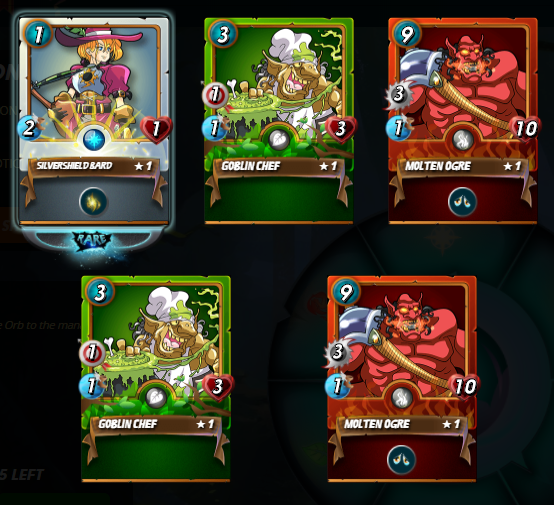 Off to orb one, In each orb they are just like the packs and you get 5 cards and have a chance to get a common, rare, epic, legendary and these can be regular cards or they can be gold edition cards.
In this first Orb that I have opened, I was able to get one rare and 4 commons. I ended up getting 2 life splinters and 2 fire splinters that are both common. The two life splinters are the same card with a GOLBIN CHEF.
The GOBLIN CHEF is an alright common that only costs 3 mana and has 3 health and 1 range damage. The next splinter I got was the also another double in the same pack, The MOLTEN ORGE is a red splinter that is a high costing common that is 9 mana with high health at 10 and 3 melee damage. Molten Orge has the ability demoralize, this ability reduces Melee damage of all Monsters.
The fifth and final card I got out of this orb, Silversheild Bard is a rare life splinter that is very low costing mana with only 1. with it only costing one it makes sense that it only has 1 health. Silversheild Bard has the ability cleanse, Cleanse removes all negative effects on the monster on the friendly team.

Time for another splinterlands giveaway, This contest #4 is going to follow the same as the other 3 I had done.
leave in comments what you favourite card from promo/ orbs that are a fire splinter
Have fun playing steemmonsters / splinterlands

Want a chance to earn some DEC than give this post a resteemed and leave in the comments that you have resteemed this post.
Have you went and checked out my other giveaway post? you can find them in this post here