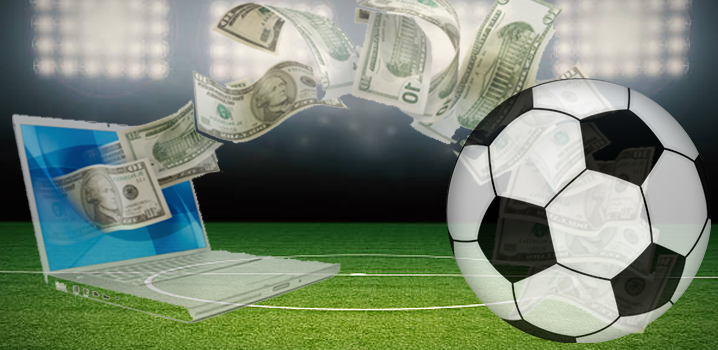 Source
Several weeks ago BetScorum launched on the Scorum platform and I couldn't be happier with the experience. The betting platform has become a daily fixture in my morning routines and has been a source of a great deal of fun through the day. The betting fun and watching the games is lots of fun but adding to the experience is the discussion and banter on the SBC discord. The Scorum Betting Community has provided a place to discuss odds and compare the analysis of upcoming games with other bettors. It has also been a fun place to banter and call your shot. Making things even more fun is how exciting the games have been. The scoring has been up in the EPL and that makes for great drama and action. Between watching the game, my Betscorum page, updating scores, and SBC chat it feels like I'm right in the thick of the games.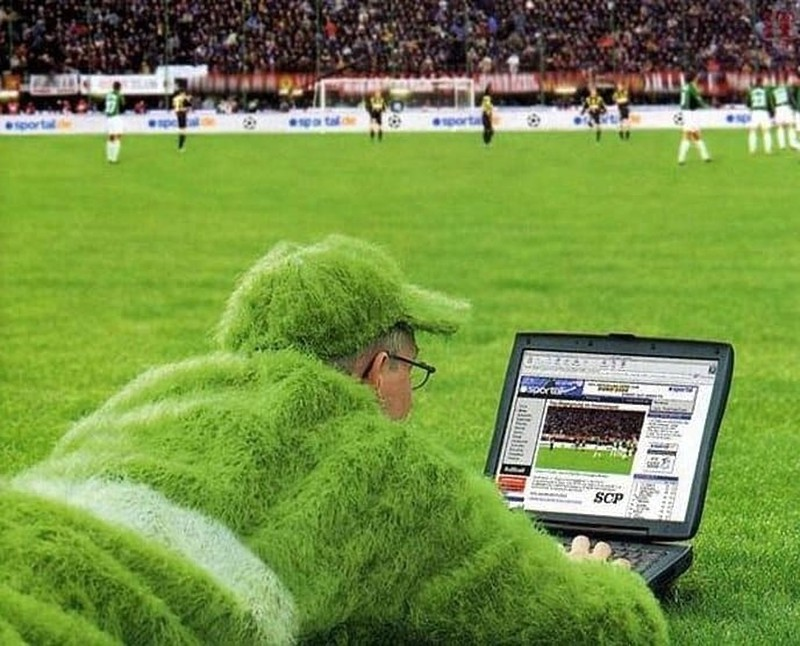 Source
I have been lucky in my betting so far and over the course of the past few weeks have been able to turn a profit. I am still betting small amounts of SCR until I start to feel comfortable with my betting so the profits might seem small but they are great considering what I am betting. As of today, I have profited 30 SCR in the past two weeks. I have had most of my success with EPL betting but have seen some luck in the Belgium League as well. I am very hit and miss in the Turkish League and have been about 50-50 betting on La Liga. My average bet is between 2 and 5 SCR so far with the occasional 10 SCR wager. I see some other betting 50, 100 and more and I think about the what ifs but I have remained committed to learning more first.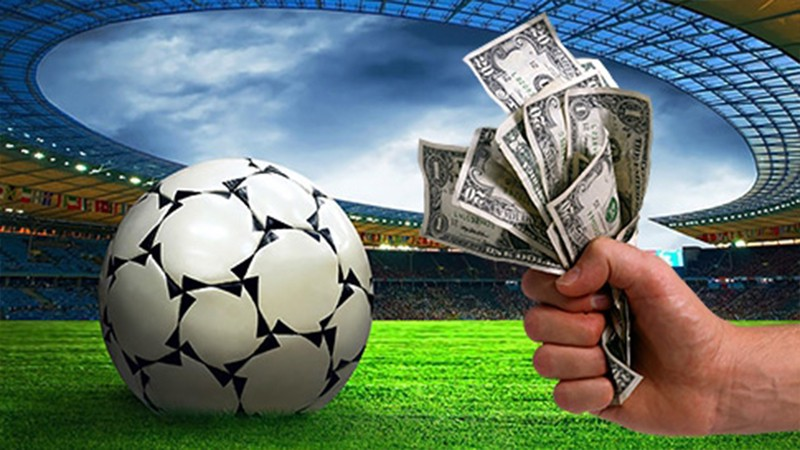 Source
The reason for my slow entry into betting on Bet Scorum is that I am still a pretty big newbie when it comes to soccer. I have always been a big fan of betting and have been playing American sports for a long time. I have been having lots of conversations lately about Bet Scorum and betting on soccer. I think I have even been getting some of my non-crypto friends interested in checking out the platform. This is a huge move in a positive direction. I have struggled to gain a lot of traction when it comes to getting my closest friends and colleagues interested in the crypto movement. Up until now, I have been "that guy" when it comes to the crypto world. Scorum and Bet Scorum appears to be a great jumping in point for some of these doubters.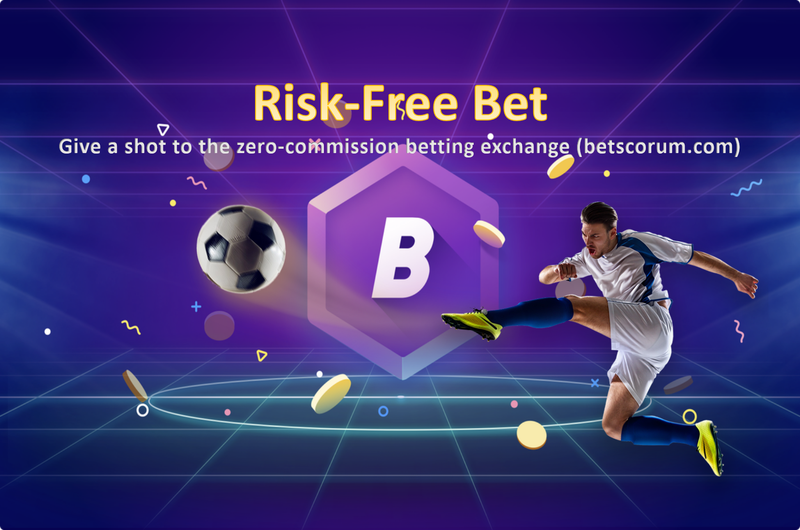 Source
One of the most common questions I have been asked is how to make bets. While I have lots of friends that are very familiar with the sports betting world, there are several who are very new to it. There is so much that can go into making your selections when betting on sports. From picking the teams you think are going to win and breaking down the odds and finding the right odds for each selection, there is a lot of work that can and should go into making your sports betting selections. There are even some extremely complex betting algorithms that have been created to help make the "right" selections. This can be very overwhelming for people who are new to sports betting. New people entering into the betting space need to see it as entertainment and fun with a chance of making some money. At the same time, people should never just randomly pick games without putting any thought into their selections.




Source
I am far from an expert on betting but I feel that there is a bare minimum that people should do when making their sports selections. Any bet should be made based on some minimum information and some logic behind the decision. Here are some simple and easy steps you can take to make sure you are doing due diligence when looking at a particular game and making your picks.
Records and Venue
The first thing that you should look at when considering a bet on a game is the records of the two teams involved. If you are making a bet on a game and you haven't even taken the time to look at the records of the teams playing, then you really have no business making bets on any platform and you are more than likely going to lose your shirt. A teams record can tell you a lot. As they say, the cream rises to the top and over the course of a season, most teams tend to be consistent in their results. Looking at the schedule and seeing who the home team is is very important. Teams can have very different records playing at home and on the road. There are lots of times when you can possibly get good odds on a weaker team that is strong at home.
Standings
A look at the standing will tell you how the two teams compare to each other. This step should be taken at the same time as you are looking at the team records. When you see where teams sit in relation to the other teams in their league you can get a clearer picture. This works well for the top and bottom of the standings but there is usually a large middle section where teams are more similar in terms of league standings and records.



Screenshot of the Premier League Site table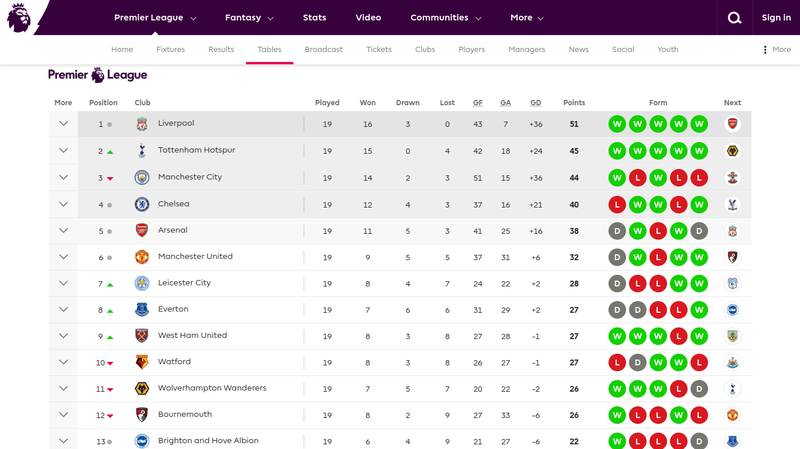 Source
Scoring - Goals For and Against
This is one of the most important things that I look at when deciding how to bet on a game. This stat can tell you a teams strengths and weaknesses. A record does not always tell the whole story but a teams ability to score and defend tells so much. I use this stat for two things. 1st, it separates the teams that are close int he standing and in records. A team's plus/minus can be a difference maker when trying to chose which side to lay a bet on. 2nd, I like to use the scoring numbers to determine if there will be a lot of goals in a game. This can help you to choose the over/under bet for a game. There can be a lot of money made on the number of goals bets. When teams have trouble scoring, it can also help when looking for games that have potential to end in a draw in soccer. Goals against tell me a lot about a teams chances to win as well. If they are able to defend well, then they don't need to score a lot to win games.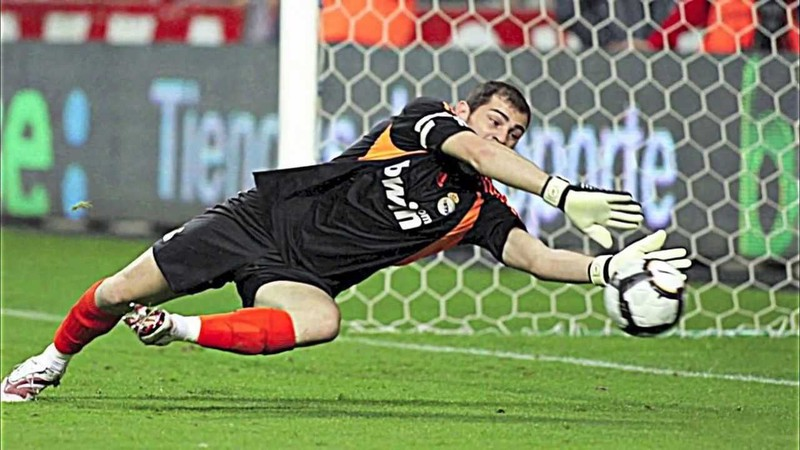 Source
Previous Games and Streaks
Finally, I think it is important to take a look at each team's previous games. I like to go back about ten games and look at how they have been trending. When you look at a teams record you see the entire season as one whole. A lot can change over the course of a season and a team can go on several different streaks. A team that starts out winning big at the start of a season can fall into a tailspin and go on a big losing streak and vice versa. Man City is a great example of this right now as they were on fire this season but have been on a losing streak that has them falling down the standings. Sports can be very streaky and if you can catch the wave on the right tsunami, you can make a lot of money. Big money was made just this weekend when Leicester City beat Man City.
I also take a close look at the previous games between the two teams. This tells me a great deal about how the teams compete against each other and how recent matches have gone. There can be situations where a team just has another teams number and seems to be able to win even when they are not necessarily the better team. There are also many occasions where you find good odds on a team that is in a revenge situation. Maybe they just lost a game to the other team in the last match and this is a chance for them to get a win back.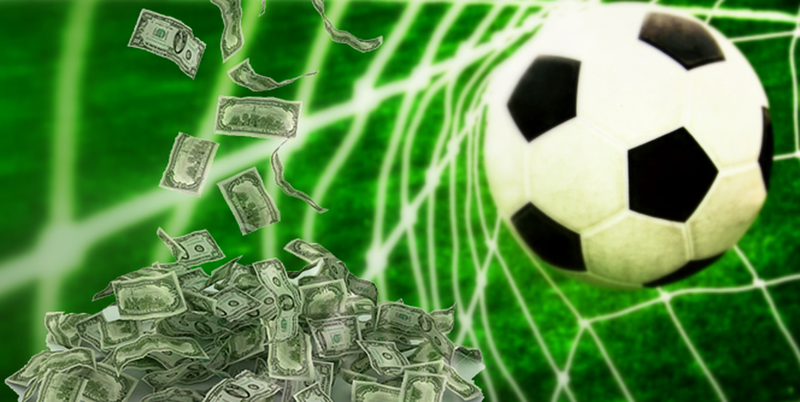 Source
There you have it. My sports betting basics for newbies. I know that there are many people that want to bet on their favourite teams and that is perfectly ok as well. I often throw bets down on the teams that I cheer for but when I do it, I do it for fun. If the odds are against me then I will make sure that my bets are small. The streets are paved with the money of bettors that have lost everything betting with their foolish pride. Embarrassments have also been had by those who seek to bet big on games without taking the time to at least take a small look at the game that they are betting on.
My final word is this: Only bet with money that you are willing to lose. Betting should be something that should be fun, even for the most professional bettor. If you are playing with money that you can't afford to lose and that is needed for your life and your family, then you should simply not bet at all. Having said that, if you are responsible and play smart, sports betting can an incredible amount of fun. Check out the link I shared above and come join the Scorum Betting Community. There is so much that you can learn from the great members there and it only enhances the betting experience.
Click on the coin to join our Discord Chat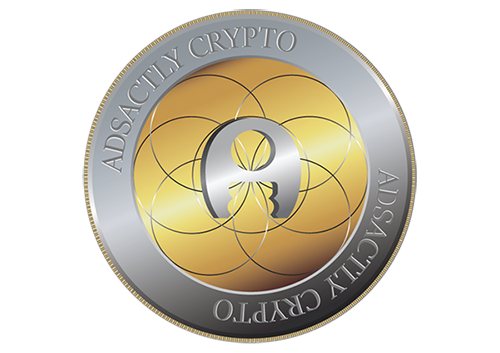 ---
Vote @adsactly-witness for Steem witness!
Witness proposal is here:



Go To Steem Witness Page
In the bottom of the page type: adsactly-witness and press vote.



Use small letters and no "@" sign. Or, click here to vote directly!
Thank you!

---