Test Match that changed the way cricket was played.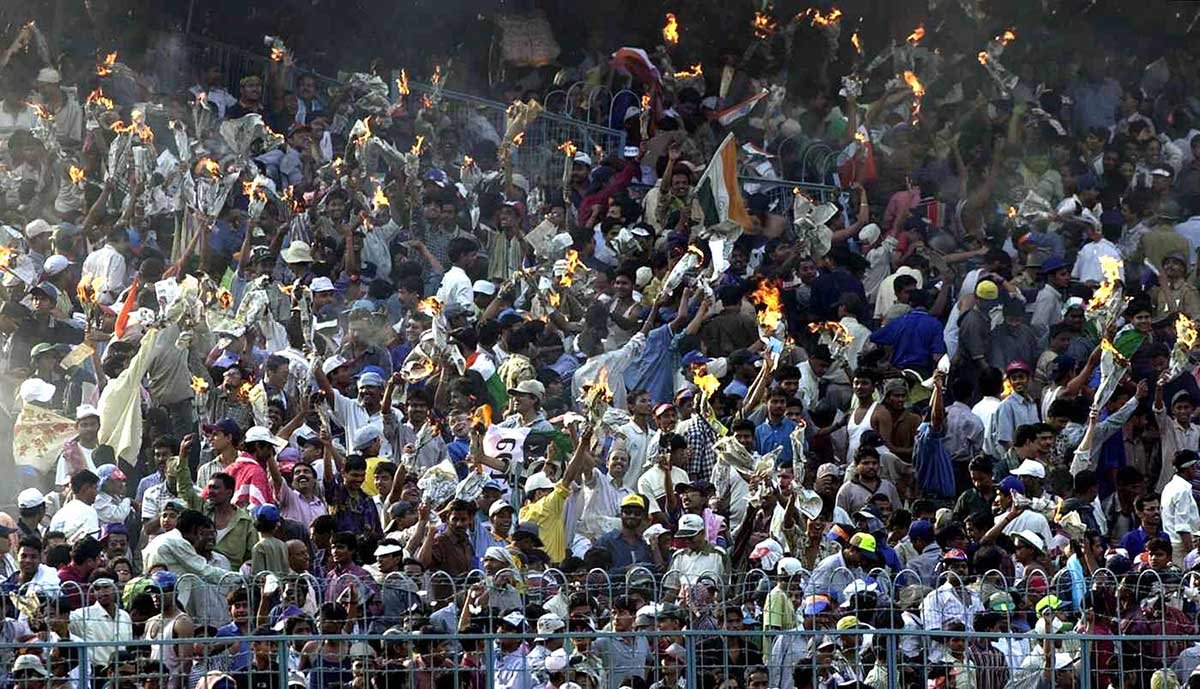 source: Cricket network
It was in the year 2000 when Cricket world noticed the biggest setback of all time involving South African Captain Hansie Cronje and few other Indian players in the biggest match-fixing scandal of all time. It was shocking as the names of top players were revealed and the whole world was in shock and not ready to accept this nonsense. In the nation like India where cricket is a considered a religion, people were not ready to take this as they started their protest and as a result, few leading players were thrown out of the team.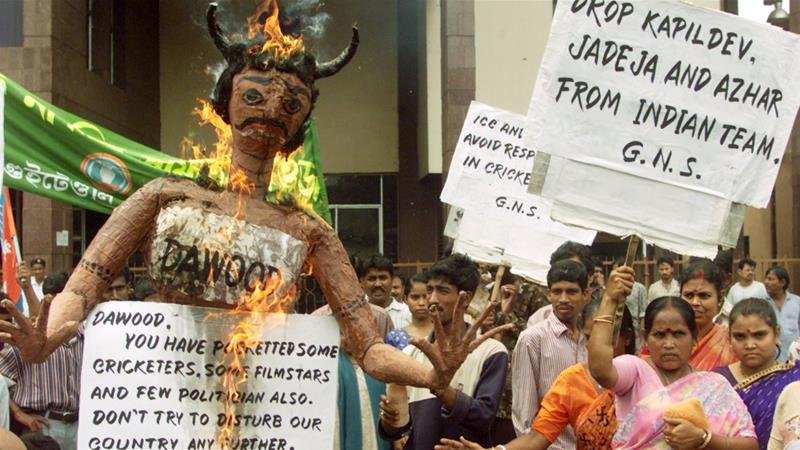 Source: Aljazeera
Indian Team was down and out and was in no mood to battle against anyone at that point in time. The match-fixing scandal had shaken the faith of the fans while India was struggling to win home and away. The whole world was pointing fingers and India was on backfoot but expert says Cricket is a funny game and it can take everything from you or it can give everything to you. As this scandal was in full swing Australia had to tour India in Early 2001 and India was not at all prepared but at the same time, Australian's were in no mood to let this chance go where they can defeat India in India. Australia under the captaincy of Steve Waugh arrived in India on the back of 15 consecutive Test victories.
I still remember I was in class 8th and my exams were about to start from 17th March and Border Gavaskar trophy was starting from 27th February. I was eagerly waiting for this contest as India were looking to prove a point this time but it was against the mighty Australian's who will give them the hardest time they can ever imagine. If you ask me I rate that Australian team as the strongest in all departments. In bowling, they had Mcgrath, Fleming, Gillespie and the master Shane Warne. I don't think that any bowling lineup could match up against this at that time and also they had best batting lineup any captain can ask for as to open the innings they had Slater and Hayden and then in the middle order Langer, Mark Waugh, Steve Waugh, and Ponting while Gilchrist was the keeper.
On the other hands Indian's were relying on spin and to lead their attack they had Harbhajan Singh who was still very inexperienced. In the batting lineup, Indian's were depended on the experienced Tendulkar, Dravid, and Ganguly who were still not completely established players at that point of time.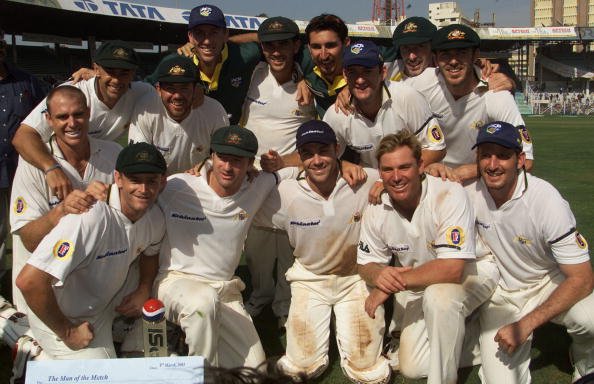 source: sportskeeda
First test match started at Mumbai on 27th February. The Australians won the match by 10 wickets in just 3 days and Indian players and fans were stunned as India were playing on their home soil and it was not at all acceptable. Adam Gilchrist was judged the player of the match for his blistering century in the first innings. Sachin Tendulkar did manage to score a half-century in both the innings but it was not sufficient. The Aussies were eyeing clean sweep and India were completely down and out. The second test was to be played at Kolkata which is also the home ground of Sourav Ganguly and India were looking for their revenge but was it possible? Let's find out how these five days marked the new era for Indian Cricket.
The second test started on 11th March and again Australia won the toss but this time they elected to bat first. Both teams made few changes as Australia played Kasprowicz in place of Fleming while India played Raju in place of Sanghvi. My final exams were about to begin in 5 days time but still, I was glued to television hiding from my dad who was shouting at me saying, ' Concentrate on your studies, cricket will not help in passing your exams and this Indian team is useless they can never beat the current Australian team.' After hearing this I again switched on television as Australian innings were about to begin and I was waiting for some magic.
DAY 1
As expected Australians were in no mood to relax as Michael Slater and Matthew Hayden put on an opening stand of 103 runs pushing India on the backfoot in the very first session. In the second session, Indian bowlers did fight back but could not pick wickets while the third session was crucial as Harbhajan Singh claimed hattrick, taking the successive wickets of Ponting, Gilchrist, and Warne while Australia finished the day at 291 for 8 and captain Steve Waugh was still at the crease. The Indian offspinner picked up 5 wickets that day pushing Australian's on the backfoot.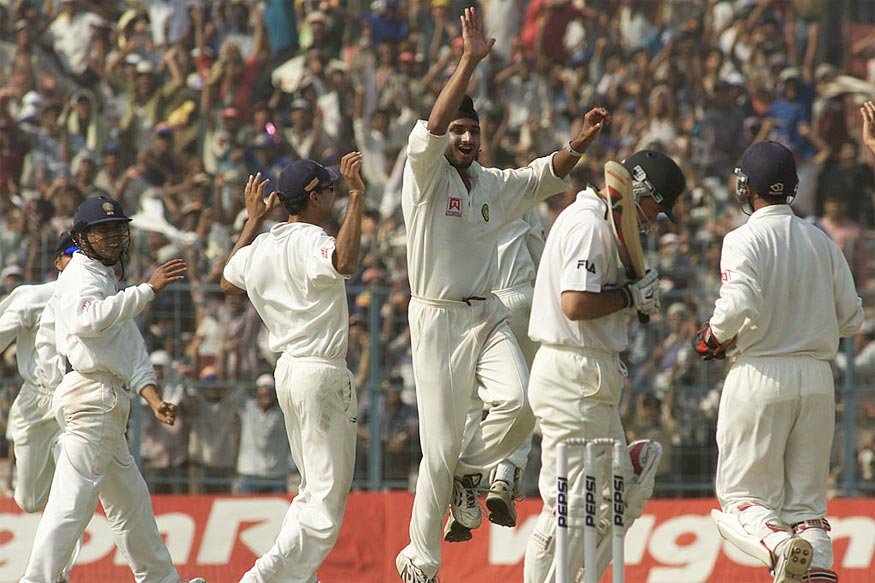 source: all india roundup
DAY 2
The Australians came out to bat with the intention to score as much as possible. He was beautifully supported by Jason Gillespie as the duo put on record 133 run partnership for the ninth wicket and Captain got to his 25th international century. Finally, Australia finished their innings at a score of 445 which was again looking too big for this Indian batting lineup. As expected India batting lineup again failed drastically. As dominated by Australians in the first two sessions, India came out to bat, only to witness a splendid batting collapse. India ended their day at 128/8 with VVS Laxman batting beautifully.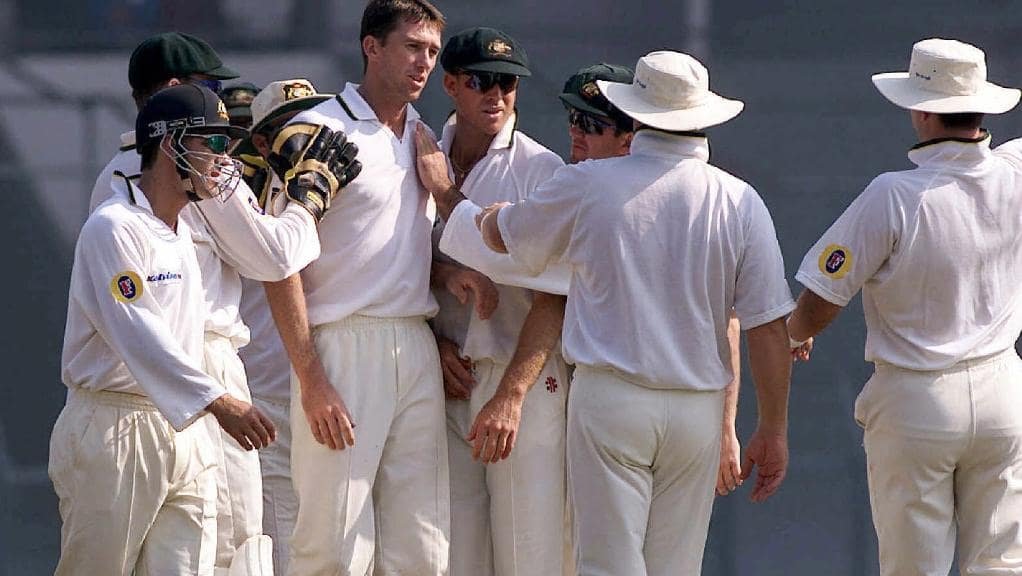 source: daily telepgraph
DAY 3
The beginning of the fightback started from this day. India was about to surrender as they ended day two. But one man who didn't want to surrender was VVS Laxman who went on o score 59 runs before Indian innings folded at the score of 171. India was trailing by massive 274 runs, it was a lost battle when Australia decided to enforce a follow-on. The Indian openers started their second innings with more determination as they put on 52 runs for the first wicket before Laxman walked in to bat at number 3 this time. Also known as Mr. Elegant, Laxman started his innings from where he left. I still cannot forget his wristy flicks which he can play to the balls outside off stump. He started with some superb cover drives which were so beautiful o see that I could have bunked my exam for watching those. As Laxman was hitting boundaries, his partners have started changing as first Das departed and then the master blaster Sachin Tendulkar. He was given good support by Sourav Ganguly but even he could not stay for longer and then came Rahul Dravid who named wall because of his superb defense technique. When Dravid came in to bat score read 232 for 4. India finished the day at 254 for 4, still trailing by 20 runs. Laxman was batting on 109 and Dravid was supporting him.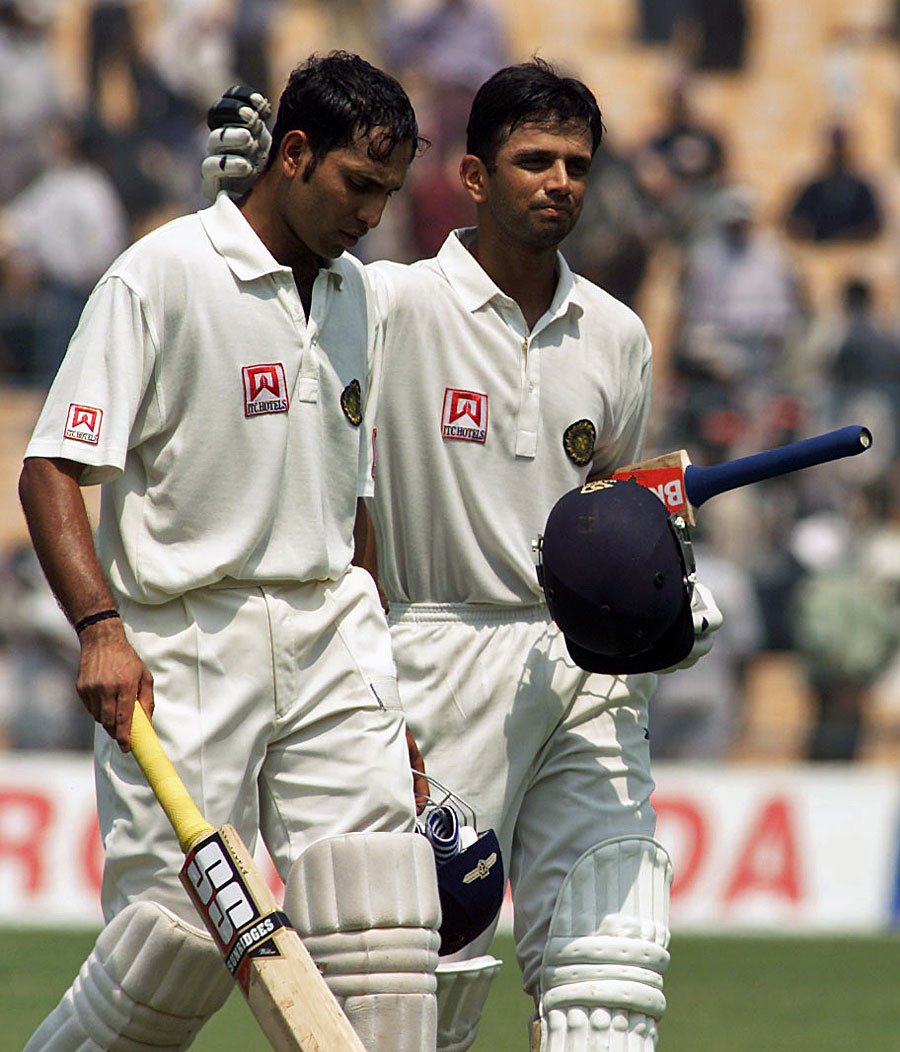 image source: kolkata knight riders
DAY 4
March 14, 2001, The day of Miracle. I call it the Day of Miracle as Miracle did happen on this day. Indians were still on the backfoot trying to save the test match and earn some kind of respect. On the other hand, Aussies were trying hard to finish the match on the fourth day itself. The two Indians started their innings were cautious. They were continuously rotating strike and whenever Laxman found any opportunity he didn't let it go as he converted them into boundaries. After the first session, India added 122 runs and the scoreboard read 376 for 4. The Australians still felt that if they could get just one wicket hen they can wrap up the Indian innings very quickly. But these two batsmen were in no mood to let this chance go as they kept on playing their shots and scoreboard kept ticking. At tea, the score reached 491 and these two were still battling. Laxman was batting at 227 and Dravid also completed his century and he was batting at 109 at the stroke of tea. The last session started and Australian bowlers were tired enough of these two batsmen and wanted the day to end quickly while Laxman and Dravid kept their cool and kept on scoring runs as they remained unbeaten whole day and Indian score reached from 252 for 4 to 589 for 4. The two batsmen added close to 350 runs in a single day and that too without giving any chance to the Australian bowler. Laxman was batting at 275 while Dravid was on the crease at 155 run mark. The whole world was under shock. No one ever dreamed of this. The Australians were stunned and were eyeing dead end on their way. They were not able to believe that they didn't take a single wicket whole day and from leading by 20 runs now they are trailing by 315 runs. This day will always be remembered as the day of Miracle.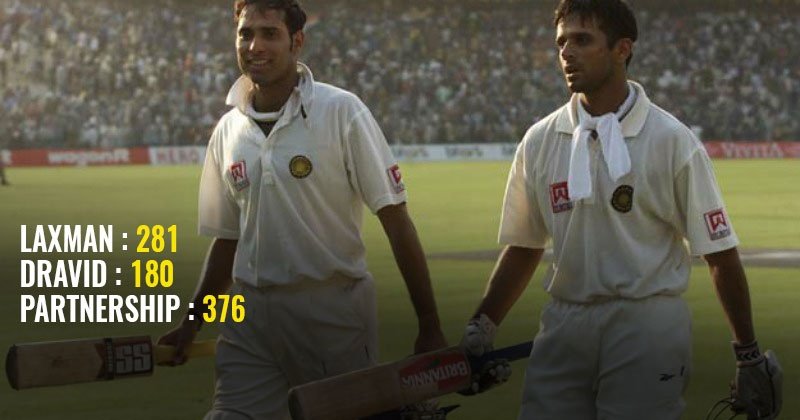 source: Indiatimes
DAY 5
The last day started with Laxman and Dravid came out to bat again. The match has turned on his head. Laxman went on to score a majestic 281 run while Dravid scored 180 runs before getting out. As soon as they both departed India declared their innings at 657 for 7 and also it was the second highest test score at that time and don't forget India were forced to follow on. Indians were completely out of danger now as they set a target of 384 runs and Australia had to bat 75 overs for chasing. This score was never chased before in the history of the game. Even though Indians were on top but Aussies are known for their never give up attitude. They scored 166 for 3 in the first 45 overs. The test was moving in the direction of a draw as only 30 overs were left and Australians still had 7 wickets in hand. Steve Waugh was defending beautifully and a draw was on the cards. But as they say, cricket is a funny game. Then came something special from the Indian off-spinner Harbhajan Singh. He dismissed Ponting and Waugh in quick succession and turned the game around once again in India's favor. Then it was the turn of Little Master Sachin Tendulkar who is often known for his magic with the ball. Sachin managed to dismiss Gilchrist on his very first delivery and then went on to pick wickets of Shane Warne and Hayden in quick succession. Then from the other end, Bhajji came back to pick 2 more and folding the Australian innings at 212 with 6.3 overs to spare.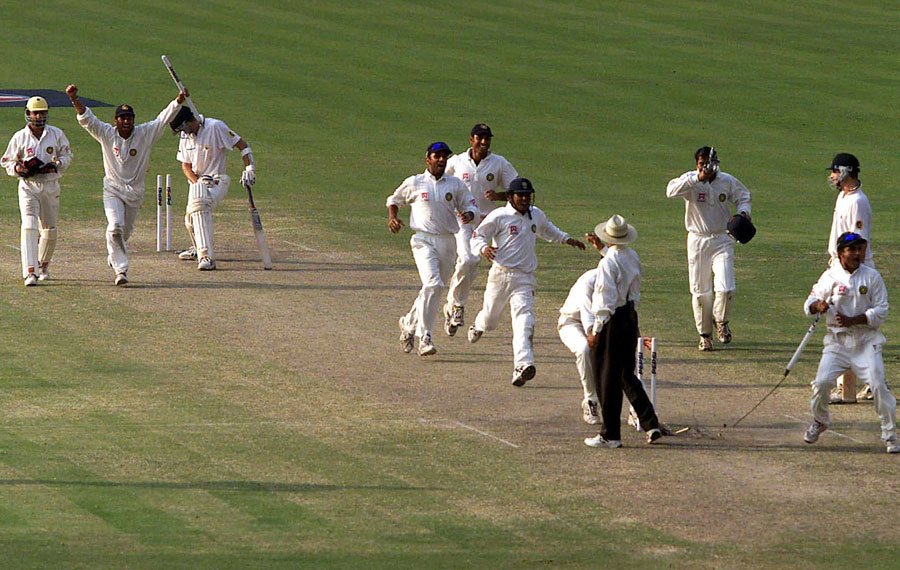 source: espncricinfo
India had won an impossible match by a huge margin of 171 runs. The Indians then went on to beat the Aussies again at Chennai and sealing the series 2-1. This win over Australia also put an end to Australia's dominance in the world cricket.