Photo by munaa
---
Today, Friday, January 5, 2018, a big step taken by Aceh United Football Club. AUFC Management officially recruits new players to prepare for the League of Indonesia or League 2. Aceh United is a promotional club. They last year played in League 3 (level 3 Liga Indonesia). In the first season, they immediately occupy the third position at the end of the competition.
Due to the 3rd champion, they are entitled to promotion to the second level or to League 2. Welcoming the 2nd League which will be rolling in March 2018, AUFC management is serious enough to buy players to strengthen the team. Therefore, they are looking for new players. Generally Aceh players who play in clubs League 1 and League 2 outside Aceh or in other provinces in Indonesia.
New players who have agreed to play for Aceh United 2018 season are Wahyudi (Kepri Jaya FC), Busairi (Borneo FC), Syahrizal (Celebest FC), Zikri Akbar (Mitra Kukar), Aulia Hidayat (Borneo FC), Reza Fahlevi (Bali United ), Ferry Sisianto (PS TNI), Ferry Komul (Persiraja Banda Aceh), Defri Riski (PSPS Riau), Syakir Sulaiman (Bali United), Zoelfadhly (Persiraja), Brian Muharram (Persikad Depok) and Hendra Sandi Gunawan (Persiba Balikpapan).
From the names above there are three former national team players Syahrizal Syahbuddin, Syakir Sulaiman (former U-23 national team) and Hendra Sandi Gunawan (former U-19 national team).
Aceh United will begin training on Monday 8th January 2018 at Harapan Bangsa Stadium, Lhong Raya. The initial training will be led by assistant coach, Effendi HT. Meanwhile, Aceh United head coach Simon Pablo Elissetche from Chile will arrive in Aceh on 14 January.
Comment President Club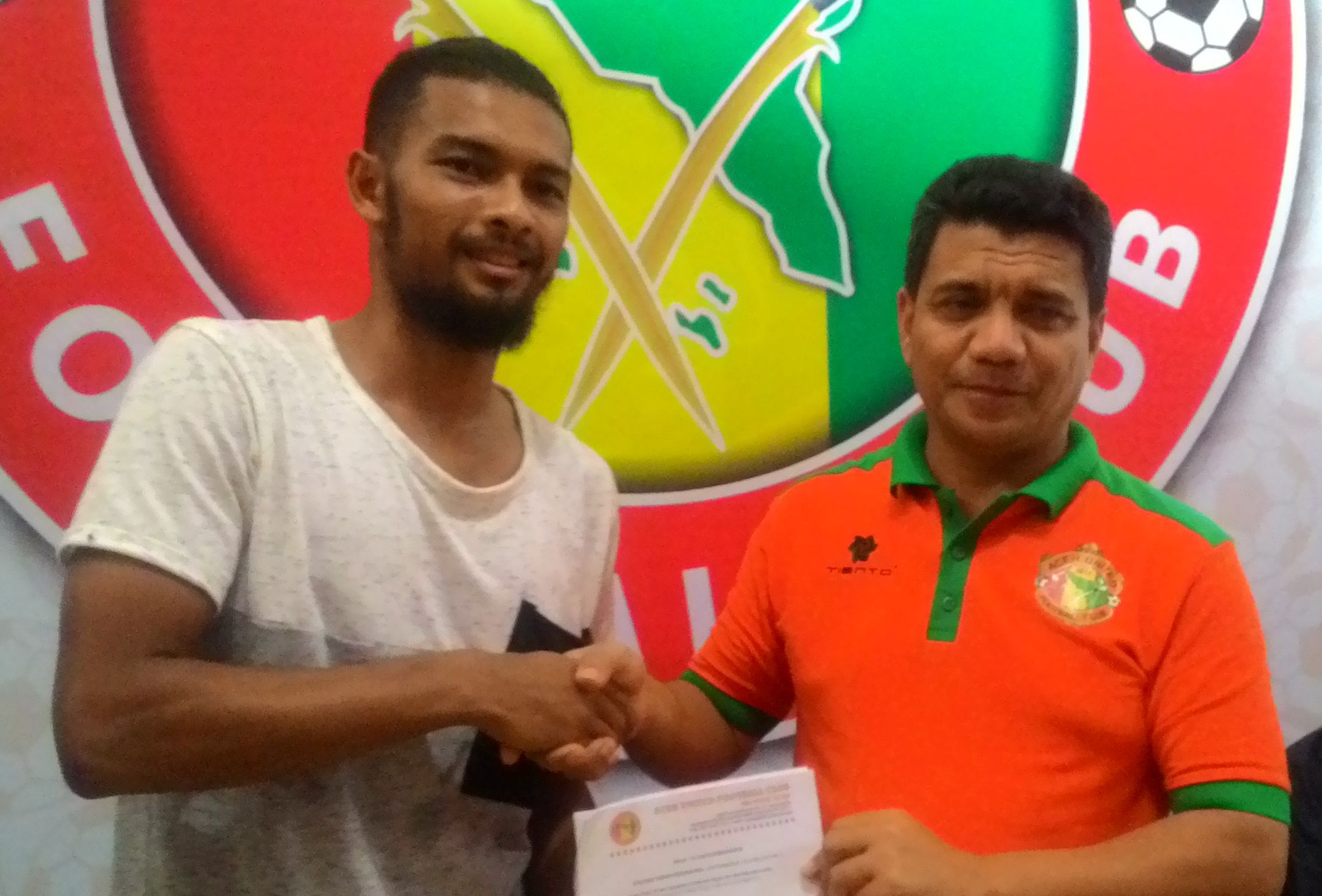 President of Aceh United FC, Zaini Yusuf with new player Syahrizal (left) | Photo by munaa
---
President of Aceh United FC, Zaini Yusuf said, his club wants to accommodate all the players of Aceh who defend an outside club to join. "If possible, all local players (Aceh) join Aceh United," Zaini said.
Management asks all Acehnese players who have studied Paraguayan football in 2008-2011 to join. At that time there were 30 players who sent the Aceh Government to Latin America to learn soccer. Of the 30, there are only about 10 more players still active. But some of them first joined, with clubs outside of Aceh.
New Player Comments
Former U-23 national team player Syahrizal Syahbuddin called for support from all sides, especially the people of Aceh for his new club to be featured in League 1 next year.
"We are all committed to working hard to enter league 1. No star players, who play hard to get into the team, obviously we will work hard for Aceh United," he said.
Hendra Sandi Gunawan said he was committed to revive the soccer marwah of Aceh, so he chose Aceh United. "The offer from the League 2 club is pretty much, but I chose Aceh United, our own regional club," he said.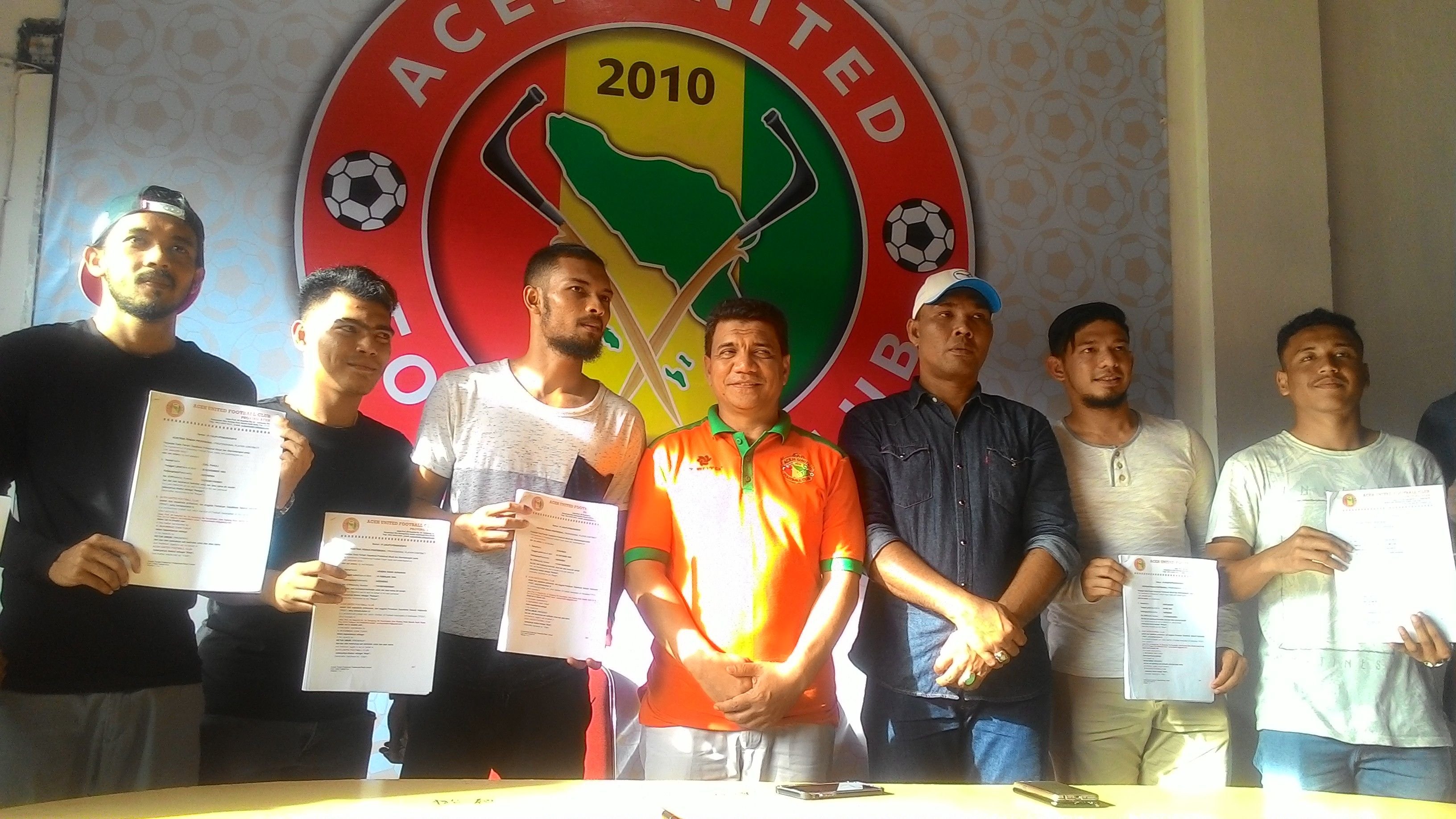 Hendra Sandi (two from left) and friends show contracts in photo session to journalist | Photo by munaa
---
THANKS YOU FOR VISITING MY BLOG

---