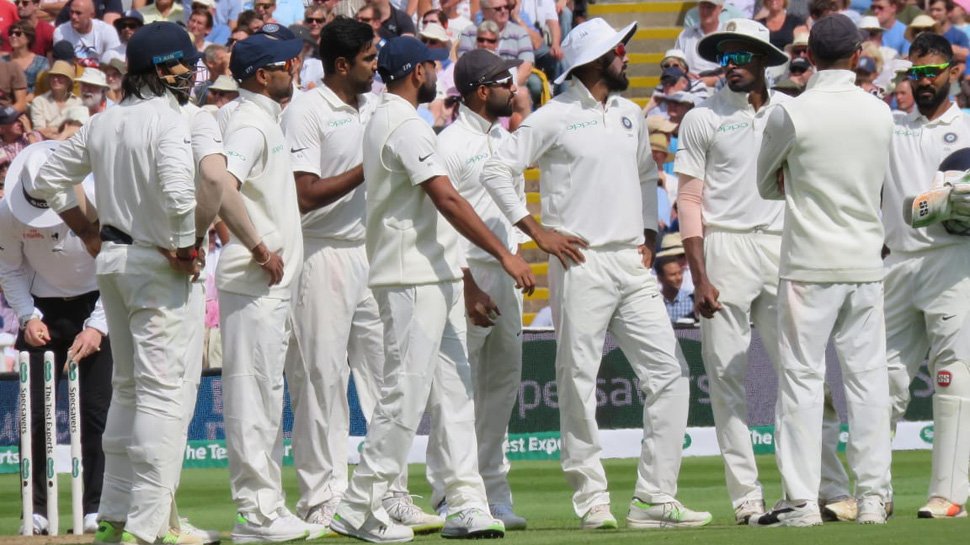 Source
The offie picked up 4 for 60 with England at 285 for the loss of 9 wickets.
Earlier in the day, England won the toss and unsurprisingly decided to bat first. Virat Kohli though had different opinion stating that he would have bowled first. But there came a huge surprise as we can expect from Virat Kohli. Cheteshwar Pujara was dropped. In place of him, KL Rahul is set to bat at number three.
It was Umesh Yadav and Ishant Sharma who started with the new ball. While Ishant bowled tight lines, Umesh surprisingly was spraying it everywhere. However in between that there was a chance created. Ishant Sharma managed to get the outside-edge of Keaton Jennings only to be reprieved. Ajinkya Rahane was the man who dropped it. But he might have avoided that as it was a regulation catch for skipper Virat Kohli.
Ravinchandran Ashwin was called in early. In just second over of his, he produced a peach of delivery to get through the defenses of Alastair Cook.But that was that as far as India were concerned till Lunch. Keaton Jennings and Joe Root added 72 runs and the scoreboard at Lunch on Day 1 read 83-1.
You may consider Jennings as unlucky as he was out-bowled in an unusual manner. Shami got the inside-edge which went down on the turf, then turned from leg-stump to hit the off-stump and eventually bails were dislodged. David Malan was trapped LBW by Shami. He took the review but as it was umpire's call he had to walk back to the pavilion.
In came Jonny Bairstow. Joe Root batted with pure intent managing to score at will. On the other hand, Bairstow was a bit too aggressive.They were also aided by some poor bowling from India.But then came the turning point.
It was the 63rd over of the game. Bairstow tapped one to the leg side and decided to come back for a two. But Virat Kohli being quick and agile, ran towards the ball,collected and straight-away fired the ball onto the stumps. Joe Root wasn't even in the frame.That brought the end of fantastic partnership of 107 runs. And as one would expect, there were celebrations in answer to Root's bat-drop maybe.
Bairstow as said earlier, being bit too aggressive chopped one back straight onto the stumps of Umesh Yadav. Buttler didn't last long, being caught right in front of wicket to a delivery from Ashwin. Ben Stokes was indecisive to a short one from Ashwin and gave a simple catch to the bowler.
Adil Rashid combined with Sam Curran showed resistance by putting up a 35 run patnership. But the former departed as Ishant managed to get him LBW. Ravichandran Ashwin got Stuart Broad by a quick straighter one. James Anderson and Sam Curran negotiated last couple of overs with Curran dropped by Dinesh Karthik.