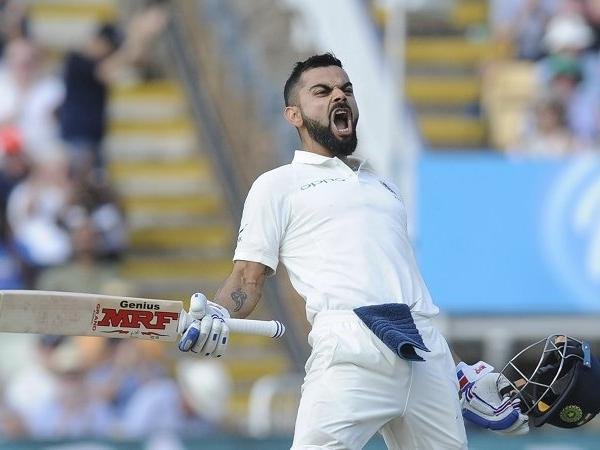 Source
The in-form Indian skipper scored a brilliant century when none of his counterparts could even get past 30. He scored 149, more than half of India's total. And to add a cherry on cake, Ashwin once again got Alastair Cook just in the penultimate over of Day 2. The scorecard read 9-1 with England leading by 22 runs at Stumps on Day 2.
Earlier in the day, India came out hoping to take that last wicket as early as possible. Mohammad Shami did exactly that by removing Sam Curran as Curran edged one to Dinesh Karthik. England were bowled out for 287 something that one might have considered below par. But India bowled quite well to keep England to that score.
Now it was time for the Indian batsmen to dominate. The openers gave a perfect start which was required. The 50 run stand was brought up in quick time. But amidst that a chance was created with England deciding to take a review for a LBW to get Murali Vijay. As it was missing the leg stump, a key review was lost by England.
In came Sam Curran who through his exceptional bowling pushed India on the back-foot. He removed India's top order batsmen in no time. First, he managed to convince Root to take a review again for LBW against Vijay who failed to bring bat down on time. It turned out to be a success-full one. KL Rahul also perished going for an expensive drive. He got an inside-edge of a delivery from Curran. Then Dhawan followed who wasn't able to hold onto his instincts. Going for a drive he edged one straight into the hands of slip cordon.
Soon the scorecard read from 50-0 to 59-3. It was time for the experienced pair of Kohli and Rahane to settle in. However it wasn't easy for them as the ball was moving around quite a bit. There were lot of half-chances created but England didn't manage to hang on those. Moreover they also did not review a delivery against Rahane which would have gone onto crash the stumps.
However Rahane's struggle continued. As he unnecessarily poked at a delivery which was to be left alone. This time it was Ben Stokes who accounted for Rahane's wicket. Ben Stokes managed to get past one ball through a gap between bat and pad of Dinesh Karthik who on 0 saw the furniture disturbed. The scorecard read 100 for the loss of 5 wickets.
Hardik Pandya was next in. Both him and the Indian skipper were lucky as their catches were dropped. Though it was Malan's drop catch which was far costlier as Virat was only on 21 then. Pandya failed to convert a start as he received a peach from Sam Curran who trapped the former in front.
James Anderson in quick succession removed Ashwin and Shami after tea. Then it was all Virat Kohli's show. He found an able ally in Ishant Sharma who when given the strike kept the good balls out. Kohli was at his best taking boundaries on offer and taking singles ensuring Ishant Sharma didn't have to play much.
But Adil Rashid managed to get Ishant LBW. Had he taken the review(Ishant) he might have got the reprieve. Kohli was still in late 90s by then. First he went past a terrific century striking a boundary obviously followed by celebrations. Then his thought process must had been to lower the deficit as much as possible. He eventually got out on 149 but by then India were behind by just 13.
Adil Rashid ended Kohli's innings to what must have been one of his best knocks. And indeed a captain's knock. Moreover the critics claiming his poor form in England must have been silenced.
India had four overs to have a go at England. They made full use of that with Ashwin getting rid of Cook once again with a similar sort of delivery from 1st innings. England on Stumps at Day 2 are 22 runs ahead.