It's taken a while – just over one year and a month, but I finally clocked up 2500kms in my road shoes. That's a pretty good milestone I think.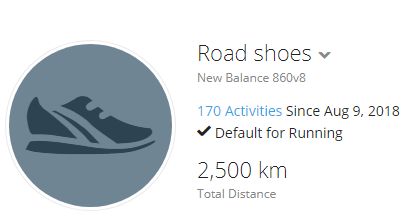 Add in the 200kms I've done in my Hokas and a similar amount in my Five Fingers, and you can see it's been a busy year for me running-wise.
The last session – a 7.2km treadmill run was a fitting finish to this milestone.
I did the first kilometre at 11km/h, the 2nd km at 12 km/h, then back to 11km/h for a rest, then the next km at 13km/h, and back to 11km/h again, before hitting 14km/h for the last full hard kilometre. One more slow kilometre brought up the 7km mark.
But this was on the treadmill and my watch didn't factor in the change of pace, so it was still half a kilometre behind. What to do? Well I cranked up the speed on the treadmill to 18km/h and let it rip!
I was coughing my lungs out at that point but determined to hang on. I lasted 300 metres before bailing out and dropping back to a walk for the last 200 metres to cool down.
I was quite happy with that. Not only did I get a nice round number for my mileage, but I'd never run at 18km/h before. My previous fastest was 15km/h.
The first time I tried running at 15km/h I only lasted about 300 metres also. So it looks like 18 is the new 15, which means – progress!
By the time this pair of shoes finally wears out, in another 2500 kms or so I will hopefully be able to run at 18km/h for a whole kilometre without dying. (I'll need to get over the pneumonia first though I suppose)
How about you? What's the fastest you've gone on a treadmill without falling off?
---
Steemit etiquette
Do write meaningful comments
Do discuss the topic in the post
Do tell me about how we share an interest
Do take the time and effort to actually read the post before commenting
Don't ask for follows
Don't ask for votes
Don't say you have voted for a post and then not vote for it
Don't say you have resteemed a post and not resteem it
Don't write short coments like 'Nice post'
Do be the sort of person you want reading and voting for your own posts.
---
Don't forget to check out my Dad's blog
Who else can tell you stories about impersonating an officer, stealing a military aircraft to go on a booze run, or steal military aircraft and go on an unsanctioned bombing run - and that's all before he turned 18!
Check out @len.george and find out what other madness he got up to!
---
Are you new to Steemit and trying to figure out what it's all about?
Head over to: https://www.steemithelp.net/. It's the best place to get a handle on what the platform is all about.
---