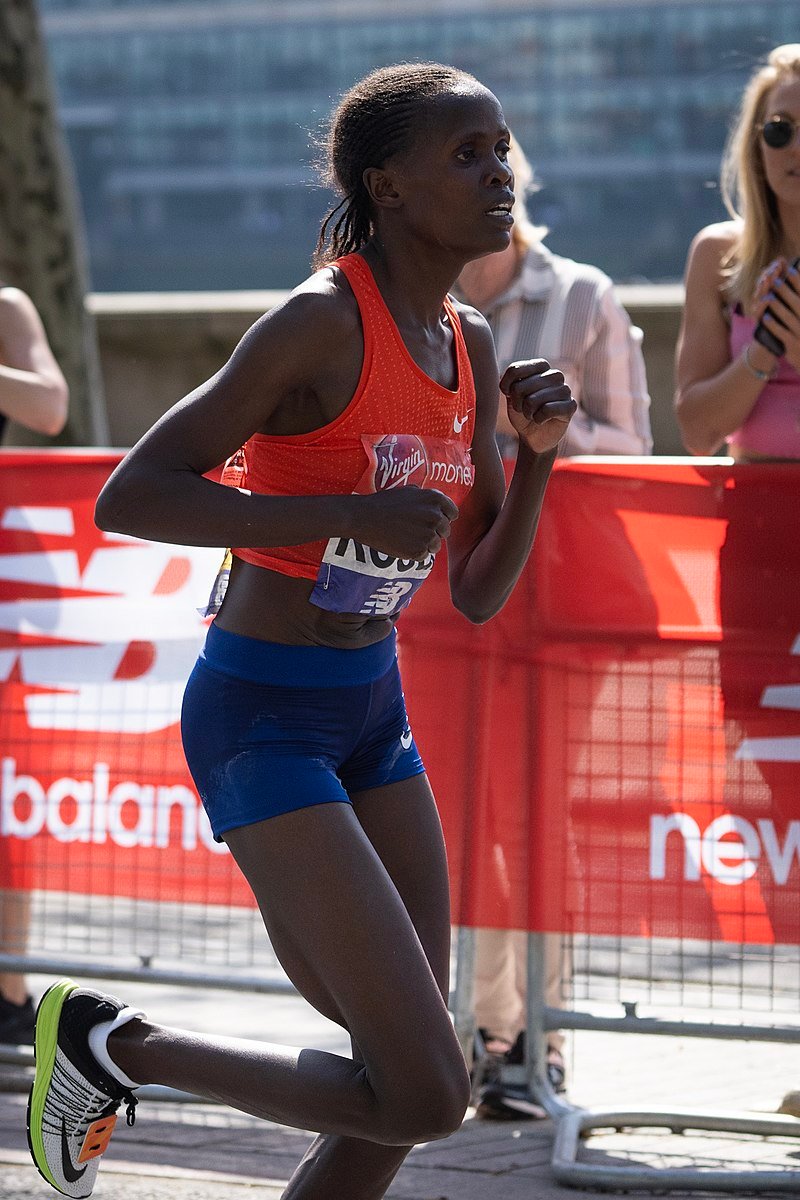 Photo by Paul Hudson from London Marathon 2018
Less than 48 hours ago, Eliud Kipchoge broke the 2-hour marathon, and although it wasn't a record it was a fantastic marathon moment. This morning, Brigid Kosgei finished the Chicago Marathon faster than any other women. Kosgei ran 2:04:04 to break Paula Radcliffe's previous world record of 2:15:25 set back in the 2003 London Marathon.
This wasn't overly unexpectedly some people thought she might have a chance to break the record. She's been performing well over the past year, including wins at the 2018 Chicago Marathon and the London Marathon earlier this year. She ran 2:18 in both races.
The original plan was for Kosgei to break Radcliffe's course record, but that changed early when she passed the 5K mark at 15:28 (2:10:31 pace). It was clear that she desired more than just a course record. She was in a class of her own in the women's race, too. Second place, Ababel Yeshaneh finished the race in 2:20.51, more than 6 minutes behind Kosgei.
Nevertheless, with the news of Salazar and all the other problems in the world of running right now, I am worried that the race record may also be tarnished. Kosgei is represented by Frederico Rosa, who has had positive test for multiple athletes. This doesn't mean that Kosgei is doping, but it does offer one reason to pause.
Former Salazar Athlete Struggle
Isn't this the perfect continuation of Alberto Salazar's fallout? Jordan Hasay came into this race and even discussed going after Deena Kastor's American record, but that was incredibly short-lived. She reached the 5 K mark at 22:20 (3:08:29 pace) and dropped out. She didn't even make it past the 5K mark on pace to break Kastor's record, I'm guessing injury, but I didn't hear much of it.
Galan Rupp also did not finish the race crashing out around the 23-mile mark, as he was beginning to drop off the pace pretty hard. Granted, I didn't expect him to finish unless he could win.
Mo Farah was the only great former Salazar athlete to finish the race. However, he only finished 8th in 2:09:58 behind the leaders.
Men's Marathon
No record in this event, but a fantastic result, something that often doesn't happen in a marathon. Lawrence Cherono, Dejene Debela, Asfea Mengstu, and Bedan Karoki all finished within 8 seconds. Cherono came out at the top with a brilliant kick to win the race at 2:05:45.
Cherono has shown a couple of times that he has a wonderful kick even at the end of the Marathon. It seems that the way to beat him, if he's close, is not to leave the race until the final stages. His fellow runners need to try to break away from him before the final sprint.