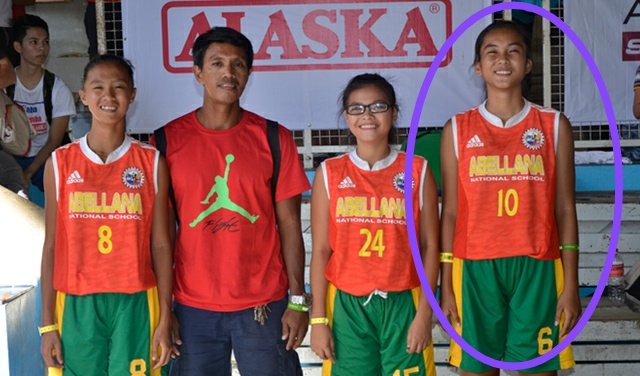 Source
Cebuana female basketball player is among only five Filipinos selected for the 11th Edition of Basketball Without Borders (BWB) Asia.
It was announced by the National Basketball Association (NBA) and the International Basketball Fedration (Fiba) that day.
Florence Jil Talas, 17, a native of Barangay Labangon, Cebu City was involved in the international event starting today, August 14-17 in Tokyo, Japan.
Talas joins Fiba 3x3 standout Kristine Cayabyab, son of former PBA player Eddie Laure Echo Laure, Jr. NBA All-Star Harold Alarcon and Batang Gilas forward Joshua Rafael.
Up to 64 participants from 18 countries were selected for the event which will be held for the second time in Japan which hosted it in 2012.
"We are very proud of her, Sir, and we do not know what she is up to now. I thank the Lord very much, Sir, "said father Noel Talas when greeted by Superbalita.
Talas, formerly champion of Abellana National School, was a basketball player at the same time. She has played three games at the National Games and the Central Visayas Regional Athletic Association (Cviraa) where they have won twice.
They are champions of the Pinoy Pinoy Regional and have also been Jr.'s most valuable player. NBA in 2015.
This is in addition to the runners-up she has accumulated in the various tournaments she has participated in. Talas' outstanding ability in the courtroom has led to coaches at the Games where some of them have offered her. It was a missed opportunity and she accepted an offer at the National University. She is currently at Chang Kai Shek school, NU's sister-school, in high school.
"Actually, she's NU, then Grade 11, so when she was in college, she was already a varsity player for the NU Lady Bulldogs," added the father whose livelihood was in the sale of his wife Jasmin. Noel explained that his only son's basketball interest started when she shared it with him while she was playing basketball.
"She was only nine years old when she started playing games and basketball. So the kid is getting older and she loves the basketball and not the barbie doll and movies that she plays, "says Noel who confesses that Michael Jordan and Stephen Curry are his son's idol.
Talas was also involved in the training camp of Dondon Hontiveros and his batch of Jr. NBA giants Kai Sotto and Dondon's son Isaiah "Ice" Hontiveros.
Currently, she is also a member of Team Hijas Pilipinas, which represents the country in international competitions. She played again in Malaysia last year and Indonesia only this year.
In today's age of Talas, she knows that there are many things and opportunities that will be fulfilled in her career that will determine what and where she is today.
But in the midst of it all, it didn't break her desire for their future which was to finish the course she dreamed of - Business Management.
"Even though we miss her all alone, we are just suffering because she wants to. We really support her, "the father concluded.