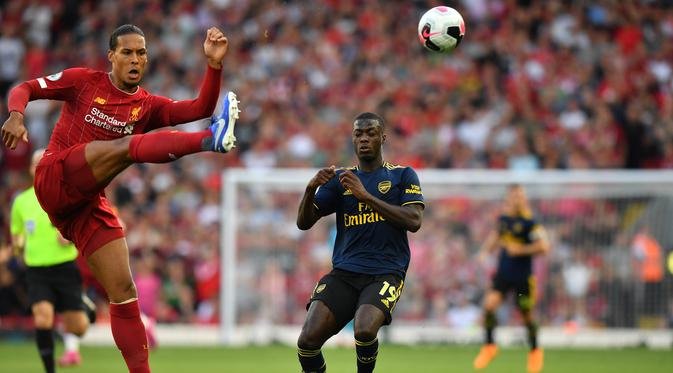 Hello EPL Lovers.
Did you watch the match between Arsenal and Liverpool last night? This question is like arousing my sadness last night because the English Premier League team that I like finally lost. But there is one part of this match that makes me think. There is one sentence from the commentator "new season, new team and same result".
This sentence struck me because seeing Arsenal's pre-season tour was very convincing but last night had to be beaten and only entertained by one goal. From the start of the match, the enthusiasm of the Arsenal players was very good and Pepe was the most passionate player among the other players. This is like a sign that Arsenal will suffer the same fate as last season, but I don't want it.
Let go back for past, the Young Gunners journey never again reached the peak since the Thierry Henry era. At this time each line was filled by experienced players who collaborated with a few young players. Today we see that the philosophy of young players has persisted for several years, but the results are only limited to the FA trophy. Champions League and UEFA Cup also seemed to be a formality to be followed then went home without a trophy.
Back to the phrase "new season, new team and same result" where last season Arsenal was also defeated by Liverpool. As a team, all lines are filled with quality players, have a big influence on the team, but honestly, the absence of the most assisted feeders currently in the English league, Ozil makes Pepe must be willing to find the ball up to the midfield and then sprint to find a goal. The result is zero because the quality of Liverpool defender is indeed good.
The lack of creativity in midfield makes the forwards have to add extra work to find the ball is a factor that in my opinion is the cause of last night's defeat. 3 Goals before injury time are the actual result within 90 minutes. The hallmark of Arsenal is that it has many midfielders, but not last night. But I'm grateful to be able to witness the speed of Pepe in carrying the ball.
Hopefully, an attractive Arsenal game can return well, at least in the top 4 and back on the champions league track.
That's it from as my opinion. Sport Greeting :)