Algeria wins
On Sunday, the African Nations Cup has played semi-finals. Senegal extended 1:0 (0:0) to break Tunisia.
Algeria-Nigeria match also seemed to get an extra half an hour, but the excellent Riyadh Mahrez goal determined the victory of the Algerians - 2:1 ( 1:1).
Algeria was leading from 40 min. , a goal made by William Troost-Ekong. Result was equalized at 72 min. from the 11-meter mark by Odion Ighalo. It seemed that the extension would not be avoided again.
However, on the fifth minute (90 + 5 ') added by the judges, Riyadh Mahrezo strikes - and Algeria pulled a dramatic 2:1 victory.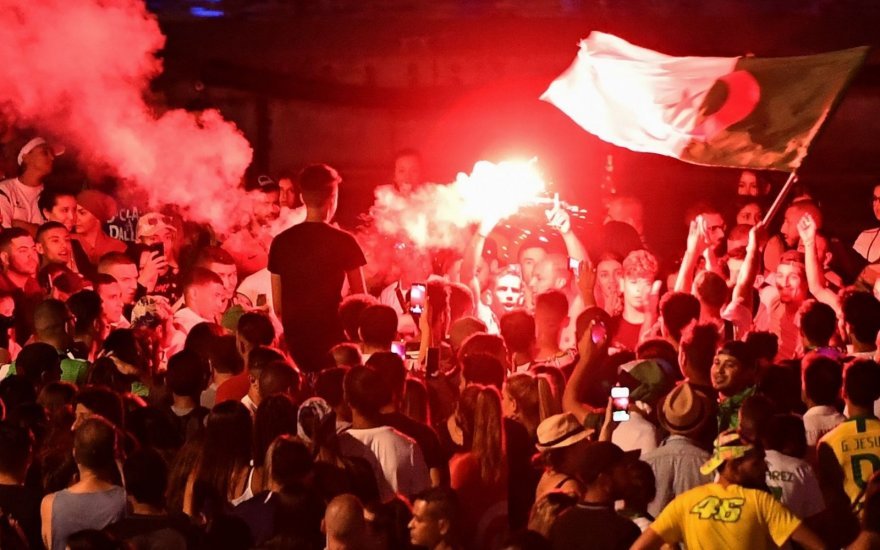 [photo source: delfi.lt]
The police was kept busy.
After the victory, Algerian fans celebrated not only in their home country, but also noted victory very noisy outside of Paris. Thousands of Algerians burned torches at the Arc de Triomphe in Paris, chanted, waved Algerian flags.Similar images recorded in London.
Media reports that in France, a total of 282 people were arrested after the riots provoked the victory of the Algerian national football team. Many rioters were detained, 249 of whom were arrested.
On Sunday, football fans caused turbulence in Paris, Marseilles and Lyon. In the center of the capital of France, in the Champs-Elysees, 50 people were arrested in the event of clashes between supporters and police. Dozens of cars were fired last night in Lyon.
On Thursday, after defeating Côte d'Ivoire in Algeria and after leaving for a semi-finals, fans also raged in the center of Paris and ravaged the shops. On the same day in the southern town of Montpelier, one pro-Algerian fellow who celebrated his team's victory at the high speed did not control the car and head to people.
The incident killed a woman and was seriously injured by her baby.
There are large communities of people of Algerian origin are living in Paris and Marseilles.