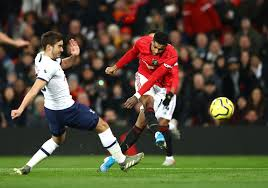 Photocredit: premierleague.com
Marcus Rashford put in one of the best performances I have seen him put in with 2 goals and many chances on top of that in what ultimately was a 2-1 win. He was the difference. Peter Schmeichel probably said it right though, "Ole only kept himself out of the firing line for a game or two with this victory". A big one to be sure, and likely means that for the Manchester derby he will get a pass on being judged too much because a good result in that one could only help him and it likely won't (Nor should) be held against him too much if they lose, unless it's a humiliation similar to what Everton suffered yesterday in their respective derby.
What's bizarre for me is that Marcus Rashford doesn't show up consistently like this. It's great that he's there for the big occasions often, but he's desperately needed to be a difference maker in a game where they are drawing or even possibly losing by one to a team that will ultimately finish mid-table or lower. Bournemouth have only one win in their last 9, but it was against Manchester United. They kept a clean sheet which is something they have only managed to do against Watford and Norwich otherwise, two clubs that seem destined for the drop when this season is over. Rashford tries too hard in most games and doesn't just go out there and play his game often enough. It seems like on the biggest stage, when he's in the big games for United or any game for England, he shows up and scores at least a goal. He needs to bring this week in and week out no matter the opponent and not try so hard to get 4 or 5. He's actually at his best when he keeps it a bit more simple against the big sides. He does this in every England game. The only reason I feel he doesn't in every United game is because he doesn't fear losing his place in the United fold. Bad games for England could knock him out of the XI. When the pressure is greater, he just goes out and plays his game. It's the self inflicted pressure he can't handle when he tells himself he needs a hat trick against a relegation team.
While Rashford certainly was a breath of fresh air against Tottenham, it is also worth noting that the inability to service the center forward is still obvious for all to see. In most games, you fail to see Anthony Martial get the ball enough. He was out, but nothing changed. Mason Greenwood rarely got service to work with. He did fine when he did but the real problem is that no one is servicing the center forward in any game. A true achilles for this team. Paul Pogba appears to be the only one on this team who can consistently do that. McTominay was dearly missed for sure, but doesn't have that killer pass to service the forward. At least he's aware of this and doesn't even try. Fred, who otherwise had his best game possibly for United since coming, also doesn't have a killer pass. But he thinks he does. In many games attacks get slowed down or halted because Fred passes sideways or backwards, or tries to pass forward only to see the ball get intercepted. Even in the Tottenham game that was not Fred's strength. Plays often got halted once Fred tried to get fancy with passes. But where Fred excelled was he seemed to be everywhere throughout the game, even being in just the right place to block a shot at one point where it didn't even make a whole lot of sense why he was there. Or did it?
If there is a player who desperately needs replacing in the squad it is the constantly diminishing Jesse Lingard. It was when Lingard started to deteriorate that United as a whole started to as well early in the calendar year. He can't be the answer for playing the box to box midfielder role. Solskjaer may be figuring that out slowly but surely. After McTominay showed how valuable he has become and Fred had the kind of game he had, surely it must be Lingard who gives way for Pogba when Pogba returns. With Real Madrid president Perez saying he won't pay more than 50 million pounds for Pogba, you can be comfortable in knowing Pogba is going nowhere in January.
Lastly it appears that Daniel James is having less and less influence on games as a whole as the season progresses. He shows up in flashes but disappears for too long at times. He would make an excellent weapon off the bench but a better player is needed for that right wing post in what appears to be the favored 4-2-3-1 formation. There's a player who is used to playing that exact role in that exact formation all the time who United are constantly linked with. Jadon Sancho. If there's anyone worth breaking the piggy bank for in January, it probably is him. He provides a desperate need that United lack. Assists to the forwards. Having watched plenty of Borrusia Dortmund, their struggled can't be pinned on him. He has tons of assists and seems to find the guy he's looking for often. Anthony Martial would certainly not mind bringing someone like this into the fold. Someone who can actually assist. Because if there's one thing I haven't seen Rashford get any better at, it's assisting. He likes going for it himself. Sancho is quite different. Sancho often looks for the guy who will ultimately score. Something Rashford and Martial both should get excited about.