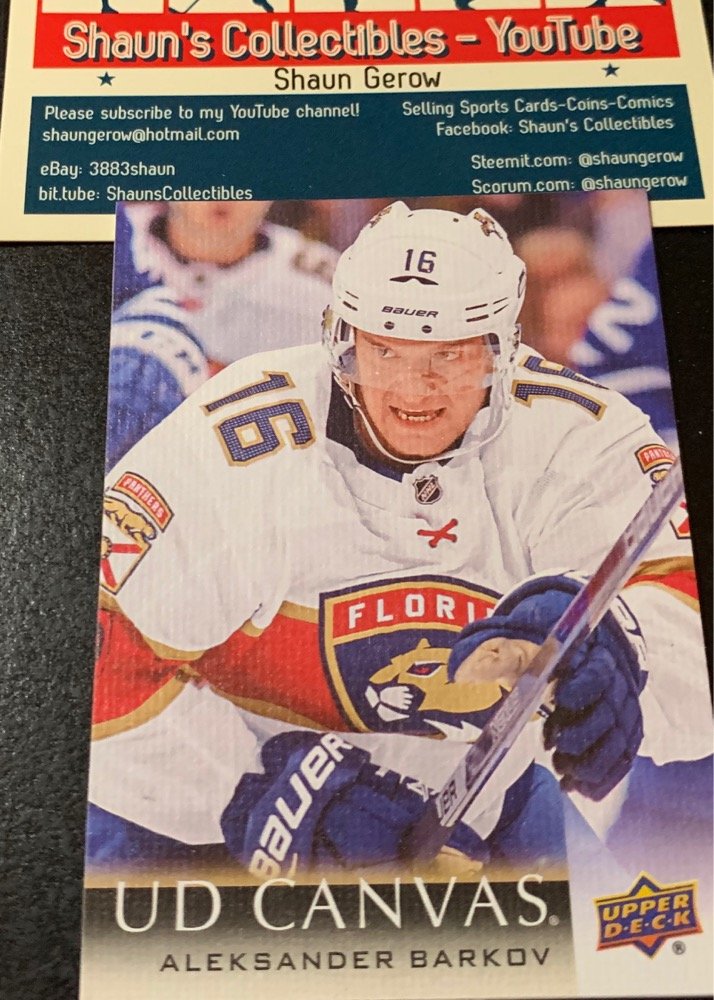 My Scorum blog: https://scorum.com/en-us/nhl/@shaungerow/hockey-card-pack-break-77-2018-19-upper-deck-series-one-insert-hit
I picked up a pulse of 2018-19 Upper Deck Series One and Two packs from Walmart a while back, so I figured it's time to start opening it! It came at a pretty good price! It was about $10 CDN, plus tax for 3 packs of either so it came up at around $3.50 a pack. Today, I open up a pack of Series One and take a run at an Elias Pettersson Young Guns Rookie!
Here's the video link, please subscribe to my YouTube channel at Shaun's Collectibles!
Another day, another lame hit. 😬 I got another lame veteran canvas hit- Aleksander Barkov.
I haven't had much luck lately! These veteran canvas hits are getting pretty tiresome! I'm overdue for a big Young Guns Canvas Hit!
Please check back tomorrow for Hockey Card Pack Break 78!
Contact me for buying and trading here, or through the following ways:
eBay: 3883shaun
YouTube: Shaun's Collectibles
Facebook: Shaun's Collectibles
Bittube: ShaunsCollectibles
Minds: ShaunsCollectibles
Reddit: shaunscollectibles
Instagram: shaunscollectibles
Steemit: shaungerow
Scorum: shaungerow
Happy Collecting! 😊
Posted using Partiko iOS