It's been a strange year, that is for sure and things that we all took for granted such as sporting events have been all but completely stopped and even when they have resumed in various places around the world, it is a very different game with no fans. Despite this change in format, sports fans such as myself are delighted that we will be getting something to watch even though it will definitely be very different when the events are very quiet.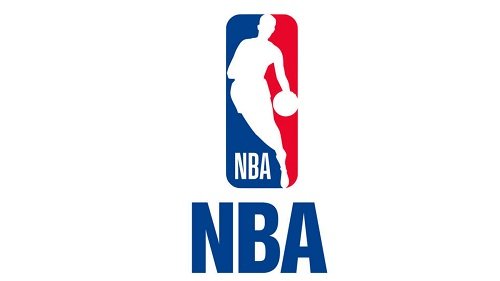 The NBA has been going back and forth for many weeks and even had a 100 page book of rules that must be followed in order for the games to proceed. They made the official announcement yesterday via Twitter along with some rather cryptic details about the "start up" that leads me to believe that they haven't fully worked out the details of how the season will proceed.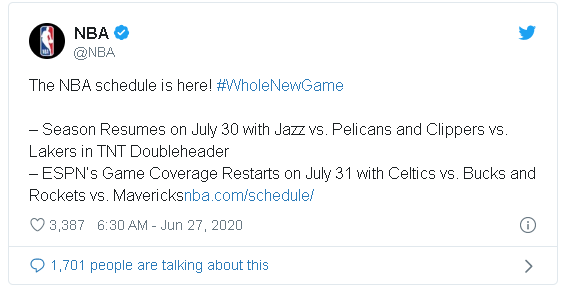 As far as we have been told the players will begin arriving in Florida on the 7th of July to begin training and preparing for the upcoming shortened season. Only 22 of the 30 teams will be included in the season, as the teams that are seen as being "the worst" are not invited to participate. It seems kind of mean to the teams that are doing poorly, but since there will be no tickets sold or any sort of merchandising revenue, I suppose it makes sense since we are dealing with a vastly shorter season. Personally,I would argue that the NBA regular season is too long anyway and while I know it will not happen since "cash is king," I would actually like to see fewer games in a season anyway.
It is also worth noting that the selection of teams going to Orlando is not equal between the Eastern and Western conference. The NBA has invited 13 teams from the Western conference and only nine from the East. This has everything to do with their win/loss ratio and nothing to do with any sort of East vs. West discrimination.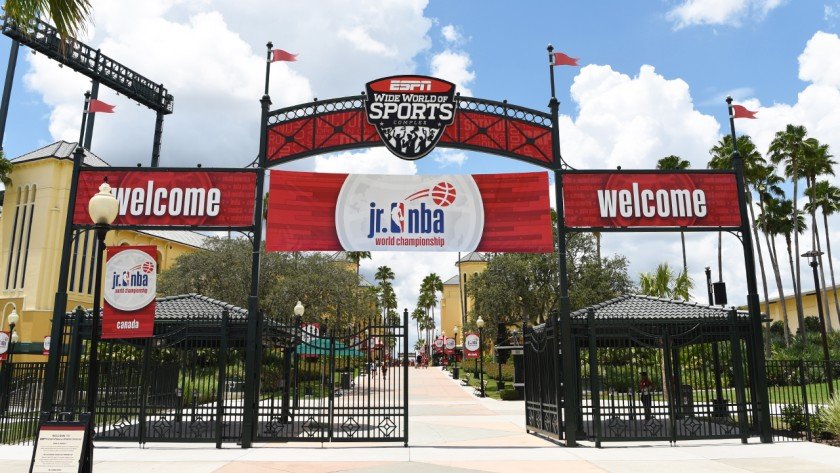 src
The ESPN Wide World of Sports complex is where the season will be held and players will be tested for Covid every single day and their ability to leave campus will be extremely limited. Family members are not allowed to even visit until September and this will likely be a very controlled situation as well.
The games are going to have bizarre start times especially when you consider that some of the games have a 9pm tip-off and is in Florida, meaning that people on the West coast will have a midnight start time which is probably less than ideal. They have no announced why this is.
The precautions are immense including a 4 hour break between games for the sanitation of anything that players may have come in contact with.
To me this seems like overkill because the virus is exceptionally unlikely to affect world-class athletes but if this is what it takes for me to be able to watch some basketball, so be it!