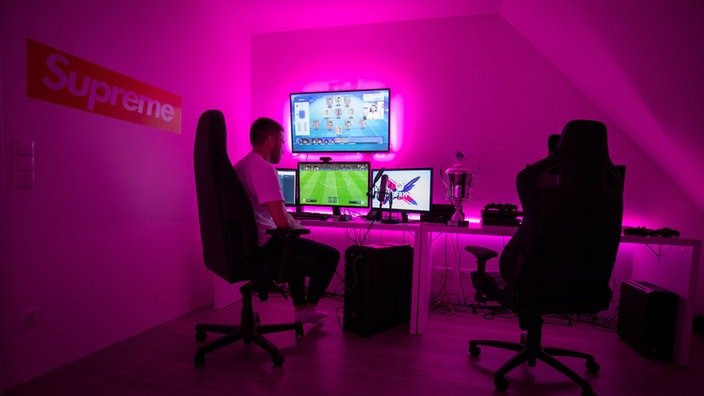 Sports problems in Germany
Not surprising! According to eSport-Bund Deutschland, three million eSport-enthusiasts live in Germany. But where interest is constantly growing, there is a lack of young talent. This could be harmful for the local scene.
In the end, Invictus Gaming raised the World Cup trophy. 50,000 spectators in the stadium and another 200 million people in front of the screens were amazed when the Chinese won the title of the League of Legends World Championship for the first time. South Korea, of all places, is the most successful eSports squad forge in the world.
South Korea has been promoting eSport for 18 years
By 2018 only South Korean teams had won the LOL-Global. With 34 qualifiers, South Korea provided the largest number of participants at last year's Global - a German eGamer was not found.
Since 2011, only 14 German eSportsmen have taken part. The German performance range also lags behind in other important eSport titles. For example in the tactical shooter "Counter-Strike: Global Offensive". 56 major participations make up the ninth place in the nation ranking of the popular classic. In other titles like "Starcraft II" Tobias Sieber finished 11th at last year's WCS Global Finals - far away from the top places.
Denmark leads the way
Scandinavians have been represented there for years. Only recently the Danish Prime Minister Lars Løkke Rasmussen was seen playing a round of Counter Strike with the Danish professional team Astralis. Previously, his government had announced a new cultural-political path with which eSport would play an even greater role in society.
Following the "National Strategy for eSports", the government promotes a stronger integration of eSports into existing sports associations, the promotion of talents and the strengthening of professionals. Denmark's government has recognized one thing: Nearly 50 percent of Danes gamble. If you take all of Denmark's teenagers as a whole, 96 percent of the 13 to 19-year-olds spend time in front of the console. In addition the industry with a world-wide conversion of well 740 million euro has a large economic strength, from which Denmark would like to profit.
Investors and eSports companies should therefore be offered good development opportunities in the future. After all, good eSportsmen mean good figures. This is a relationship of dependency, at the end of which junior staff work also benefits. So there have long been schools in Denmark like the Vejle Sportscollege campus, where eSport is part of the timetable.
Such developments are far away in Germany. A first approach could be the eSport trainer training initiated by the ESBD. It is intended to promote talent more effectively in order to lead German pro gamers to the top of the world. In this way, "learned knowledge can be passed on to teams and structures," says Maximilian Breier, sports director of the first German amateur sports club with an eSports department. For his club, TSV 1895 Oftersheim e.V., however, the general conditions could be much better.
In order to absorb the enthusiasm of German eSport fans in an adequate promotion of young talent, there is a lack of more structure and support: "The government has so far failed to adhere to the coalition agreement and to recognise eSport as a non-profit organisation," criticises Breier. One would obstruct so many interested associations the way into eSport, since these would have to fear their non-profit character to lose.
The basis is taken thereby an important function. As in classical sports, youth work is one of the supporting pillars of competitive sport and is largely responsible for international success.
SK Gaming already implemented this some time ago. Since June 2018, the member of the European League of Legends League (LEC) has been running a junior team. With Gerrit Stukemeier, Tim Willers and Janik Bartels it currently has three German players.
In the near future SK Gaming would like to open a new training centre in Cologne. A comprehensive program is to be implemented there, "which will facilitate the step into the professional area, provided that the performance is right," Müller looks ahead.
Together with the Bundesliga soccer team 1 FC Köln, the programme will set new standards on a physical, social and playful level. According to the managing director, there is no balancing act between economic goals and youth promotion.
Ultimately, the interest of a sport also depends on the success of local athletes - see sports such as tennis and Formula 1. Without world-class stars, the interest in eSport could also decline in Germany.