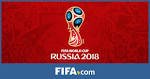 GOOD MORNING TO ALL FOOTBALL FANS OUT THERE,
STILL ON MY PREDICTIONS
GROUP E TABLE
BRAZIL
SWIZERLAND
SERBIA
COSTA RICA
MY TWO TEAMS THAT WILL PROCEED TO THE ROUND 16 OF TOURNAMENT.
BRAZIL : Brazil is the best in their group, so they will be among the two teams to qualify for round 16 of the 2018 Russia world cup

SWITZERLAND : I choose Switzerland because they have experienced world cup than Serbia and Costa Rica in their group. So, they will qualify with Brazil to the round 16 of the tournament
.