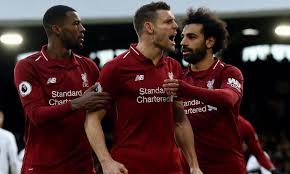 Liverpool has successfully reclaim the top spot on the English Premier League table after a narrow win against Fulham. The Reds lost the chances of maintaining the no1 after several draws that helped Manchester city climb to the top. The no 1 spot for Jurgen Klopp side doesn't look permanent because of Manchester city outstanding match. The so determined Manchester side won't take any chances of losing the outstanding match in order to retain the number one spot.
Manchester City the league holder looks determined and no team in the English Premier League might be able to deprive them of the title.
I wasn't expecting so much from the Meyerside team due to the Champions League match against Bayern Munich. Liverpool were able to secure a spot in the next round of the competition after winning at the Allianz arena. The English team scored thrice to secure their place in the competition.
Sadio Mane gave his side a lead against Fulham in the 26th minute of the first half. The first half ended 1-0 in favor of the visiting team.
The home team got an equalizer in the 74th minute, Babel canceled Liverpool first half lead with a great strike.
James Milner converted from the spot kick to give Liverpool the lead again. The goal just winning Fulham, it restored Liverpool hope of still running the title race.