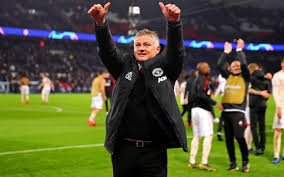 Ole Gunnar Solskjaer has finally been appointed as Manchester united full-time manager. The Norwegian has signed a three year contract with the United.
Ole Gunnar took up united managerial job after the sacking of Jose Mourihno back in December, Manchester united was in a real bad shape under Jose Mourihno but Ole Gunnar has transformed the team despite working as an interim coach. I believe the team should expect more from the Norwegian coach now as a permanent manager. The new manager was once a united player and he scored 126 goals in 366 appearances for United between 1996 and 2007. He managed the club's reserve team after his playing career which means coaching Manchester united has been the Norwegian dream.
The manager has help Manchester united secure their spot among the final eight of the Uefa Champions League after defeating Paris saint German in Paris. United hope of finishing in the top four still looks very strong with the league still in progress.
Under the Norwegian tenure as a temporary manager , United have won 14 out of the 19 games, losing just once in the Premier League to Arsenal Fc.
We hope to see the new manager lead Manchester united to success this season and the coming ones.