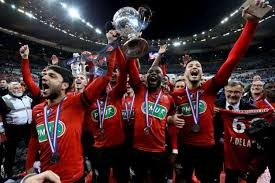 Paris saint German surprisingly lost the French cup final to Stade Rennes at the Stade de France stadium. PSG have not been in their right form lately, many saw it coming but it looks unbelievable until it happened.
The French league champion have failed to win more than the French league as they top the league with 85 points, 19 points more than the second on the table Lille.
PSG crashed out of the Champions league unexpectedly after losing to an English side on aggregate. The French team won their first leg away from home at Old Trafford, the match ended 2-0 but unfortunately they couldn't hold the red devils on the French soil. United scored thrice to cancel PSG champions league hope, the match ended 3-3 but the away goal rule gave United the edge.
Last night PSG failed their fans as they lose a two goal lead against Stade Rennes. PSG scored twice in 21 minutes but everything was a waste, Stade Rennes got two goals to cancel PSG early lead.
The match was dragged in the extra time as kylian Mbappe got a red card in the last minute of the second extra time. The match ended in a penalty shootout with Stade Rennes emerging as the cup winner.
It was a well deserved victory for Stade Rennes, they worked and earned what they deserve.