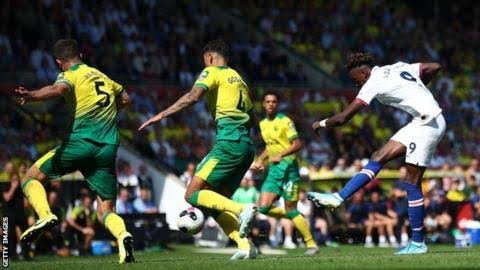 [Source]
---
It has been a long time coming and what a huge relief for Frank Lampard. He has waited a long time to have his first win in the first three games and finally it came in a 5 goal thriller.
You could see the sheer determination from the Chelsea players and never wanting to repeat another bad result. They walked on egg shells for a while because they just needed to seal the deal but then they were wary of Norwich's attacking talent.
Chelsea started brightly and it was Tammy Abraham who got on the score sheet first. You can see the joy and relief on Lampard's face Norwich did a brilliant interplay and outclassed Chelsea's backline to level the score line
Chelsea replied and it was a moment of genius from the in-form man; Mount. What a brilliant effort by the young lad. He drifted in and unleashed a curling effort into the back of the net. The youngster was in dream land.
Norwich were not to be silenced for too long as they leveled again for the second time in the game. Zouma was "bullied" by Pukki and he managed to get his shot off into the back of the net. This match was a spectacle as we have seen 4 goals already in 31 minutes.
Tammy had other plans and he scored a brilliant solo effort after he was played in around the box. He drifted and then unleashed his shot. The keeper could have done better but you have to credit Tammy there.
The match ended 2-3 in favour of Chelsea and this definitely takes the pressure off them.
This post was posted through @sprtshub and it first appeared here
---
Thank you for your time.
---
My pen doesn't bleed, it speaks, with speed and ease.
Still me,
My tongue is like the pen of a ready writer.
Olawalium; (Love's chemical content, in human form). Take a dose today: doctor's order.
---
Request:
Hello everyone, How are you all doing today? Wanna keep up with what @tangerinetravels are up to? Kindly subscribe to their channel on YouTube, click like on their videos and in Maddie's voice "Gong that bell", so as to be notified every time they post new videos.
Their progress on YouTube has been so impressive, I would love you to be a part and be another reason to make them push further. Thanks in advance.
---
Follow @sprtshub, @stach and @stach.pay to keep up with the amazing stuff going on in this amazing community. Decentralizing the offline and making impact everywhere. I am glad to be a part and it would be nice if you would too.
Join the discord server here:
https://discord.gg/ryA7BBE