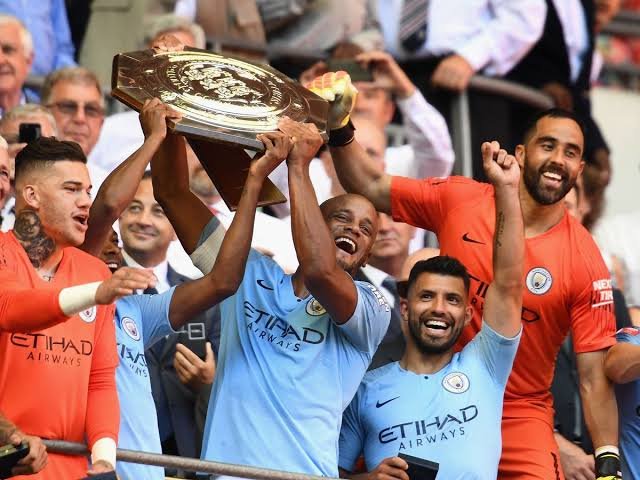 [Source]
---
Football is back and I am super excited about that. No more boring weekends with no football actions.
It was a clash of the titans between the Premier League winner and the runners up. Normally, the winner of the Premier League should square up with the winner of the F.A Cup but seeing that Manchester City won both, then the Premier League runners up will be the one to play the Community Shield match.
Liverpool started brightly and tried to quickly unsettle Manchester City but after 5 minutes or thereabout, City settled in and controlled proceedings. Liverpool were on the back foot most of the first half and City took the lead through Raheem Sterling who would turn out to be wasteful in the whole of the match.
City should have been clearly out of sight if not for the wasteful Raheem Sterling who missed few chances and even potential assists. That is not to say Liverpool didn't have their chances too because they did. Salah had few chances too but he was always trying to reach the bottom corner of the post rather than try to get the other end of the post. It never quite worked out for him and he struck the post while also seeing the keeper; Bravo makes series of low drive saves too.
The second half revealed an improved Liverpool side and they got rewarded with their goal. It was a lovely play-in for Van Dijk that gave the substitute; Joel Matip to get his header in. He restored parity and the match ended 1-1.
It was straight to the penalty shootout and Bravo came through for Manchester City by saving one while City scored all their shootouts. They emerged winners of the Community Shield even though Liverpool will feel sad especially with their improved second-half showing.
Manchester City won't be going away and they just won the first trophy of the new season. Liverpool still has hope of an early trophy too when they play Uefa Super Cup - being the winner of Uefa Champions League and they will take on the winner of the Europa League trophy - Chelsea. The showdown will be on the 14th of August, 2019. I look forward to it.
This post was posted through @sprtshub and it first appeared here
---
Thank you for your time.
---
My pen doesn't bleed, it speaks, with speed and ease.
Still me,
My tongue is like the pen of a ready writer.
Olawalium; (Love's chemical content, in human form). Take a dose today: doctor's order.
---
Request:
Hello everyone, How are you all doing today? Wanna keep up with what @tangerinetravels are up to? Kindly subscribe to their channel on YouTube, click like on their videos and in Maddie's voice "Gong that bell", so as to be notified every time they post new videos.
Their progress on YouTube has been so impressive, I would love you to be a part and be another reason to make them push further. Thanks in advance.
---
Follow @sprtshub, @stach and @stach.pay to keep up with the amazing stuff going on in this amazing community. Decentralizing the offline and making impact everywhere. I am glad to be a part and it would be nice if you would too.
Join the discord server here:
https://discord.gg/ryA7BBE