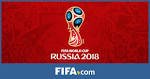 My group C prediction
France ---- 9 points
Denmark --- 4 points
Australia ----- 2 points
Peru ---- 1 points.
Predictions review
My group c prediction is really tough because all the team in the group are all average team except France.
FRANCE
France will beat all team in his group because his team are much experience player in the world cup and his player play in top league teams.
DENMARK
Denmark will really try to take the second position . They will beat Peru and draw with Australia in their group games and lose to France only.
AUSTRALIA.
Australia will try to have two point with a draw against Denmark and Peru. They will lose only to France .
PERU
Peru will have 1 point, they will lose two games and have a draw. They will lose to France and Denmark and draw with Australia .