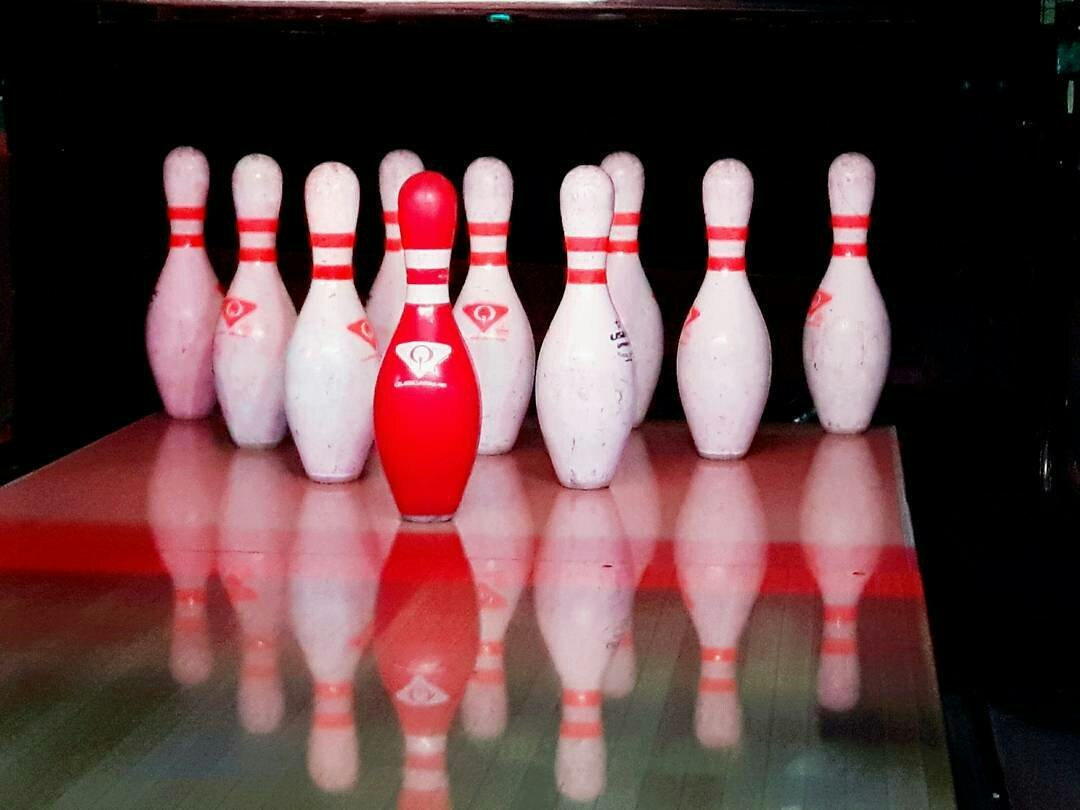 Source
It might take less time to write this post than to find the picture of a multi-colored bowling pin to illustrate the bowling game I am going to talk about, and how The Splinterlands could offer some kind of offshoot to this game. I thought this fairly common but apparently not, or people don't care to put up file pics of the "ugly duckling pin game" as we used to call it in youth bowling league. It was a game for Halloween time, or any holiday really when I was a kid the bowling alley needed gimmicks to keep kids showing up and this was a very good idea of a game to accomplish the above goal.
Simply put, there is one "ugly duckling," or one pin that is a different color with the other pins, and unless that pin is the very front pin (the 1 pin as illustrated in the pic above), and you got a strike in the bowling frame that pin was in the front, or 1-pin position you got some kind of hokey prize, like candy or something like that.
There has been a lot of talk in how gold cards can be created more valuable than rather a bump in DEC payouts, as again they are 50x rarer than the regular cards and get a 2x bump compared to the regular cards, making them basically piles of DEC that people are hoping to sell for say slightly more than DEC burn value. Here is a thought to combat this phenomena in a fun and random way for daily competitors of the game.
Now to turn the tables into how The Splinterlands can follow as a similar game of luck/chance... First, you would have a ratio of the amount of games played by each level. Let's say for every 500 matches played by each level a random player that is playing at this level, however the randomness would be decided. The lucky player would get the opportunity to unlock a new reward feature in regular daily quest play--- The Perfect Alchemy Potion, or call it something like that. Meaning at the end of your quest, you have X amount of your cards that come up as automatic gold cards, just like now as though you are opening a pack with the same odds of course and everything else still factored in. So it would feasible to expect all commons in these cards as they are the most likely due to the odds to pop up but who knows you can always lucky too. This of course would only include reward cards and nothing else. I would assume the central command would prefer we buy packs and orbs, and then potions if we want greater stakes in gold foil fortune.
Now, if you don't have any golds in that deck you are playing with, oh well, nothing lost but opportunity. I think you would have to grade out the rewards as it's much easier to play with higher level golds in the lower levels than it is let's say in the Diamond or Champion Levels. So here would be my proposed breakdown, I would love to hear your thoughts on this of course, some of you are going to like some of you are going to hate and some of you will never give a flying...
You get the point now on to the proposal...
Very simply put, rather than getting paid in just DEC if you are lucky enough to take advantage of this, then you get a weighting based on your level of the cards you played. So you would get one card with a limit based on the level you are playing and divide the DEC value of the cards played by 10,000, and round up to the nearest thousand, but any positive number above zero means you get at least one charge.
For example, you play a single common gold card and win at the bronze level you would get a number that is...
750/10000=0.075 --> which doesn't round up to 1, but is a positive number over zero which is still gets the player the max still at all the bronze levels of one charge.
Now, you win a match in silver, same formula, but higher ceiling of upside to win. Say you play with two leveled up commons you can win up to 2 charges if you win. So the DEC value of the gold cards that you play and win with have to be at least 19,500 DEC value to unlock the maximum rounding up to the nearest ten-thousand.
Moving to gold, same thing, but the upside again gets higher, to a max of 5, so you would need 49,500 DEC (or more) value in the gold foil cards you played to crack the max, and again only one common to get the minimum of one. But as with all levels you can get a minimum of 1 through the max number. So a silver level winner could win possibly 1-5 charges depending on the DEC value of cards they played to win their match. Again very moderate means here as far as gold cards go, but again you must win the match which will get increasingly harder for each level, thus the higher upsides included at we go up.
Next to Diamond, ouch. Imagine the thrill of pulling a win somehow in this high of a level when getting lucky enough in the first place to pull the lucky draw for a free shot at gold winnings. Wow. Anyways, all the same as before but the max number of potions that can be earned is higher. You ready for this? A max of 8 charges for a winning lineup depending on the DEC value of the gold cards you played. This of course is going to require very solid leveled up gold cards so the player will want to take advantage of this if possible at this level. 119,500 DEC value is needed in the gold cards played, so you will have to have to some very powerful cards to get the maximum return here.
Last but not least, and certainly not least controversial in this proposal. The Champion Levels. First off, there are far less champion level matches played, especially early on. We may go a day or two as an entire game to even get 500 matches in a 24 hour time span. Second, you will need some serious gold level cards to penetrate your lineup if you happen to draw the lucky number in this setup and especially to pull out the "W" on top of it. So the rewards would reflect this. Up to 20 charges can be won here. Yes that's right. Up to 20. Again, you have to win the match to even qualify your lineup, which will be an undertaking that is no question. So, if you have up to 199,500--yes that's the DEC value in the gold cards you are playing then you are qualified if you win to take home up to the maximum 20 card bounty. Again you are eligible with a winning match to win between 1 and 20 based on the DEC formula of cards played. To make it to 195,000 you may want a legendary in there, or at least an epic that is leveled up very nicely to reach that number, or a whole array of cards, however you think you can play to win the match and take home the glorious bounty of 'can't miss' winnings.
Thanks again to all that are renting from my cryptkeeper17 account, please message me in an old or new post if you have a card that you rented through its term without breaking the contract so that I may get you a Neoxianag delegation as a signal of my gratitude for working with me on the rental aspect. Happy monstering, enjoy your day and good luck.