Hi SplinterMates,
So this time in the Weekly Splinterlands Battle Share:: We have the Theme MANTICORE - Who I call the Ultimate Dragon. Luckily, I'm having this MANTICORE Dragon card at the MAX level.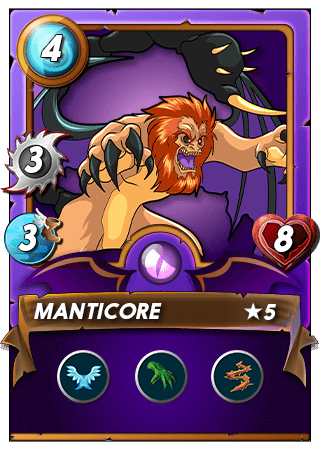 A bit of a background that - Why I choose to level up this card to MAX. It's not that today I maxed it, it has been at MAX level for a long time now. I'll also share my observation/experience in using this card in the battles. I'm a FAN of its thorn ability which you get at level 4. Combined with its Flying ability it helps you win battles when the rule is
Earthquake
- Where non-flying monsters take 2 Mele damage at the end of each round. Therefore, its good to use this Dragon if you can in Battle Rule - Earthquake. A final note in placing position of
MANTICORE
, generally I place it at the end taking advantage of all the mele attacks being made by my opponent - As this beast reduces 2 damage by its
THORN
ability. Though I've seen people using it in the first position as well - But that's not me...
The ENEMY HAS BEEN FOUND... Lets Battle
Since am battling at the diamond league - here you have two rules as we all know it. The Rule of the battle was Armored Up & Even Stevens i.e. using monsters with even Mana Cap. MANTICORE is an even Mana Cap Monster Card & Hence I was able to select Manticore for this Battle.
It was a 34 Mana Cap Battle - so I decided to use again my Max Level Summoner Card Daria DragonScale.. giving all my mele monsters a +1 Mele damage ability..
Following was my Battle Line-UP::
First to go was -
Serpent of the Flame
; I'm a big fan of its Poison & Retaliate ability and frankly speaking have not explored the Piercing ability. Most of the time due to its High Power, I get a chance to attack first and other abilities as I mentioned especially Poison does the real damage to the enemy line-up. You will get to see in the battle; how my opponent got the retaliate and position for attacking my Super
Flame
---
Second in line was this Max level card
Red Dragon
- Its backfire and healing ability just gives you an upper hand. The oppononet was hit back by my Red Dragon every time when he attacked with Range attack monster. Also the healing ability that you get at level 3 of this card is an added advantage.. Go Dragon Go...
---
Cerberus
was Up Next - In the battle we didnt reach thus far where I could use this monster card Cerberus..But I was well prepared to give a tough fight with Cerberus Healing and Retaliae ability many Big Monsters Just give it up in front of him..
---
In fourth position I had my real queen lined-up -
BEETLE QUEEN
- Placing the queen at this position I was able to heal my Flame a couple of times. Just love the Tank Heal ability of my
BEETLE QUEEN
. I'm just 3 more cards awaya to level my Queen to level 6 - that should give me my Beetle Queen an extra life.
---
The real damage was done by
Dragonling Bowman
- with its sneak ability it destroyed the enemy line-up from back. My oppononet really had some good cards placed at the end. But all in vain as it got destroyed by my dragon
Mr Bowman
---
Here come my Ultimate Dragon
MANTICORE
I already shared its abilities I love and why I placed it at the end. You will notice in the battle that my opponent mele attack monsters fell prey to my dragon MANTICORE.. With the rule in the battle being double armor it gave this dragon an added advantage killing monsters with its thorn abilities just by standing & watching..lol
One Secret though I would like to share about this Dragon Card is that and is purely based on my observations - at high Mana Cap battles if you can enhance the mele damage by extra +1; using neutral cards like - "Enchanted Pixie" raises your chances of winning the battle..I normally do so and I've noticed the chances of winning are much higher..But Keep in mind that the battles should be high-ranked ones.
---
Both of Ours Battle Line-UP...
Battle Result..
Have Look at the Battle Fought :: Here
---
Did my strategy work?
YES - My strategy did work but I must admit the fact that my opponent had lower level cards. It would have been interesting to see if my opponent cards were 1 or 2 levels higher. But my guess is that even if the same cards with a higher level were used then too I would have easily defeated him. And I say this because if you carefully see I had an answer to most of the strategy my opponent came up with. Flame destroying the enemy line up from front and Bowman from backwards.. Bettle Queen healing ability and MANTICORE Thorn ability were just all enough to WIN this Battle..
---
Do you use MANTICORE often?
Manticore dragon is one of my favorite cards and you will always try to make the best use of your favorite cards. So first I ensured that I level this dragon to MAX which I did a very long time back and then use it in battles where it is really needed - I would say the High Ranked Battles should be the ones to target with Manticore and without having this card in your line-up you may be inviting a losing streak.. The abilities that MANTICORE provides at MAX level surpasses when compared to other Reward Card Dragons.
And personally I feel that at roughly $10 getting this Monster Dragon from the market is a real stealler..

Do you love playing games and do you want to earn as well while playing the game. If YES then come join this amazing online trading cards game SPLINTERLANDS here
See You @ The Battle Field - May the POWERS be with You!!
Cheers & Thank You!!!