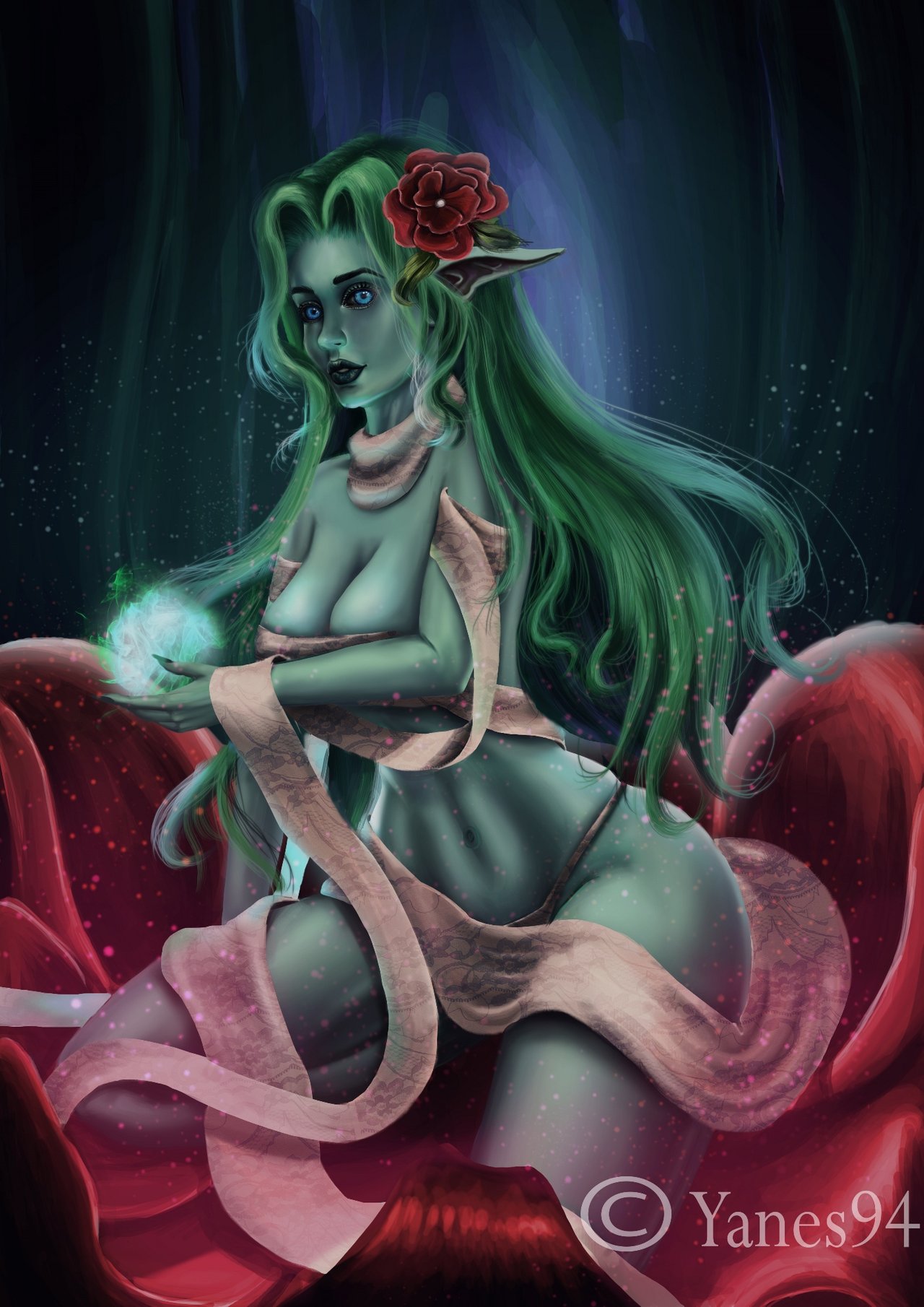 Hello dear community, how are you?
First of all, I wanted to mention that I have been playing #SteemMonsters a bit, something like to understand it a bit and, taking advantage of the moments when I have internet I get distracted for a while while playing, the craziest thing is that I win heheheheh yes, it is not for boasting but I almost always win and that I don't have any knowledge about the game… yesterday I entered and to my surprise I had won 5 cards just for having been in a league because of my reputation "at least that was what I understood XD"
Yesterday after playing for a while I entered the market and I began to see the cards, the truth is that there are many that I had never seen... months ago when #SteemMonster started I made several FanArt of some cards and now entering again I could realize that there are other designs new, I'm glad for the game.
After seeing the cards I liked one, I liked it since it looked very tender but also somewhat sensual, I think that the designer of this card forgot to put more clothes on the girl LOL. The card I am referring to is called Wood Nymph so I started my sketch more or less as I wanted it and then I went to my Ps and the magic began. XD
This FanArt is my participation for the splinterlands and I hope you like my version of this card.

For my design I made the sketch in my notebook, as I don't know anything about this card just what I read about it in his biography, I made it coming out of a kind of flower budding.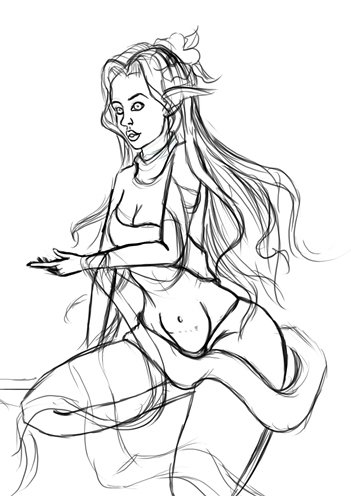 Then I went to my Ps and placed the base colors based a little on the colors that the character has and also worked on the flower doing it with grayscale and then pass it to color.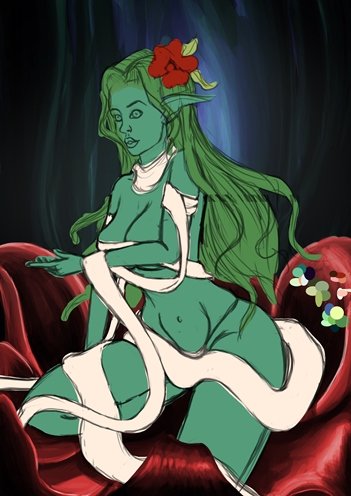 In this part I dedicated myself to placing some shadows and lights in the tones that I had chosen, I changed some tones because for some reason all green did not finish liking me... look for a complementary color with green and so work it.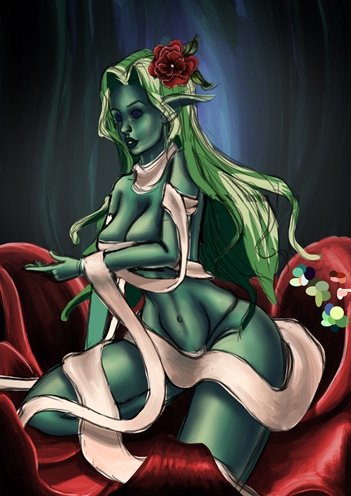 Here I already dedicated myself to removing the black line from my drawing and working on the fabric, the skin and other details to finish my illustration.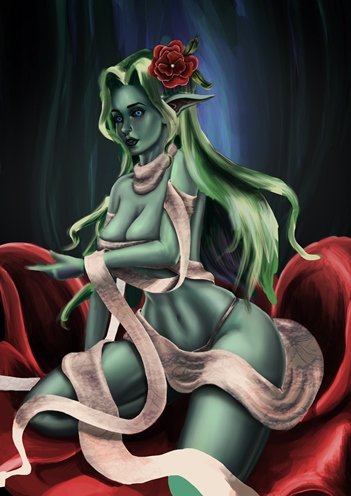 FINAL RESULT
For the end... I worked on the stage which I wanted a little magical, add the lighting and work on the hair.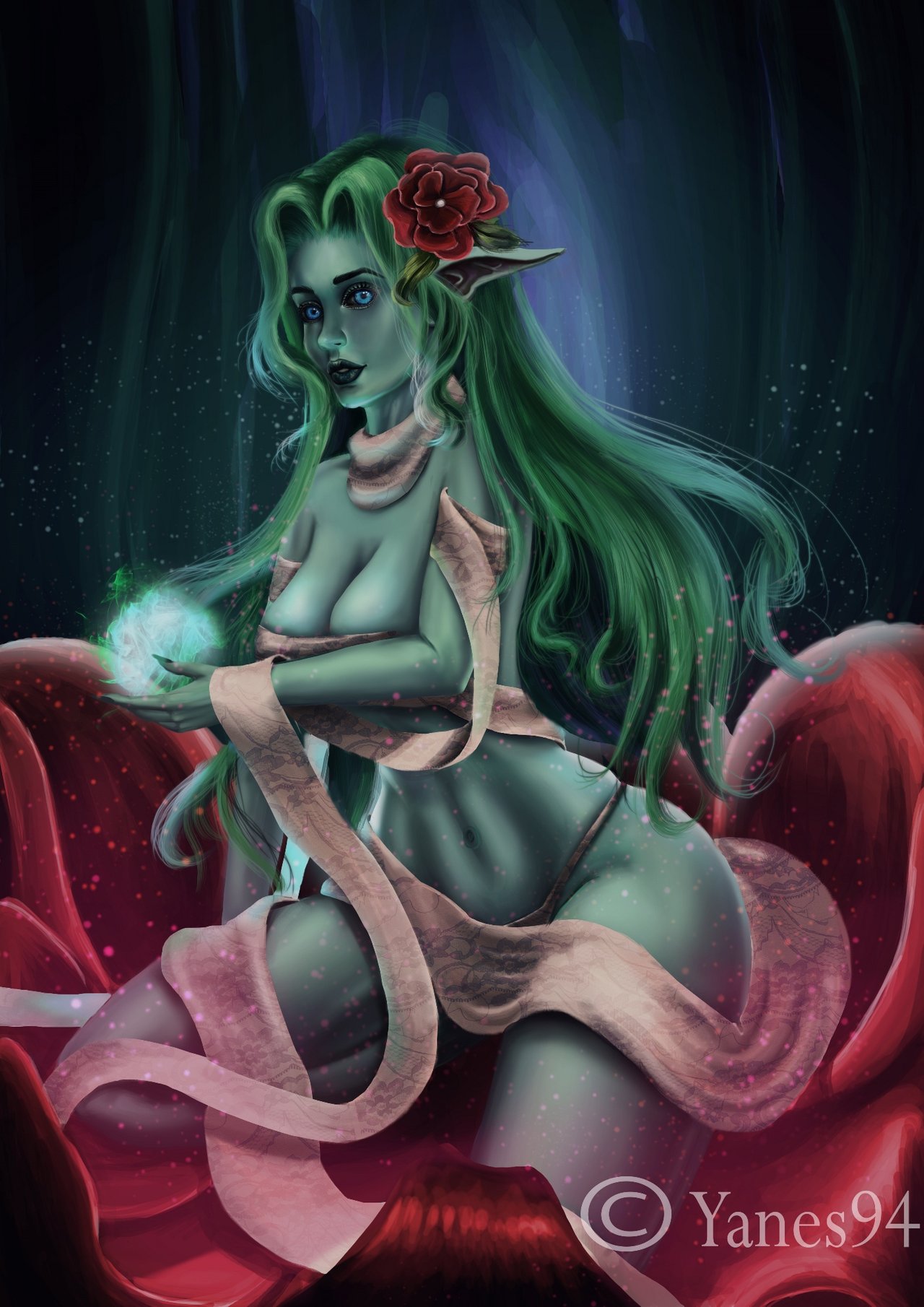 MATERIALS USED:
Laptop
Photoshop
Bamboo Tablet

Grateful to all of you for seeing and supporting my new work, I would be very happy if you leave me in the comments your opinions and criticisms regarding this style or my work. His criticisms help me to grow and encourage me to work harder to improve my art.

See you soon dear community, thank you for viewing and supporting my publications. 😜