1-1-2020
Three for the Road Ahead
First Spud 9
Today I powered up
50.435
steem. I use to power up almost everyday, but now it is more like once a week on Mondays or Tuesdays, and that depends if I think I will have enough for a few commitments I have made for some of my steem. A lot of that power up was from the portion of extra tokens I receive that are not staked automatically, and a slight decrease in some token holdings.
I had the goal of reaching 2500 SP by the end of the year in 2019, so toward the middle of the month about the 17th, I took all I could out of Steem Engine and from the few post that were well rewarded, and made it to 2500 SP. I have not set a goal yet for this year, maybe later maybe not for SP growth. I have set a goal though of 20,000 comments, I hope to by mid February be at 15,000. That is not going to be an easy thing to do, but we will see. Engagement is as important as the Steem Power.
---
December Progress Report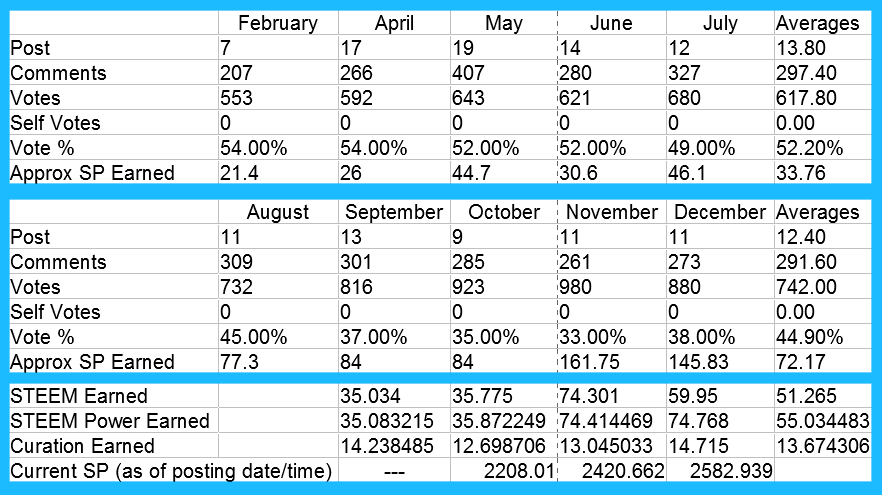 The numbers in my little spread sheet are mostly courtesy of Asher, (@abh12345). On request, time permitting he offers an end of month review of activity.
December 2019 - Monthly Steem Report 📝📊
That was this months link. If you have not availed yourself of his services you are missing out on some nice reports.
So how did I do in December?

Postings:
I held steady in the month, at 11, hopefully, (as always), I hope to be able to make a few more psot. I am still striving to get back to the 13-15 post a month, and as you can see still struggling. perhaps by mid summer.
Comments:
A little bit of an uptick in the month, however if I am going to reach my goal of 15,000 by mid Feb, I need to get on the ball and start adding some comments on the post I vote on, just to lazy sometimes.
Votes/Self-Votes:
A slight drop off in the number of votes, mostly from trying to not vote down at 33% so often. I would like to keep my
vote %
around the 45% mark while the vote value of steem is still down a little bit. Hopefully we will see a vote value increase sometime this year. As it is my earned SP is barely keeping pace vote value wise. Still holding pretty steady at no self votes, and I did actually issue one down vote in December.
Aprox SP Earned:
As I mentioned in the Spud segment above, I reached my goal of 2500 SP in mid month. Not sure what I am going to shoot for this year, other than I hope to have a little bit more at the end of the year. The
Aprox SP
number is from curation, author and Steem engine withdrawals, almost all Steem earned continues to be powered up. There are a few Steem commitments I have made to myself to assist others, that does not get powered up, but no Steem has yet been removed or converted into Fiat dollars.
Conclusion:
No earth shattering conclusions for the month. Pretty happy with reaching my goal, and will continue down the Steem Block Chain road for a few more years to see where it leads. In other words I am still having fun and enjoying the posting, reading, and gaming, so not going any where yet.
Related Progress Report Links:
---
So how did I do for the year? I am happy with where I landed on the list. I am down at number 55. The numbers:
Post: 151
Comments: 3346
I really am going to need to step that activity up over the year if I want to close in on 20,000 total for the year, especially since I have not yet even reached 15,000, close but not there yet.
Votes: 8672
Unique Votes: 1083
As you can see with an 8.6 to 1 vote ratio between those I follow and those I don't I need some work. I think that ratio will decrease with the community options coming up. Instead of following individual it will now be possible to follow whole like minded groups, and I hope to see more content than the new feed, or tags provide.
Over-all I am pretty happy with how 2019 played out. I hope everyone has a great 2020.

---