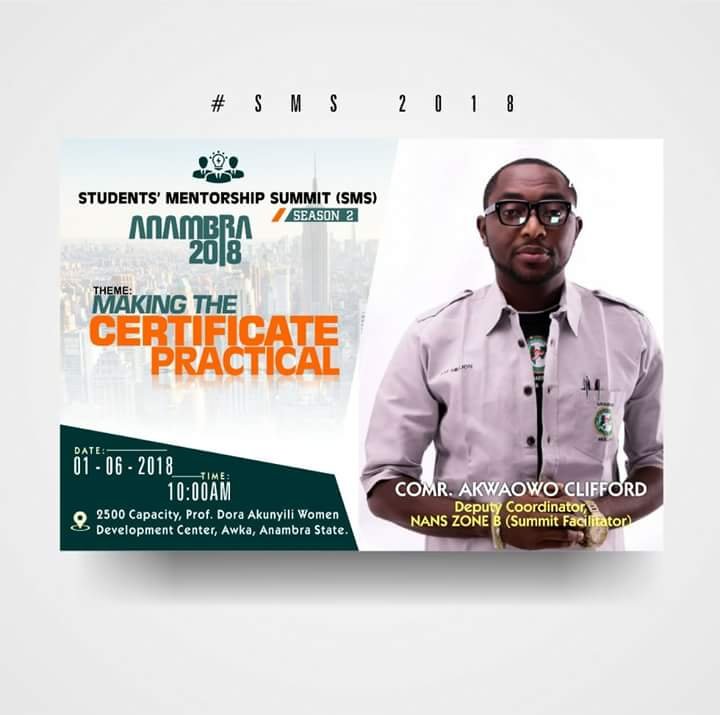 The Largest Converge of Students in Nigeria, Students' Mentorship Summit (SMS) is set to hold its 2nd edition. This Summit gathers together students, brightest young leaders from around the country, Mentoring them to make lasting impact in their various fields of professionalism and study.
This year's summit which comes with the theme: MAKING YOUR CERTIFICATE PRACTICAL, will inevitably help Nigerian Students to know the worth of their certificates and put them to use practically by building confidence in themselves whereby helping them break the status in their different fields of discipline.
Students' Mentorship Summit is not just a Summit but a Converge that will gather, guide and put Students through on how to Practicalize their Certificate.
The Summit is the 2nd in the series to be held in Anambra, Nigeria on 1st June, 2018 at the 2500 Expansive, Prof. Dora Akunyili Women Development Center, Awka by 10:00 prompt.
Students' Mentorship Summit (SMS) 2018 is designed to be a defining moment in the history of Nigerian Students' and initiated to advance positive values in young people. It focuses on aiding young people develop leadership skills, entrepreneurship skills, character and positive attitude on utilizing and making the Certificate Practical.
The Summit will focus on:
*Lectures by seasoned & renowned Lecturers on how to make your Certificate Practical.
Inspirational & Motivational Lectures by seasoned business Guru's on the way forward on becoming successful.
Panel of discussion & interactive session.
Value Re-orientation (Respect for others, Integrity, Accountability, Diligence)
Civic Rights and Responsibilities.
Electoral Voter Education
Financial Literacy
Basic Entrepreneurship and Business Management skills
Principles of Career Success
Communication skills
Leveraging on Technology to make the Certificate Practical
This event has become necessary owing to the recent economic situation of our present day society as it would be a panacea for a better society.
Meet Our Seasoned Speakers-
Dr. Ubong Thompson King, a visionary leader, Chairman Ubong King Foundation and Chairman of Protection Plus Services Limited (PPSL) and other fast growing subsidiaries. PPSL is a Corporate Security Services company, with headquarters in Lagos state. He is empathetic, focused, charismatic, innovative and creative.

Her Excellency, Amb. Yvonne Khamati is a Kenyan politician and diplomat, who serves as the Deputy Ambassador of Kenya at the Kenyan Embassy in Mogadishu, the capital city of Somalia.
Virtually everyone knows the name of Africa's oldest President, but little or no attention is given to many of the continent's young leaders and parliamentarians, such as Yvonne Khamati.

Her Excellency, Amb. Mrs. Amina Chawahir Mohamed Jibril is a Kenyan lawyer, diplomat and politician. She is presently serving as the Cabinet Secretary for Ministry of Education in Kenya.
She previously served as Chairperson of the International Organization for Migration and the World Trade Organisation's General Council, as well as Assistant Secretary-General and Deputy Executive Director of the United Nations Environment Programme. She served as the Cabinet Secretary for Foreign Affairs of Kenya from May 2013 to February 2018, when President Uhuru Kenyatta, after re-election, moved her to the Education docket.

Chief Austin Oguejiofor, (Onwa na Enugu-Ukwu) is a Motivator, Philanthropist and Chairman/Ceo First Rotech Group of Companies. Rotech is a Civil Engineering, Automobile Sale, Transportation and Construction Company who specializes in government and private sector concerns and also has Investments in real estate across the 36 states of the country with headquarters in FCT Abuja. He will take students through his success story and as well sign up as a mentor to many.

        01.    06.    2018

.....Get Ready Nigerian Students
. . .It is Back, Bigger and Better...
#Capacityto Over20.5Million Nigerian Students...
#Anambra2018...
#3.DAYS.TO.GO..
#SeeYouSoon...