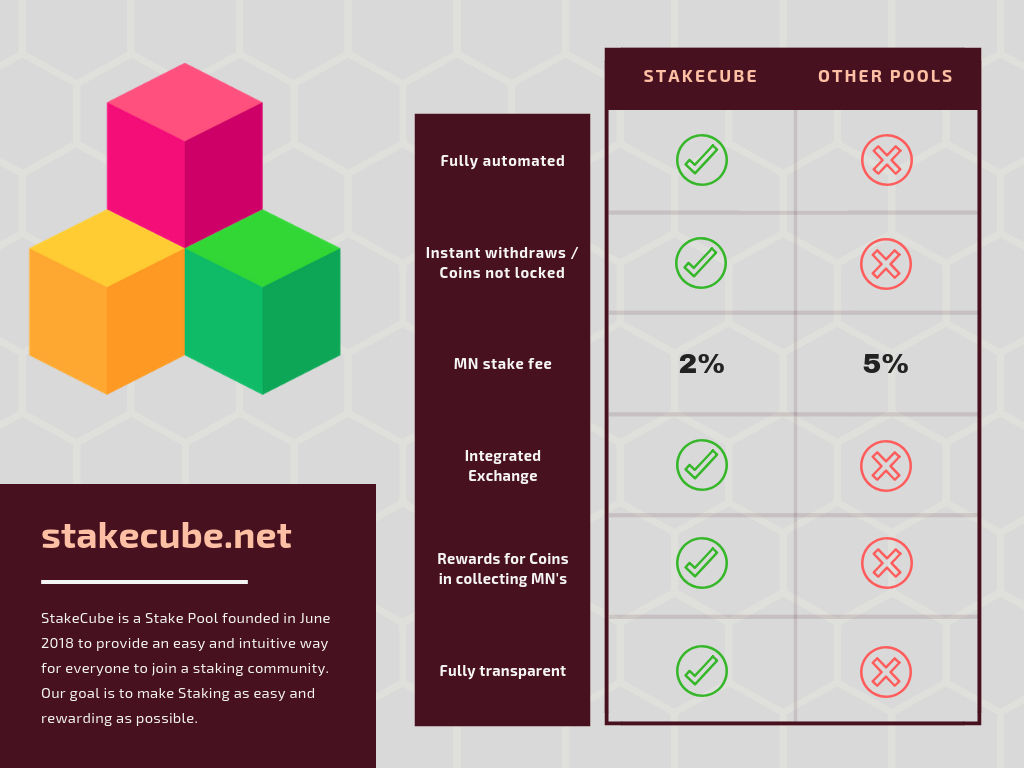 The first staking-pool and shared masternode host service that will soon feature a performant cryptocurrency exchange !
Come and try our automated staking pool: designed for a simple use, it allows the best staking performances as well as a full and easy control of your investments !
Get your referral link and start inviting your friends ! You will receive a 20% commission from our 2% fee on each stake !!
Deposit any amount, they will automatically start staking, and stakes will get credited on your account instantly.
If you feel like it, use our shared Masternode service ! We designed this feature so that anyone can pretend to a slot : we offer the possibility of having a share of only 1% of a Masternode collateral ! And don't worry, when you reserve a seat, your coins are still staking until all seats are taken and the Masternode starts then - a unique feature!
On StakeCube, your coins will work 24/7 for you !
What are you waiting for !
+Full transparency
+Only 2% fee for POS and MN
+Team always available on Discord
+Rapid and efficient support
+No minimum deposit
+No deposit fee
+Instant withdrawals
+No withdrawal fee
+New coins added frequently
+Coin voting for new listing
+Daily Airdrops / Weekly Lottery
+Faucets (to claim everyday !)
Website :
https://stakecube.net/?team=mafinok
Discord :
https://discord.gg/4rsuS8t
Twitter :
https://twitter.com/stakecube
Happy staking,
List of Suported coins
APRCoin
Bean Cash
Bitcoin Green
Blocknode
BOXY Coin
Bitcoin
Bitcoin W Spectrum
Conciergecoin
CropCoin
Ducat
DeviantCoin
Dash
Draftcoin
Embercoin
KYDCoin
Logiscoin
LightPayCoin
MMOCoin
Navcoin
Penguincoin
PIVX
Phonecoin
Projectcoin
ReddCoin
Stakecube
Shard
Stipend
Syndicate
TurboStake
Vsync
Digiwage
Bitrewards
Zest