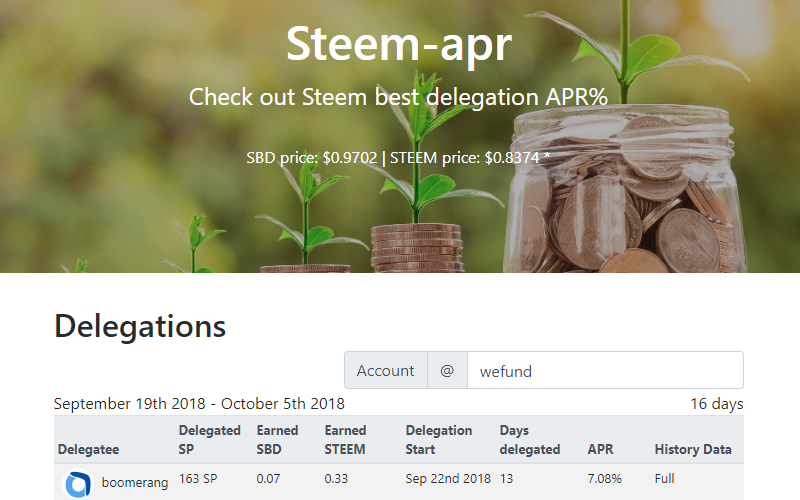 There is a competition between profitability of Steem services for delegating STEEM POWER to them. The annual percentage return can hit over 10%! This is far better than banks give us in real world. Curious what are the STEEM and SBD earnings from a loan? I have prepared simple website in a form of comparison datatable. In the spirit of FLOSS of course <3
https://github.com/mys/steem-apr
Results
The table shows a list of services that specified account delegates to. There are SBD and STEEM numbers if any payments came back. Alongside with datetimes we know how long the delegation lasts. Trophy images indicates the best services out there 'at ichi'. Try out Your username!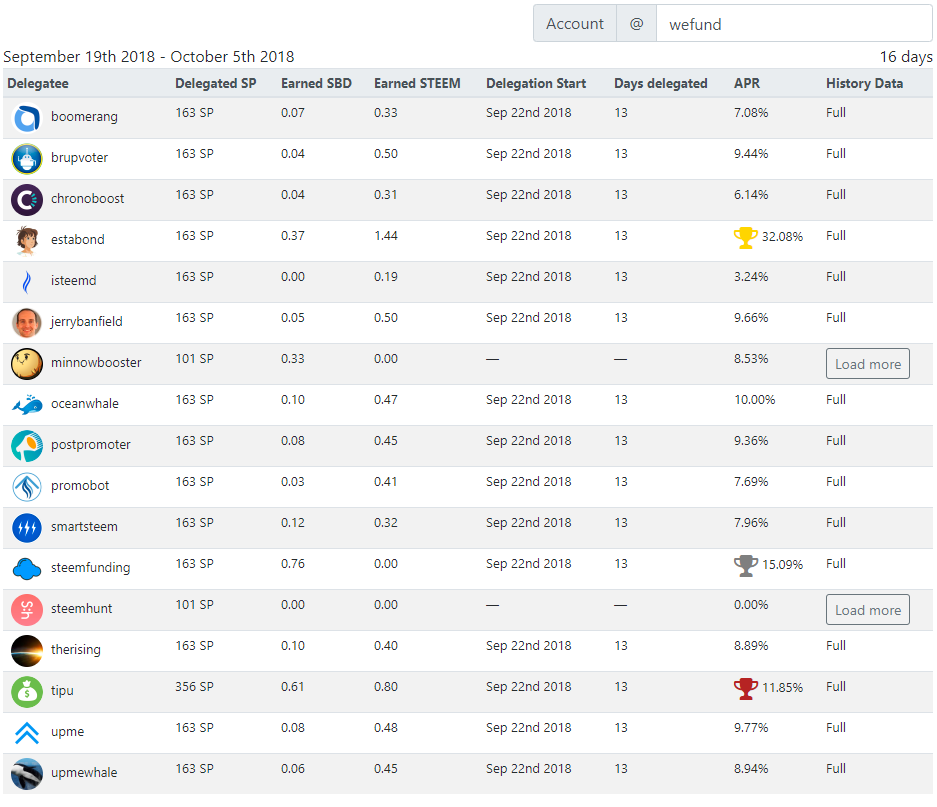 Current delegations for @wefund account
Methodology
Process is simple:
Gather account data and global properties from the Steem blockchain. The most important here are getAccountHistoryAsync() and getVestingDelegationsAsync() calls. Have to build history from whole account 'transfer' transactions.
Retrieve latest SBD and STEEM prices. They are taken from cryptocompare.com API.
https://min-api.cryptocompare.com/data/histoday?fsym=SBD*&tsym=USD&limit=14
https://min-api.cryptocompare.com/data/histoday?fsym=STEEM&tsym=USD&limit=14
Throw all the data combined in a nice visual form.
Full formula contains of token earnings multiplied by price rate and divided by delegated STEEM POWER. It is combined with days delegated in the past to full year. Estimated result is pecentage annual return rate.

Annual percentage return formula
GitHub Pages
https://mys.github.io/steem-apr/
Steem-apr is not a web application! Its functionality is similar to eg. SteemDesk, however Steem-apr is as light as possible. It is pure HTML + Javascript without any backend server needed. All data is gathered from Steem API nodes then calculated locally.
Anyone can download ZIP package (or git clone)
https://github.com/mys/steem-apr/archive/master.zip
and just open the site in local browser. This is why it is possible to host Steem-apr as GitHub Pages also. 100% trustness and verification.
Find out account delegatees
As side effect the tool turned out to be handy viewer what are the delegatees of specified account. Delegated SP are shown with exact date times when the delegation started till now.
Best example of usage is misterdelegation Steem account. It is a user who supports one of the biggest dApps in the blockchain. As we can see he delegates to 21 projects right now. The list is interesting ;)

Disclaimer
The idea and request for Steem-apr website came from one of the Steem delegation invest services. He wanted to find out what is the competition over there. Project is partially based on stopped-working https://www.steemdesk.com/delegation/current functionality. This website will be a verification tool to improve delegation services and a basis for a new Steem-apr features.
Links
https://github.com/mys/steem-apr
https://github.com/mys/steem-apr/commits/master
https://mys.github.io/steem-apr/