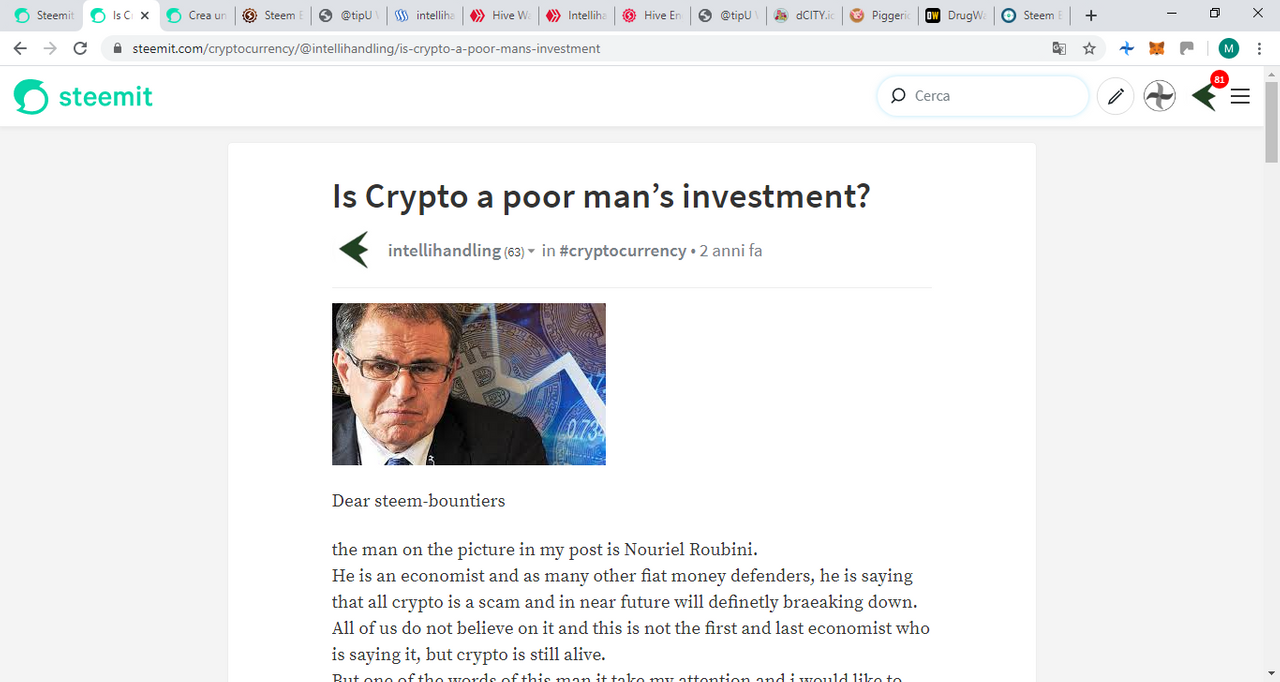 Dear friends
i would like to talk about a sad truth on my experience in 2 years of cryptos and what i wrote in my post of 2 years ago is sadly true:
https://steemit.com/cryptocurrency/@intellihandling/is-crypto-a-poor-mans-investment
Two years ago my post was a question, but now it is a sentence!
Why suddenly i am so strongly concerned?
Simple, i see my coin proposal seems not interesting for social networks users and i have my simple answer:
pour man think about the investment is good if can got 100% profit, business man understand that 10% profit is better.
With this i am not saying i need some people from social become my company coins holder, because this is only a 20% of total shares, but as i can see from most of people reaction, it seems 10% in advance is not interesting profit and they prefer token dump business.
In over 2 years of experience, i can see all big profit are empty promises or scammers, but pour people do not think about 10% profit, they have few money and they try to get as much they can get from their investment, but result are always fail and pour people become more pour and scammers enjoy!
So now i would like to make a contest, i am ready to buy 100 steem value of any coin owner which is ready to buy the same value of INTEL.
In this way, my competitor will get 1000 INTEL and he will got back immediately from me 10 Steem and 1000 INTEL from the another social engine.
I will be owner at same time of 100 steem amount of his coins and at the end of 2020 we will see, if my competitor coin value will be over 110 steem, i will loose and i will send back the coins to the competitor without asking any money!
If i will be winner, i will not ask anything to my competitor, just i will make a post about it.
This is just to understand if i am wrong or right.