Seva mobil bekas is the best and most trusted four-wheeled trading exchange platform in Indonesia. Marketplace under PT Astra Digital International provides a range of quality used cars at a reasonable price.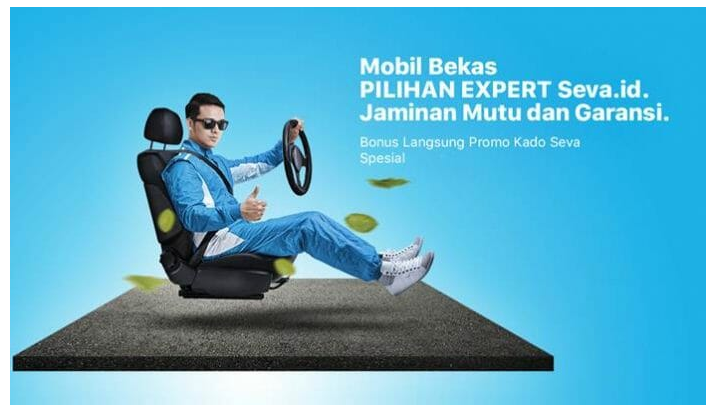 The online Platform with the URL seva.id also provides the most recent four wheels output with exciting promo. In addition to selling and buying cars, the marketplace also serves the purchase of spare parts, property and also financial services.
Seva.id Trusted Online Services
The site and the complete automotive services to reliable property with affordable price has 2 services that attract the attention of the people of Indonesia, namely Expert choice and Stock Clearance. For more details, let's look at these two services:
Seva.id Expert Options
Expert choice is a service in Seva that offers a second car with classy quality, because it has been inspected by the inspectors. Inspectors check the condition of the car, ranging from physical condition, history, authenticity of the letters, proof of service routine, and other completeness.
Not only that, the four wheels are secured free of tabrak, flood-free, original odometer, not mutation from outside the area, machine number and frame in accordance with vehicle documents, and so forth.
Essentially, all that is available on Seva used car buying and selling platforms has passed through the thorough inspection process.
Some of the advantages gained buying through Seva.id expert options include:
Real car condition, both interior and exterior, according to the circumstances;
Never suffered a collision or flooded flood;
Color still original, factory original;
Machine condition is good (according to age year);
Complete documents, such as routine service proofs, manual books, and original papers;
The car also comes with a spare lock;
In addition to some of the above advantages, buying in seva mobil bekas through this option you will get some interesting offers, including:
ID Marco Wholesale shopping Voucher Rp 100.000;
Discount Voucher at AIRY 15%;
Voucher JD.ID Rp 50.000;
Voucher Shop & Drive Buy 2 get 2 oli Astra Shell Helix;
Astra Life accident insurance worth Rp10Juta;
To get your car through this option, there are a few simple steps you need to take. These steps aim to give you the convenience of the prospective customers seva.
Register yourself on the seva.id website to get the login Seva ID. You can use email or any social media account;
Open your registered email and click the activation link sent to the email;
Once done, you can go directly to the page to find a car or to browse the prices of used Astra cars and others;
If there is already the right option, select the car of expert choice that star marked, and proceed to the checkout page;
Seva.id Stock Clearance
Stock Clearance is the latest car sales of VIN year production with discounted price up to RP100 million. This service is held in collaboration with Seva.id network Auto2000 in Indonesia.
On this service, the site and the complete automotive services to this affordable property provide a variety of cars with various brands and types of famous.
Buying through stock clearance in Seva new cars is one of the creative alternatives for you who want to get a dream vehicle. In addition to the cheap prices, there are at least some other reasons that a person considers to get through this one service:
Conditions still Fresh
Every year many manufacturers release the latest type, but it does not mean the four-year-old wheels have become out-of-model. Precisely this will improve the existence of the car, especially those who like the old models.
The appearance is still fresh, because there are some manufacturers selling new cars for old stock with different types and colors. This allows you to choose the different types and colors you like and want.
Competitive price
Problem price, vehicle in stock clearance should not be feared. Not to mention the rebate to hundreds of millions that can help you trim the budget for buying a car. On that basis, it's no wonder many consumers are interested in four-wheel stock clearance.
Car specifications
Another consideration that is often done is the comparison of goods. Consumers who want to buy in stock clearance generally see the specifications embedded in the car. This sees the feature excellence in each vehicle to suit the needs.
You can follow the Stock Clearance on this site easily.
Go to Seva.id website and select the car available in Stock Clearance. Then continue by clicking "Request for Best offers";
Log in with your Seva ID login or you can also use Google and Facebook. After that, you just follow thsevae next step that will be guided by Seva.id;
If the above process is complete, you will be contacted by our team within 1 x 24 hours. Alternatively, you can contact Seva Call at 1-500-607 If you have difficulty buying products in Stock Clearance.
Such a short review of the automotive trusted online services to the property seva.id, hopefully give a picture for you who want to get the latest four-wheel vehicle output or second-quality car.