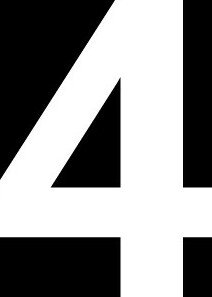 4!
English Section
This has been 4 days since my latest post. I have been disconnected from the internet since that day. Yesterday I came online, and I saw @cheetah has whitelisted me in the commenting section of that post of mine, an honor is that it was the famous @guiltyparties who ordered @cheetah to cool down on me. Very much appreciated.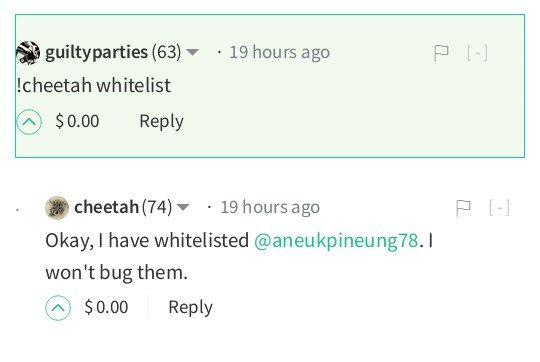 @cheetah is getting away from my tail.
The whitelisting is the signal for the following good news, which occured on Friday, Oct 12th night, Indonesia Time, and that was that @paulag's handing over her Indonesian version of Curation League and The League of Excellence for me to run. We've been in talk about this for some times, discussing some related issues. It is great that we have finally come to the next level of the plan: putting it into action. Everything is ready and set. Time to put it in a go.
It is an honor for me that @paulag is trusting me to host the leagues. Thanks a bunch, Ma'am.. And I know, without supports from community, I could end up ruining the leagues. So, I know that it also requires responsibilities.
And with the new protocol brought by HF20, there will definitely be some changes in the leagues. That's one thing about Steem, it is progressing, and so are related things. We will all see to it this coming Friday.
Lastly, I want to thank these people (related to this news):
Thanks for reading. Please kindly leave your comments.
Bahasa Indonesia
Empat hari lalu saya mengunggah artikel berjudul Wake Me Up When (en) or Masih Di Dunia Impian, Rupanya(id), sejak saat itu saya menjadi sangat sibuk dengan kegiatan harian sehingga saya praktis "terputus" dari internet. Kemarin, saat memiliki kesempatan, saya membuka jaringan, dan mendapat notifikasi bahwa @cheetah telah memasukkan saya ke dalam daftarputih-nya. Hal yang sangat membuat saya merasa senang bukan main adalah bahwa yang memerintah @cheetah untuk meninggalkan saya adalah Yang Tenar @guiltyparties, beliau adalah seorang witness.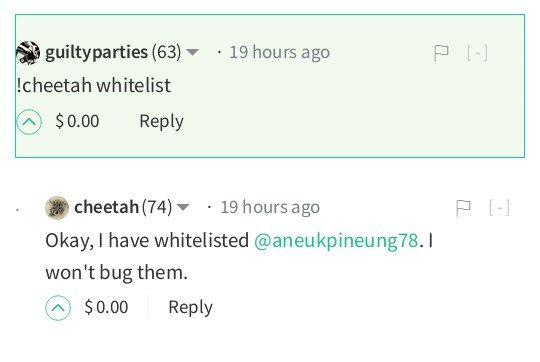 @cheetah kini menjauh.
Kabar tentang dimasukkannya akun saya ke dalam daftarputih @cheetah adalah penanda kepada berita bagus yang menyusulnya, yaitu [artikel milik PaulaG] yang meluncur pada Jumat malam (12/10) WIB yang mengabarkan bahwa dia telah mengalihkan hak siar Liga Kurasi (Curation League) dan Liga Kehormatan (The League of Excellence) kepada saya. Kami telah membicarakan hal ini sebelumnya, mendiskusikan potensi-potensi masalah. Sangat menyenangkan bahwa rencana tersebut sekarang sudah memasuki tahapan selanjutnya: eksekusi.
Adalah sebuah kehormatan bahwa @paulag mempercayai saya untuk menjalankan kedua liga tersebut. Terimakasih kepadanya. Dan saya juga menyadari sepenuhnya bahwa tanpa dukungan komunitas, saya bisa saja justru hanya akan mengacaukan liga-liga tersebut, jadi, saya sadar sepenuhnya, ini juga tentang tanggung-jawab.
Juga, dengan perangkat aturan baru yang dibawa oleh HF20, tentu saja kita bisa mengharapkan beberapa perubahan di dalam liga-liga tersebut yang harus menyesuaikan diri dengan perangkat aturan baru tersebut. Begitulah sifat alamiah Steem: berkembang, demikian juga hal-hal terkait, dan mengenai liga-liga tadi, akan kita lihat pada hari Jumat yang akan datang ini.
Akhirnya, saya ingin berterimakasih kepada orang-orang berikut, terkait perkembangan ini, mereka adalah (di antaranya):
Terimakasih telah membaca. Silahkan tinggalkan komentar.
Tulisan Terkait (Terbaru Paling Atas)
| Ikon | Judul, Tanggal |
| --- | --- |
| | Wake Me Up When (en) or Masih Di Dunia Impian, Rupanya(id), 09/10; |
| | HF20 And SteemFriends [Eng] or HF20 dan Teman-Teman Steem [Ina], 08/10; |
| | Wah! Saya Suka Model Tulisan Yang Begini!, 05/10; |
| | Mana Terkuras Semangat Ikut Amblas? 😢😑😰😱, 04/10; |
| | HF20 : Catatan Seputar Hari H, Tapi Sampai Kapan?, 03/10; |
| | Taktik Asik Menghadapi Mana Yang Pelik, 02/10; |
| | Kesempatan Untuk Saling Bantu : Sisi Lain HF20, 01/10; |
| | Jenis Jenis Reaksi Dan Tipe Steemian : Hanya Opini, 30/09; |
| | Resource Credits si Pengganti Bandwith, 26/09; |
| | Atribut-Atribut Steemian, 24/09; |
| | Tentang Steem Witness (3) : Apa Itu Hard Fork?, 22/09; |
| | Tentang Steem Witness (2) : Block, Apa Itu?, 19/09; |
| | Tentang Steem Witness - Hal-hal Dasar Yang Perlu Diketahui, 17/09; |
---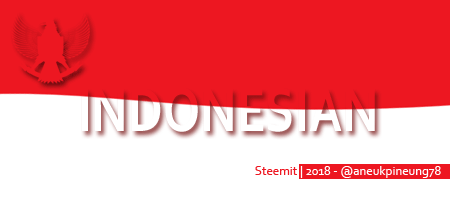 Orang Indonesia


Tekan di sini untuk bergabung dengan server arTeem di Discord.