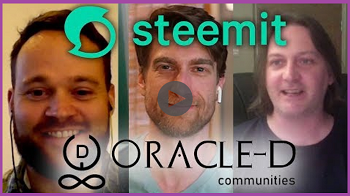 Source
If you haven't seen this interview yet, watch it today!
I got notified about this interview by @andrarchy with the Oracle-d founders not long after it got published on the Oracle-d discord. I've watched half of it immediately, and the remaining part in a few parts later on. Unfortunately, I got sick during the weekend, which didn't allow me to write this article earlier than today. This interview is interesting and understandable for everyone, and I highly recommend you to watch it, especially when you haven't been introduced to Oracle-d yet!
This interview inspired me to a level that I haven't felt in years!
It may sound like a joke, but it's true! I've been walking around with a plan to onboard businesses while regarding a project, that I'm super excited about, for a while now. Actually I thought of it a year ago, but it has been parked until a few months ago when I suddenly had a lightbulb above my head showing me the bigger picture. And then I saw this interview, which made me excited and all pumped up with energy. Why? These guys made me see the bigger picture even beyond what I've been seeing until now. I know I can't park my idea anymore, this is the time to focus on this project. I'm not going to go into details in this article, as this article is actually meant to get more views to this video, because I feel this is a must-watch for every Steemit member!
Doubts about Steemit's future? Good things are coming!
And also for those people you know that are doubting to join Steemit! Do yourself and them a favor, and send them the link to this video! For those people having second thoughts about Steemit, this may help you see new possibilities again! If you're having plans to start a business, I found out that @steemba is focussed on onboarding new businesses on Steemit.
This can be your first Oracle-d task!
If you haven't contributed to the Oracle-d platform before, this can be your very first task for Oracle-d. You can get rewarded simply by watching the video, and subscribing to the Steemit Youtube channel. So if you're wondering how you can contribute to Oracle-d, I advise you to start with this task. It's easy and it will give you huge insight about what Oracle-d is about. Trust me, you really want to be part of this. Challenge yourself, and you will see that you will get rewarded for your efforts!
Oracl-d's portal is accessible to everyone!
Before, you could only publish articles through the Oracle-d portal if you gained pro status by winning a task, but now they have launched a new version that is accessible to everyone on Steemit! Let me tell you that I'm super happy with the new version, we can now use markdown to write our articles, and the editor is so fast, that it's faster than my typing speed. (Lol, just kidding!) Of course the pro tasks, are still only visible to the pro content writers, but you can now write all the open tasks that Oracle-d publishes on Steemit through the portal by using the General task option. This will make sure the reviewers of Oracle-d see your post, and it will be reviewed for sure.
Hopefully you'll enjoy the video as much as I did
Let me know in a comment what your thoughts are on the video! And don't hesitate to complete the task as written above, you will not regret that! Let's make Steemit thrive!
Let me end this article with a moment of gratitude by thanking @andrarchy, @starkerz and @anarcotech for this great interview!
~Anouk