People hate hearing bad news but sometimes you need to take the rose coloured glasses off and have a good hard look at the glaring truth. Reality has a way of kicking you in the teeth if you're not paying attention and if this developing Bear Market in Crypto-land only teaches people one thing it is this – Markets may get carried away at times and price things wrong, but they will ALWAYS correct in the long run. The STEEM DOLLAR is no different.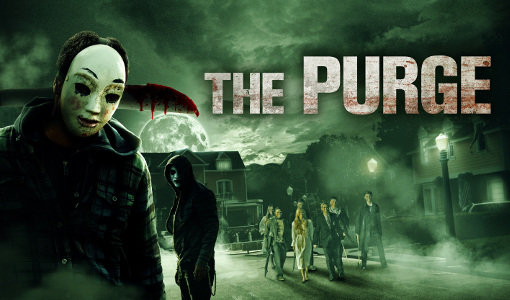 Source
I have a history of making unpopular predictions and that is not about to change. Just over 2 months ago I predicted the STEEM DOLLAR Will Fall To $1 USD and at the time it was trading above $7 USD. I explained my reasoning and backed it up with some facts about how the Circulating Supply of SBD was exploding and it was becoming Hyperinflationary. I stand by all that and now that it's dropped under $2 (a fall of over 70%) maybe people are prepared to start listening. But maybe not. The SBD is still defying gravity and we are still expanding the Circulating Supply with negligible Conversions back to STEEM.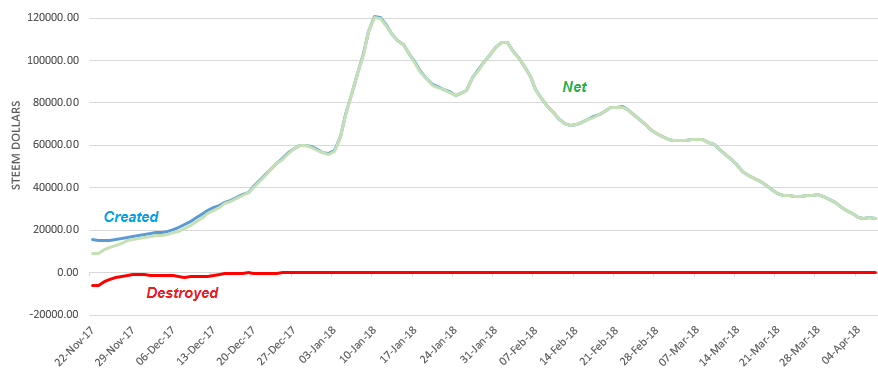 Remember this chart shows the SBD Created and Destroyed PER DAY so we are still in a pretty bad place with an unsustainable inflation rate. We've started to see post rewards get paid out in liquid STEEM, which is the platform trying to adjust to the high Circulating Supply of SBD by printing more liquid STEEM instead of so much SBD. This is not a good thing and if we continue on this course SBD will become even less relevant as a post reward in future – eventually fading into total irrelevance. Even the authors (and witnesses) who have been cheering the high SBD price won't want to see this. Maybe they're starting to figure out what road we're on. Maybe not.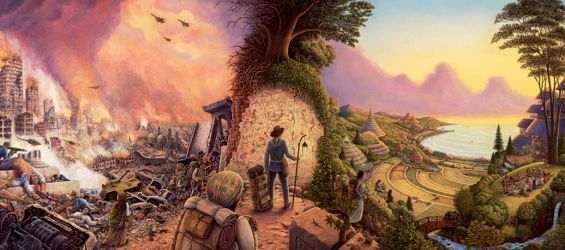 Source
We're not quite back to SBD $1 yet, but we are well on our way. I have been thinking about what might happen once we reach $1 and how things might play out. The market seems to have decided that SBD is loosely pegged, not to the USD but to STEEM itself. We have seen STEEM and SBD moving almost in tandem for months now. It is totally illogical to be pricing the market this way, but I think we've already established the market has been getting it wrong for months now so I am no longer surprised. The question is, how will the market finally correct and what does it look like? I've broken it up into 3 distinct phases.
---
Phase 1 – The Drop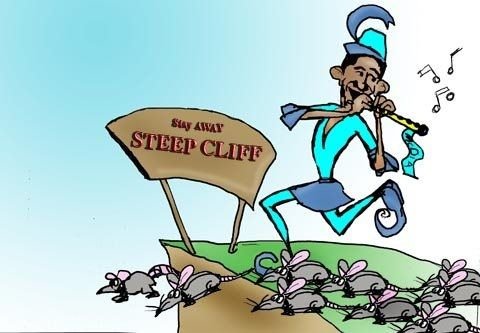 Source
This phase is nearing the end now and has been helped along the way by the broader sell-off in Cryptos, but it's not done just yet. I would say this phase ends when SBD hits $1 but it is not entirely true. The smart money will be putting a Buy Wall up at $1 for SBD so it is quite likely to initially bounce off this level. All those "Geniuses" out there using Elliot Wave Theory and other Technical Analysis voodoo will probably see the $1 level as a strong support level so it might bounce off $1 a few times before finally breaking through to the next phase.
---
Phase 2 – The Purge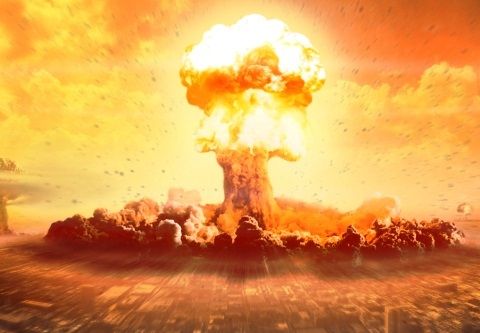 Source
When the $1 Buy Wall finally breaks, the Geniuses in the room using TA will probably see this as a very bearish indicator and a break-out on the downside. They will start selling, but as soon as the price gets to $0.99 or below there is a new dynamic that will be at play. Arbitrage players will be able to buy SBD at 0.99 and convert it to $1 worth of STEEM. They will then be able to sell the STEEM for a 1% profit and buy more SBD at 0.99. This is the way the peg is supposed to work. The result of this is that SBDs are finally being DESTROYED by the Blockchain Conversion. The SBD price is being supported by the Arbitrage players and the STEEM price has DOWNWARD pressure due to the Arbitrage selling. This is the point where the market realises that STEEM and SBD are NOT pegged to each other. It is also the point where all the excess Circulating Supply of SBD is Purged and we go back to how things were back in November – before all this madness began. The big question, and I mean HUGE question, is whether this is also the point where the SBD Peg is fixed to have Bi-Directional Conversions so that this problem does not repeat. That is ultimately going to be for the Witnesses to decide and I'm not particularly optimistic.
---
Phase 3 – The Recovery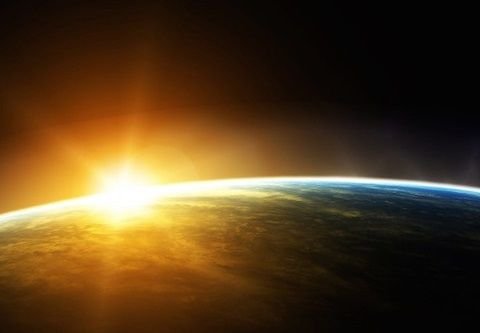 Source
After the Purge has occurred we should see the SBD Circulating Supply normalised, the liquid STEEM post rewards we've started seeing should be gone and the STEEM price will probably be looking battered. We may see the Peg fixed, but regardless – after this little hangover wears off, STEEM should start to recover. Maybe the SBD will start to pump again and we will rinse and repeat this cycle. Maybe the Peg will be fixed and as confidence returns to STEEM we see a reverse of the Purge dynamic occur. The dumb money might start pumping SBD above $1.01 and the Arbitrage players will Buy STEEM, convert it to SBD and Sell SBD…then use the proceeds to Buy more STEEM. This dynamic would keep a lid on the SBD and give us that promised Stable Coin (that could attract the Starbucks of this world), while putting a rocket under the STEEM price from all the buy pressure being channelled into STEEM.
---
In summary, the Purge is likely to happen regardless of what people want but the big decision is whether to fix the Peg when it does happen. I personally have some cash on the sidelines and I'll be putting some into this platform one way or the other once the Purge occurs. If the Peg doesn't get fixed I'll be stocking up on SBD at $1 and waiting for the next stupid SBD pump and the launch of STEEM 2.0 on EOS…or if it does get fixed I'll be loading up on STEEM during the lows of the Purge and then riding it to the moon.
What will you be doing during the Purge?
---


Images and Credits
http://www.slashfilm.com
https://underthebluedoor.org
https://bakedsaguaro.files.wordpress.com
http://mahabharata.wikia.com
http://www.wakingtimes.com