Hi, Steemians!
Your holidays went well, we hope!
At Commun we've added a new very important feature recently. Namely, the "Buy" button that allows you to acquire Commun tokens using BTC.

Powered by ChangeHero, one of the fastest crypto exchanges with real-time rates, this new feature offers Commun users additional options to manage and promote their content converting Commun tokens into community points.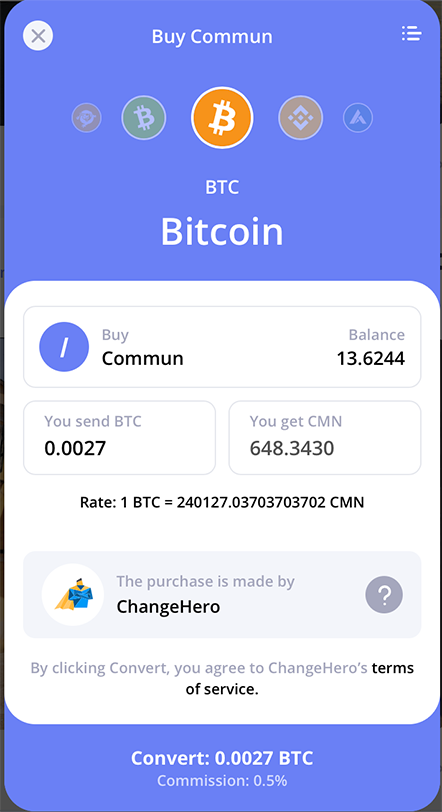 For Commun it's the next step in terms of implementing our key idea: giving you the tools that help create interest-driven diverse communities and steer them to prosperity.
Commun provides you with all necessary resources like content sharing, evaluating mechanics, as well as transparent monetization structure. You can easily register there, post the links to your Steemit long-reads, discuss the issues that are of interest to you, and get 'likes' and (if hitting the top) - the rewards.
CMN is a native token of the Commun platform that users can convert into Community Points via Bonding Curve mechanism. This algorithm assures the Community Points' continual liquidity. Community Points could be used to vote for content within the community and later to pay for different community offerings.
We do believe that each community deserves its own token and should be able to manage its own destiny. Any of you can participate in community management. The first communities are pre-established by us, but later you will be able to launch any communities you want.
Start New Year with the new journey! Come to Commun and claim Steemit Points.
Don't forget to share your thoughts with us!
See you all in here and on Commun!