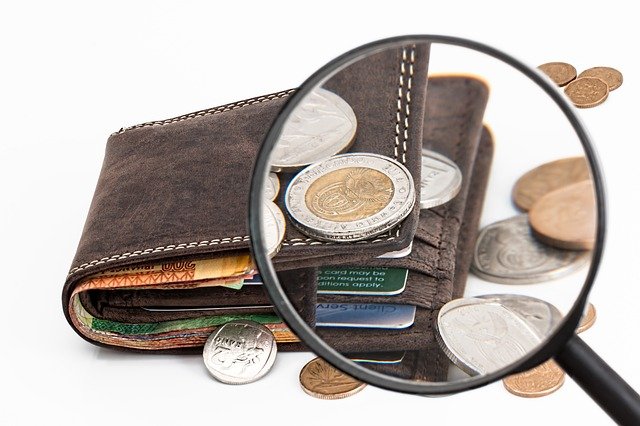 Source from Pixabay
What are the things that is hidden in our wallet, what we missed and how we see them differently from different platform? Time to get to know a little bit more about our wallet, especially newbies to pay attention. It's been two days since I posted my last #esteem post, I think I'm going to need to make sure I contribute something back to the #esteem community and to share with you what I like about #esteem wallet. So, here we go.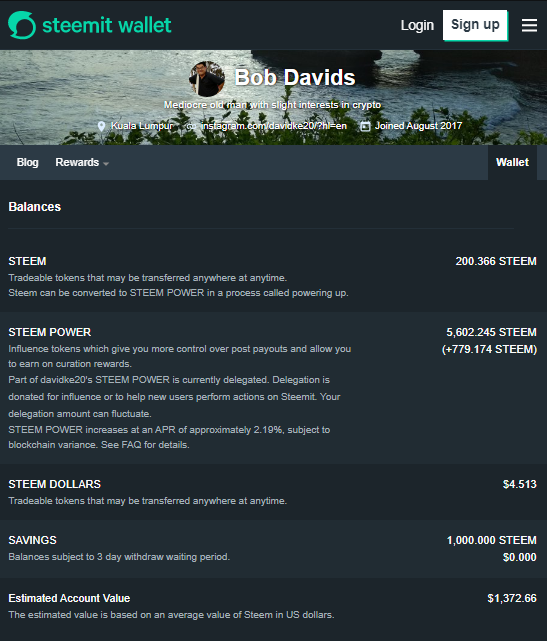 STEEM
The above picture is a web interface of our Steemit wallet. From here, we will be able to see many different kind of information. From top Steem value, which I currently accumulated 200.366steems. This portion of the wallet allow me to utilize these steem by moving it around either back to my cold wallet(savings - we will come back to this again later), transfer liquid steem to other steem wallet, or send to exchange via service provider's wallet.
STEEM POWER
This part of the wallet is my major concer. You see, from here I can only see 5602.247STEEM. This is simply meaning that I have this amount of stake in the blockchain, and the (+779.175STEEM) meaning that someone delegated their STEEM POWER for my usage. It can be on the negative value. Please have a look at the screenshot below, an example from my dear friend @elizacheng. Don't tell her I use her as my case study. Shh...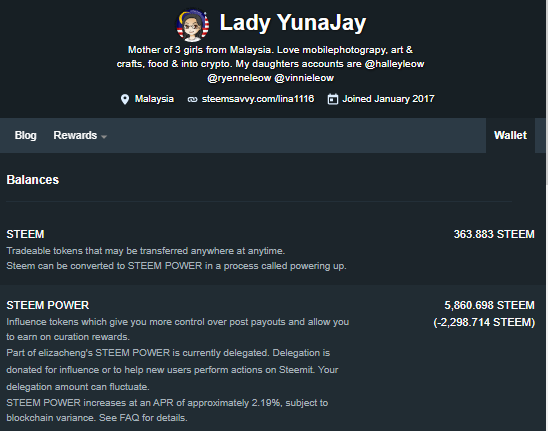 Ladies and gentlemen, you see @elizacheng has always been my inspiration. When I join @steemit, she was about 500sp ahead of me. when I was 500, she was 1000. Given anytime of the year of the month, she is always ahead of me. I don't jealous her, but I really admire her style, he way of handling her blog and her account. I wanted to be like her and I wish someday I can do better than her. Here's her reading, her steem power is currently 5860.698STEEM, which is still ahead of me. But following by a column of (-2298.714STEEM), which indicated part of her power has been delegated out, for some reasons. May be to support community, to support individua, to earn a passive income by delegating to bots and so on. The number is really close, do I look forward to surpass her? Well, there are things that you may not aware of, she earned her way up, she spent some of the SBD and STEEM for Steemfest tickets, twice as I know. And therefore my number is really close because she took a step back. And me? Other than a roast pork, basically I'm just few thousand behind, technically. So, nothing to brag about. She's still the person whom I looked up to, and hopefully I'll be as successful.
STEEM DOLLARS
This referes to SBD in the exchange. It was originally the stable coin for #steem blockchain. To put it simply stupid, this used to be the main "currency" in the blockchain where people use them to buy #steem or any other crypto. Rewards are being given as a form of SBD, and this coin is pegged with a dollar. Due to low #steem price, if SBD remain pegged with a dollar will become very dangerous as people will be able to use 1 SBD to exchange with too many STEEM, as a result devalue STEEM even further. SBD has since stopped printing due to STEEM debts too high, how do we know the market value? You can go and check online, many website will have their own price feed, but I trust the independant price feed provider #coingecko more just because they're not an exchange.
SAVINGS
If you ever heard of crypto financial institute has atleast two sets of wallets for some of their class of assets, especially those with high volume but lower turnover. One need to have two sets of wallet for security reasons which I'm not going to emphasize too much here. But generally, our wallet itself already have the cold wallet function, which is a SAVINGS. Once you transfer fund into this "compartment", your crypto is automatically cold, and any withdrawal from this "compartment" will take up to 3 days before the assets being release back to our liquid compartment.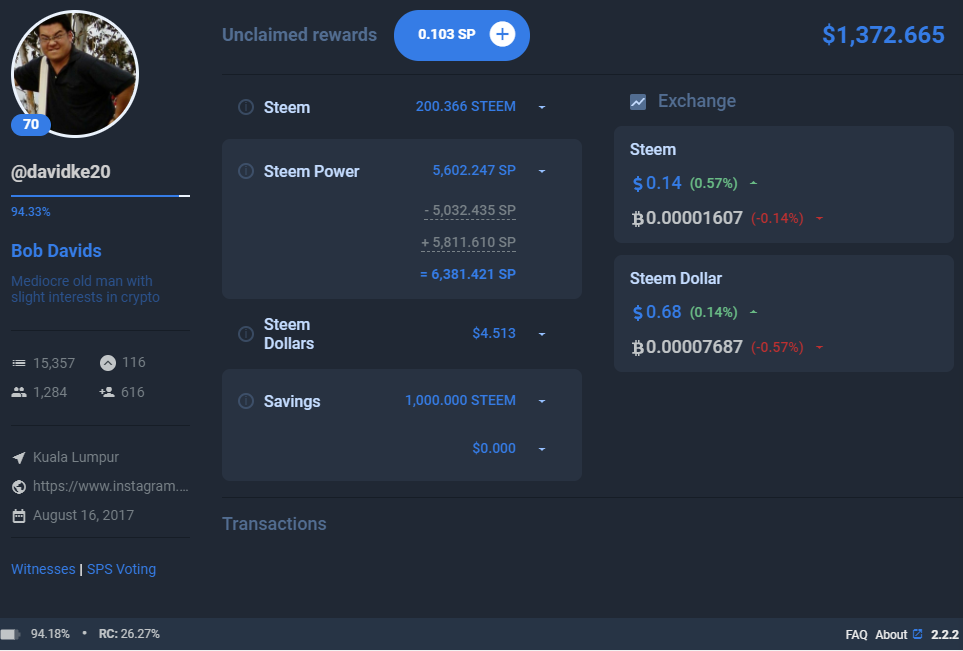 Now that you know all those already, here take a look at my #esteem wallet. I'm not saying #esteem has the best function nor layout. For one thing you notice, they don't even have a password and permission setting screen here, and the transaction history is not functioning. But still, I find this is the most comprehensive, most simplistic version of wallet I can ever imagined. Liquid Steem column is there, Steem power column clearly indicated which are the power I've delegated OUT, and which are the power delegated IN to me. Followed by Steem Dollars balance, and then my savings. Best part is, there's exchange value for #steem and #sbd on the right side of the wallet, which is very convenient for us to understand what is the current price.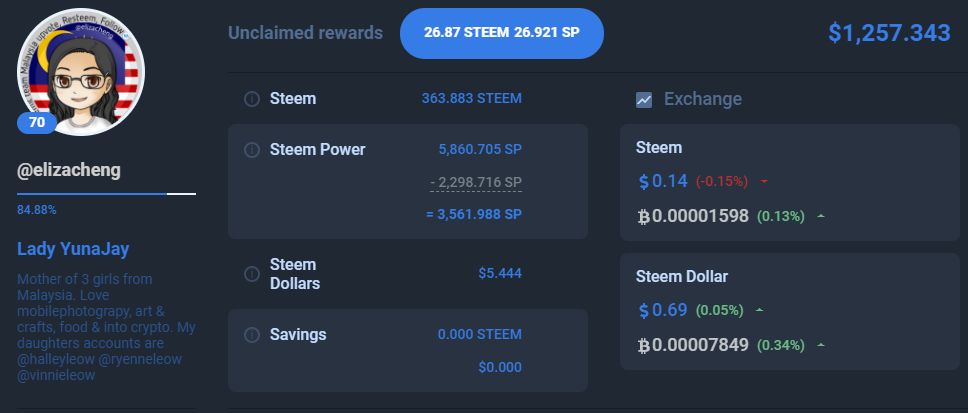 See what I mean? Am I really that close? Not really! I'm still far from catching up. Unclaimed rewards is already a very impressive numbers. What I learn from her wallet is, there is enough liquid STEEM running around, which she can make use of, like setting up contest and won't have to worry if there's anyway she can fetch enough sponsored STEEM.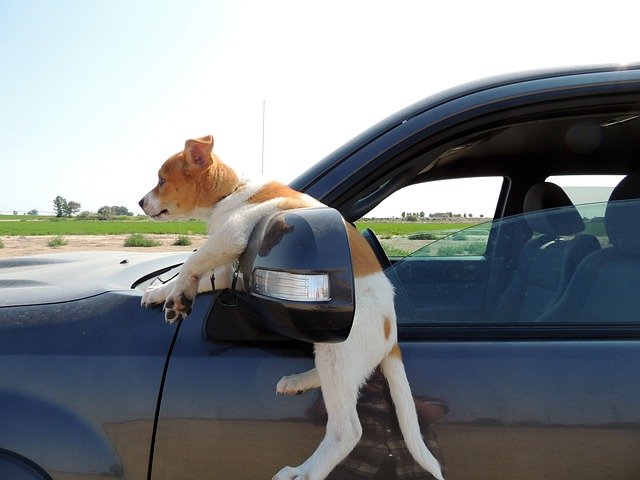 Source from Pixabay
So, not quite what I thought. I'm still far behind, but here is another year, another resolution. My financial year ends in November 29, so I will need to set a new target for next year. One of them will be going to #steemfest together with @elizacheng by using #steem #SBD in hand! It didn't happen this year, other than the excuse I have from my workplace disaster, the biggest set back is I did not plan it ahead. It was not in my resolution for 2019. Once again, it's not a race, it's not a competition. If you have someone you looked up to, take a quick peek of their wallet, you'll be surprise how much you learn from the way they handle their cryptos and how can you try to manage like them and will eventually get you to where you wish to be.