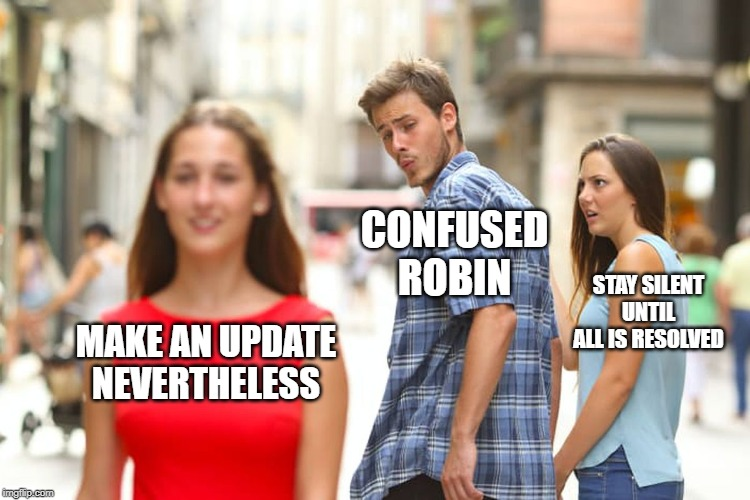 I've never been the one to keep it short, but this time I'll do my best.
If any of you know the song "The Metal" by Tenacious D, that's kind of how the last year has felt for me personally.
"Cash flow tried to destroy Deegram, but Deegram had it's way.
Self-doubt then tried to destroy Deegram, but Deegram was in the way
Internal disputes tried to destroy Deegram, but Deegram was much too strong
Instagram tried to destroy Deegram, but Instagram was proven wrong"
Cash flow has been an issue for us for a long time, there's no hiding that. We always wanted to bootstrap this thing, to avoid being steered in any wrong directions. Our decision not to run an ICO was mainly to avoid setting expectations too high. Luckily, we've succeeded at that, and are able to do things our way and move at the pace that works for us.
As a lot of you saw at Steemfest in Bangkok, we've had issues internally and split up. To address this, I think it's sufficient to say that even though @sflovik is not in the company anymore, we are still eternally grateful of all his work towards realizing this project, and support him on his way onwards in life.
One of Deegrams main issues in our own opinion here internally is that we've focused so much on trying to cram in every feature possible to make the app (and then the web-platform) as technically strong and complete as possible. We did this of several reasons. We wanted to make sure that the Steem community was happy with our product. We also wanted to be appealing to the masses that didn't know of Steem. We also wanted to differentiate ourselves from the other dApps in the sphere.
And as the old saying goes: "A man who chases two rabbits, catches none".
We've come to the realization that we cannot please everyone and should not aspire to either. We want to go back to where it all started: A dream of a world that is a little more just, and that we had a part to play in making it so.
So that's what we've been doing and are doing.
Some internal organizing is finally landing, even though there is more to do.
Some funding is now landed, even though there is more to do.
A re-design of the app is in progress, even though there is more to do.
And we actually WON against Instagram in our legal dispute through the Norwegian Patent Office, but believe me, there is definitely more to do.
And to those who are wondering about the sustainability bit I talked about on stage on Steemfest, there will be a lot more on that front. We believe that could be a niche we could thrive in.
Allowing people to make an impact by staying social rings good in our ears at the moment, so that's where the journey is heading next.
Sorry for the wait, but sometimes life comes in the way.
Steem on!