Hello Steemians!
In our previous post, we talked about our legal battle (or, war) with Instagram and Facebook, you can read all about that here https://steemit.com/steem/@deegramofficial/deegram-vs-instagram-llc-and-facebook-inc-the-legal-battle-turns-into-a-war
Since the war began, we always considered the opportunity to twist it to our advantage by gaining some traction and media attention, and after our last post @fredrikaa, among others, encouraged this as well.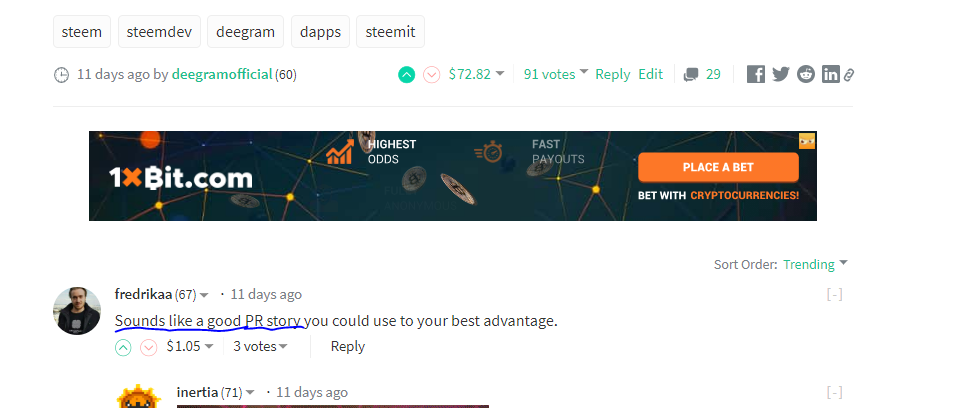 So we did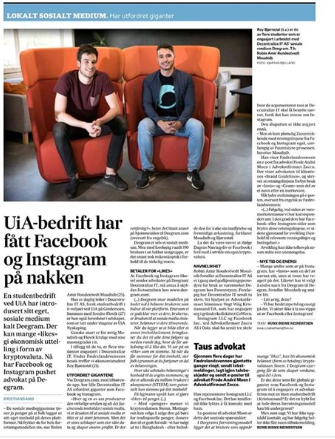 We got in touch with the paper Fædrelandsvennen that covers the southern region of Norway, and they were excited to write a story about this.
https://www.fvn.no/nyheter/okonomi/i/wPd6oL/Facebook-og-Instagram-i-strupen-pa-studentbedrift-ved-UiA
(subscription required, sorry!)
About Fædrelandsvennen
Fædrelandsvennen has around 64 000 daily physical paper readers, online they have 114 000 unique online devices checking in and 216 000 daily visitations.
In addition, they have 755 000 site views daily and roughly 70 000 followers between their social media pages.
The value of this
Reaching new masses and people unaware of blockchain, Steem and everything this eco-system has to offer is very valuable. We need to bring Steem to the masses.
Linking to Steemit
Another cool twist to this story is that the paper actually linked to our Steemit-update in the recommended stories section, which hopefully will cause some clicks and visitations from new potential users. We really hope a lot of them decide to click the link and that our post will spike their interest, and hopefully, this will lead to some new Steemians.
Thank you for reading, and stay tuned for an upcoming development update on our app!
Best regards,
The Deegr(a)m team