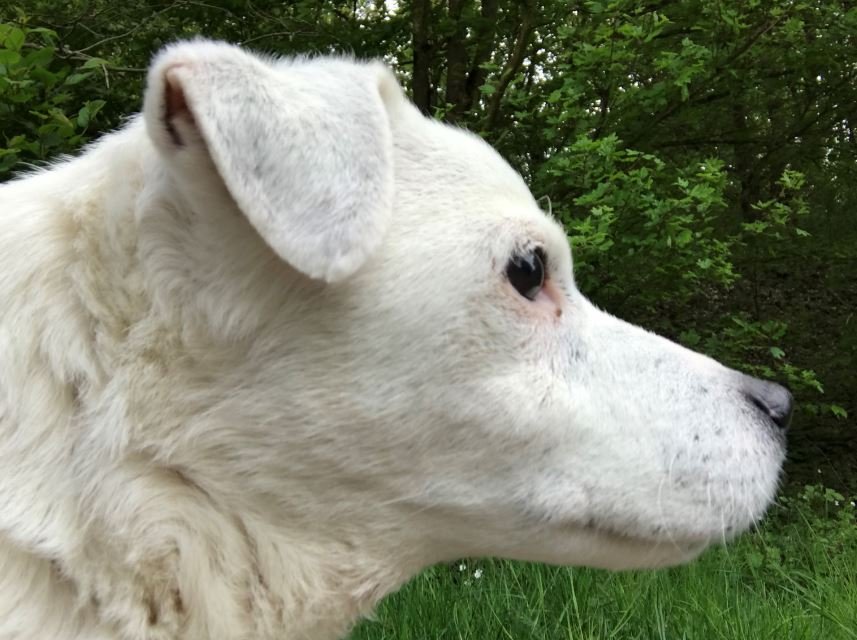 Posts in this series so far...
Yesterday I've posted the article:
The day before yesterday this one:
...about thoughts/todo's in my STEEM journey. And yes be brave this will be a clear case in the direction TL:DR... I'm afraid. Nonetheless here we go...
The latest article got some more recognition and upvotes! Nice!
As I wrote in my first article on my STEEM journey I don't use any extra dedicated "boosting" by buying dedicated upvote/resteem services (but I've got vests placed for general "lifts" in recognition / see my delegations under https://steembottracker.com/delegation.html or a little down in this article where I mention this solution) for those articles. This is part of my experiments with STEEM to see how much resonance these would get without extra "boosts".
I'm doing this rather for myself than to expect big returns. Of course I would love if it's to some use for readers.
My update for today on my "todo's" I've again placed between the bullet points. So let's see...
learn something about STEEM or STEEM projects every day! - ☑️ Yep that happened again! Not all things mentioned here where new to me, some I've been using for a long time, but I used all of the listed here today again. So I thought it's just fair and square to give them a mention! @miti and @citiofstarts mentioned Steamworld for instance in the comments to my post yesterday! See the section Steamworld a little further down!
---
---
Steam basic income (SBI) Did some more vesting in SBI. I enrolled some more fellow Steemians and checked out the SBI Discord channel SBI bot you can utilize to see your engagement with SBI. I love this project and the idea behind it! I'm trying to enroll more Steemians every day for the foreseeable future and probably will up my delegation too. Check them out https://steempeak.com/@steembasicincome Here an example output from the SBI discord server/bot querie: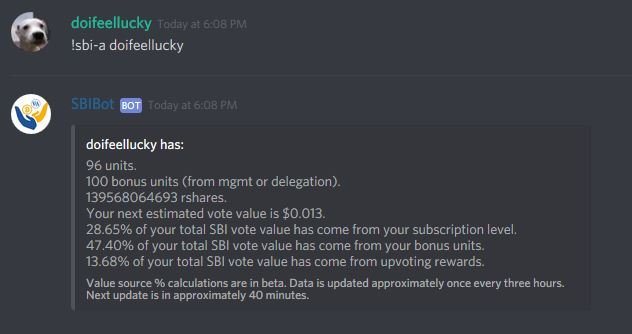 ---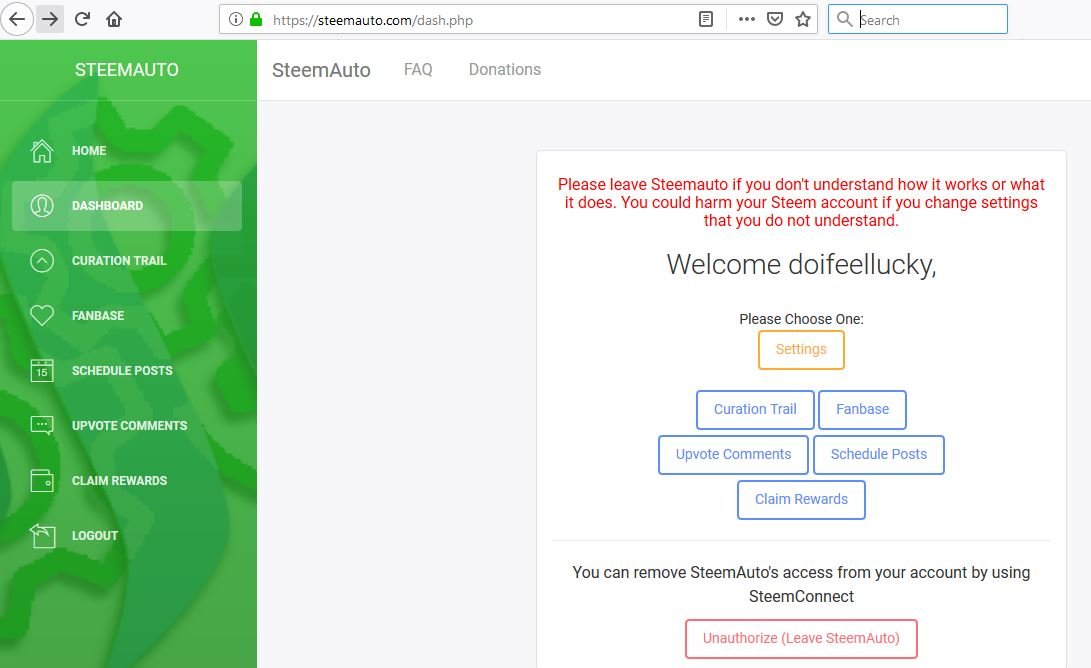 ---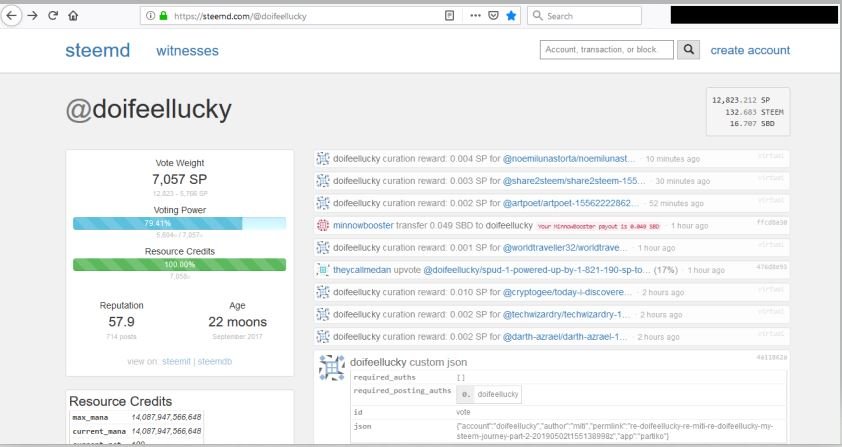 ---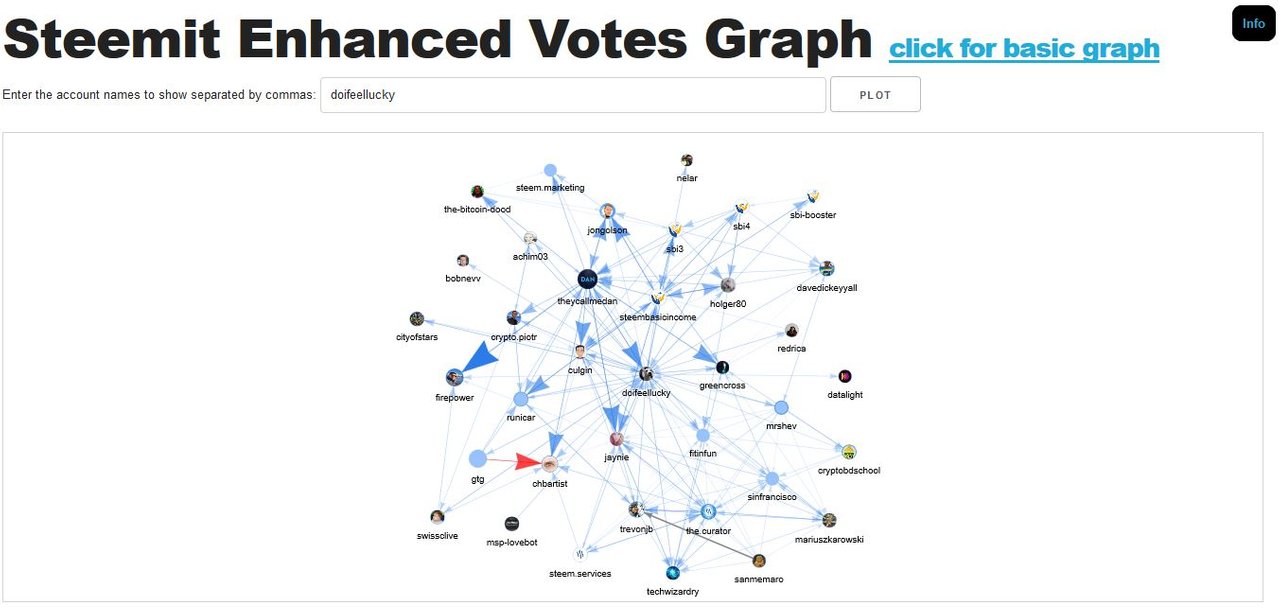 ---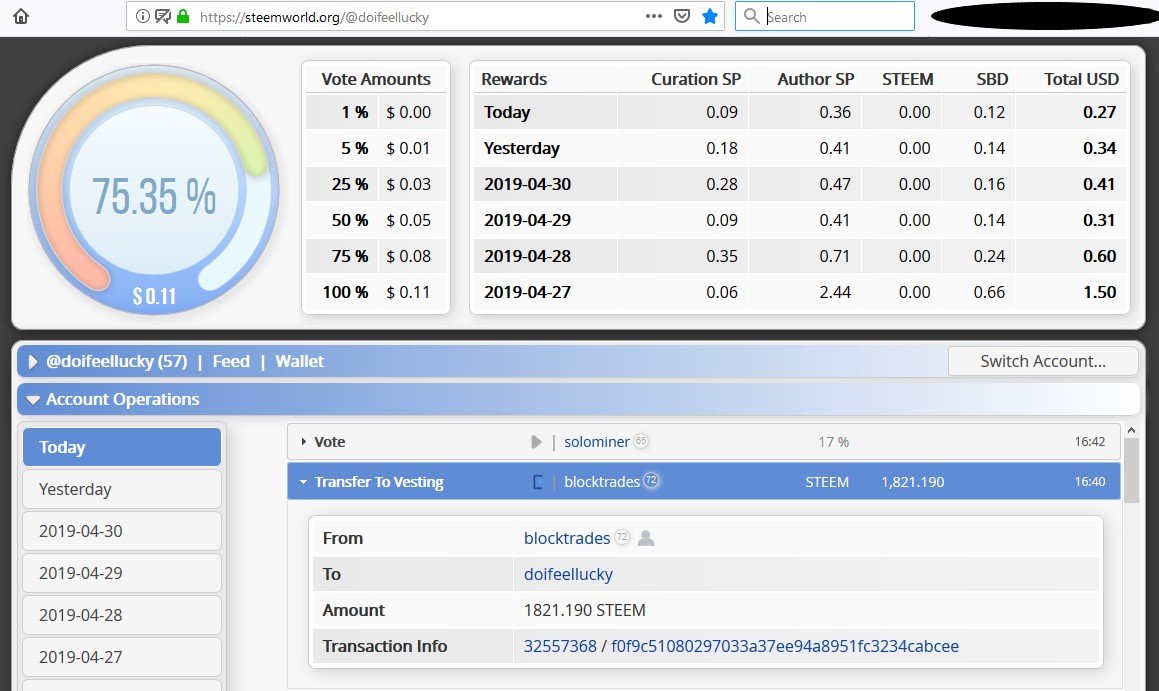 ---
---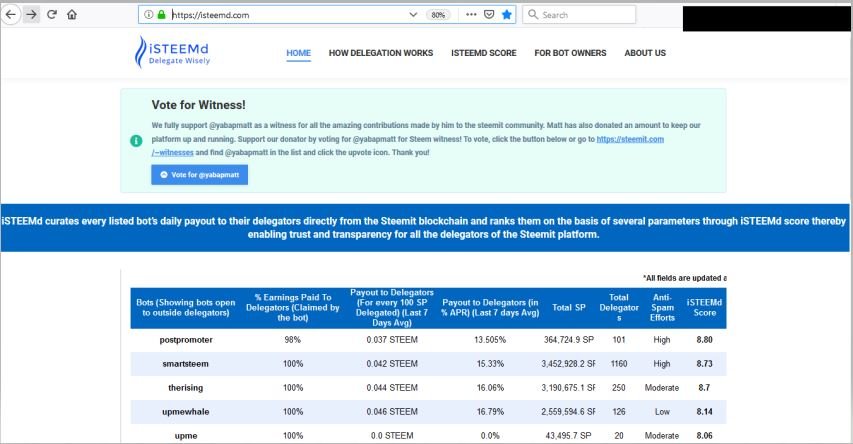 ---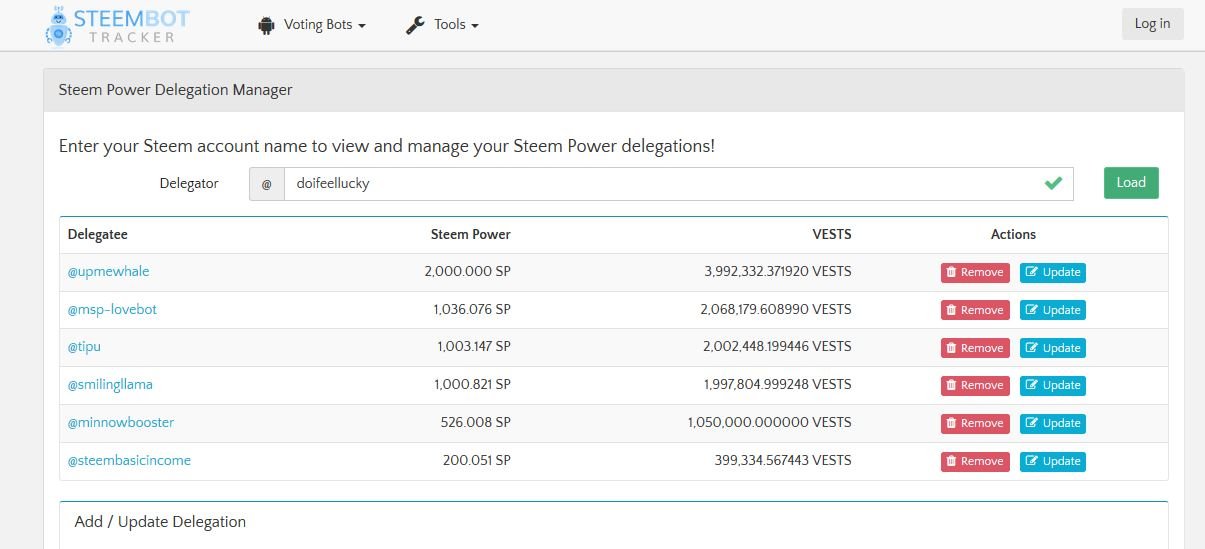 ---
As a result of my research regarding upvote/resteem services I chose Upmewhale. They haven't got the highest iSteemD score but deliver the highest returns it seems. Upmewhale… I'm still playing around with some upvote/resteem services. So I've dropped 2000 Steem on Upmewhale.
---
A few of the open questions/todo's I've listed in the original post can be closed. I've given them the needed thought and have made my decisions. So here they are…
---
In complete contrast to my experiments with autovoters, upvote/resteem services I've found a fellow Steemian who does manual curation and posts regularly about it in his Manual Curation Reports. 👀❤️👍
https://busy.org/@miti/mydailymanualcurationfeaturedposts2019-05-01-xdsz7d6juo
Please check out https://busy.org/@miti with his approach to curation. Very interesting to say the least! I guess I, maybe you too (?), can learn a lot from him.
I'll be revisiting doing manual curation myself when I'm done with my "auto whatever" experiments.
---
...and I got "STEEMified again…
What I mean by that is… I consumed so much wonderful content today again from my great fellow Steemains that I got a little sidetracked.
This messed up a little what I had planned for today but I had so much fun I just couldn't help it and it should be all about fun, right?
So tomorrow – fingers crossed – I'll pick up on my more structured approach to get some more things done in my ongoing STEEM journey.
---
on my list there are now another 4 STEEM related projects/initiatives left that I will look into one after the other...
---
Post something every day? - ☑️ Again check... I've posted the article's - https://busy.org/@doifeellucky/spud-1-powered-up-by-1-821-190-sp-today Yeah if you made it all the way down here... you guessed right… VP depleted still wanna play on and not wait 1 ½ days for VP to be at reasonable level again… so I've … upped my SP a little. - and I will post this article about my STEEM journey part III.
For now I will try to post an article everyday (besides share2steem Twitter to STEEM posts).
---
Maybe... but, very important(!!!), fight the urge to type every brain fart into a post! note to myself... fight harder...
Reediting this post here clearly shows me I've got a long way ahead of me to make some progress on this. To give you an example:
Reminds me of "A river run's through it"... when older Norman Maclean reflects on his Father
I attended the school of the Reverend Maclean.
He taught nothing but reading
and writing. And being a Scot...
believed that the art of writing
lay in thrift.
---
So now you have a clear grasp of the obvious... hahaha! Cutting things short aint my cup of tea... and it seems that I'm shameless enough to put a quote in here from a really gifted story teller!
---
clean up #share2steem act... jeez... all that twitter shitposting clutters the STEEM blockchain... - ☑️Yes I did that. I will be selectively crossposting from twitter using the #share2steem tag rather than using the "crosspost everything" setting.
---
improve post quality! yep... time to step up your markdown game ffs. I'm working on that! Hope it shows soonish…
---
narrow post topics to field of own expertise or continue "to be all over the place"? - ☑️I can answer that now! Nope I won't limit what I'm doing here at the moment. So this thing is answered and done.
---
should I make it a goal to make money with posts or just have fun or even behave like a passive investor? - ☑️I'll answer that with a yes/yes/no.
So I'll try to get some return on my investment here on STEEM and have fun with it. What can be better than that? Passive… nope. Not at the moment at least. Somewhere down the road I'll compare effort vs. income and will then possibly reconsider.
---
push harder on/in things I'm experimenting with right now (sbi, bots)? - ☑️Yeah… I'm doing that so this point I'll boot out of here.
---
use my SP more for curating and supporting others rather than generating "autopilot" returns? - ☑️Kind of a redundant point… also covered under the "Learn something about STEEM or STEEM projects every day part. I touched it today for sure though. I'll keep it in here for the time being.
To put it in some simple sentences...
I'll stick with both for the moment
I will use autopilot for some of my SP to make returns on my investment
I will also continue to manual curate and engage further with the community
Especially if there are changes implemented in the STEEM blockchain that give curators more returns for their effort and things start moving in a more profitable direction for manual curators I reckon I'll make some quick changes here... given that I have the time to do manual curation properly.
---
Is it acceptable to further use upvote/resteem services for a smaller account like mine? - ☑️For the moment I say yes! It seems a lot of big accounts (either in rep. or SP or both) even use these or have used these in one way or a other. It seems to be part of the "spiel" somehow. No question at the end of the day it's about quality content and producing such content will be seen in the long run I'm sure. But to get some traction these services seem to be helpful.
I'll revisit this from time to time but for now this is a closed point for me.
---
can I do something to improve STEEM? - ☑️ Too early to say I guess. Everything I can do in "drive by pragma style" I'll do. Like supporting effort to get STEEM on exchanges promoting STEEM via Twitter and so on I'll do of course. I want to learn more first before putting my head into hammering something out beyond that. I'll close this point here too for later revisiting.
---
Am I engaging enough with the community? - ☑️I'm not sure about this… at least I'm doing all that I can to keep up with curating, comments, replies and so on. I'll revisit this on a regular basis.
---
So far my update for today. I'll keep you posted!
And of course I would like to hear from you about this post or the apps mentioned or your experiences or anything! Go ahead and leave a comment if you like!
---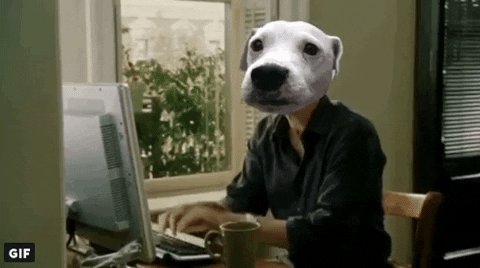 Gif from my friend https://twitter.com/smilinglllama !
---
Cheers!