The HF20 introduced the concept of Resource Credits (referred also as "mana" or "manabar" in a few places). The subject itself is complex enough to warrant a longer and more detailed blog post (at which I'm currently working) but the good news is that it gets easier when it's visually implemented.
So, in order for people to understand how much interaction they can "consume" with their current RC holdings, I made a small update to steem.supply. I took for granted the costs of 3 main operations: comment/post, vote and tansfer/powerup. These are taken from @riverhead steemd.com and empirically verified by me (did a few upvotes and monitored my mana, etc). I tend to believe that these values can also change over time, and if I find a way to compute their cost in real time, I will implement it. Their approximate values are, for now:
posts / comments 14,200,000,000
votes 3,000,000,000
transfers/powerups 2,700,000,000
So, here's how it's looking for my account:
---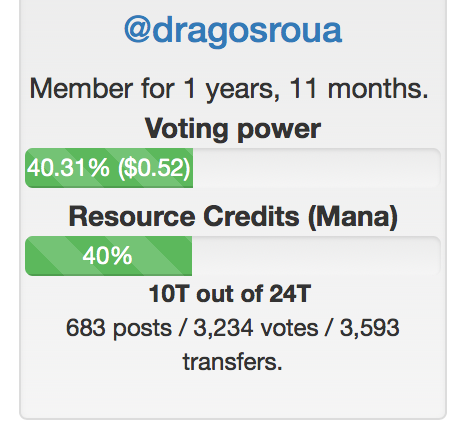 ---
The RC progress bar should be read as: "10 trillion RC regenerated, out of 24 trillion max available". Resource Credits are a function of the user Steem Power, but it's not linear, there are other factors at stake too. Actually, it's quite interesting and I find the current RC model at least intriguing, if not innovative. So, those 10 trillions warrants me either 683 posts, or 3,234 votes, or 3,593 transfers - but not all of them together.
Here's how this is looking for another account, @alexvan:
---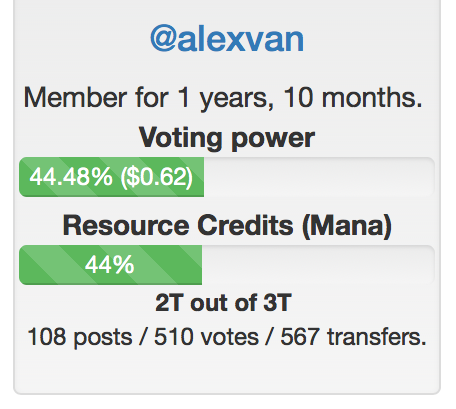 ---
I took this account as an example of how RC are linked with user SP, namely with the SP that user still controls, not the SP delegated. If you have a lot of SP but it's delegated, it doesn't count towards the RC. Alex has more than 90% of his SP delegated, but the remaining juice is still enough for a decent interaction with the blockchain.
And last, but certainly not least, here's how @ned RC situation looks like:
---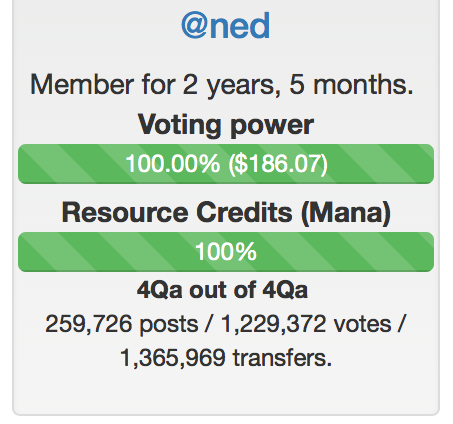 ---
I posted this mainly to give you an idea about the Qa letters near his RC, which actually means Quadrillions, of 1000 pow 5. That means 4 followed by 5 rounds of 3 zeroes, something like this: 4,000,000,000,000,000. Actually it's less than 4, it's 3 and something, but the function I'm using will always round up the numbers to the ceiling.
If @ned would want, he could easily provide the resources for a decent social media website just with his account. Half a quarter of a million posts is a really decent website, IMHO.
As usual, looking forward to your criticism, suggestions and feedback.
---
I'm a serial entrepreneur, blogger and ultrarunner. You can find me mainly on my blog at Dragos Roua where I write about productivity, business, relationships and running. Here on Steemit you may stay updated by following me @dragosroua.


---
Wanna know when you're getting paid?
I know the feeling. That's why I created steem.supply, an easy to use and accurate tool for calculating your Steemit rewards
It's free to use, but if you think this is a useful addition, I'd appreciate your witness vote.
Thank you!
Psst: new to Steemit? Start Here