Hi everyone. I have published the very first version of a service called Steem Tracker. My vision of this service is very simple: provide a collection of easy to use tools that help beginners to understand more about Steem.
Being a minnow myself since I joined Steem last month, I have tried many promotion services, like upvoting bots, resteem and SP delegation services, to promote my own content. I also struggled to understand the mathematics behind the rewarding system and the conversion among STEEM, Steem Power and Steem Dollars. Steemit is a fantastic frontend, but sometimes it makes the understanding of those concepts even harder for beginners.
That's why I want to develop a clear way to visualise various bits of the Steem blockchain and help authors to make wise decisions. According to the Jan 2018 report, the number of authors per day has doubled from 15K level to 30K level. So I think I am not the only one who needs these tools. And here it is, the first version of Steem Tracker.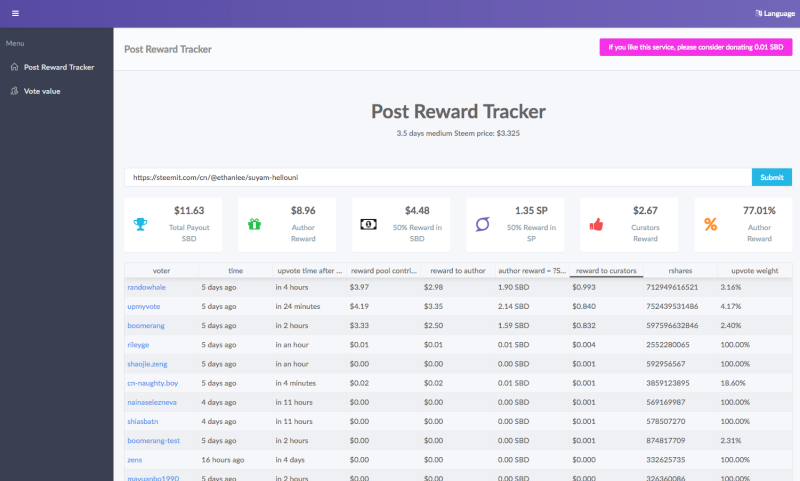 Features in v0.1.0
In this 0.1.0 version, Steem Tracker only has one major feature: track post rewards.
As shown in the screenshot, if you go to https://steemtracker.com, input the post url from Steemit, Busy.org or PeerQuery, you will get:
The total post payout in SBD
How much the Author and Curators will get
How much SBD and Steem Power the author will get under the current average SBD/Steem rate
A list of upvoters with clear information on:

When it is upvoted
His/her contribution to the rewarding pool
The author's reward equals how much SBD
How much of his/her contribution to rewarding pool will go to curators' rewarding pool (see the penalty to early voters)
How many rshares (reward shares) this upvoter has
The weight of the upvote (for beginners whose SP power is less than 500, you won't be able to adjust your voting weight)
Even though I estimate the payout for the post, please note the following two things:
This tool is designed for posts that less than 7 days old. If the post is more than 7 days, the payout has already happened with the SBD/STEEM medium price at that time, so the estimated payout under the time of your querying will not be accurate.
The final payout of author and curators will only be decided at the point of 7 days. The amount that the curator contribute to the curation reward pool is not the same amount he/she will get in the final payout. See this post for more explanation.
Use case
One major usage of the tool is to estimate whether you earn or lose money on a bid to upvote bot. There is a big list of upvote bot on steembottracker.com, and I have tried many of them myself. So I will use one of my own example, to show you how to use Post Reward Tracker.
See the following screenshot: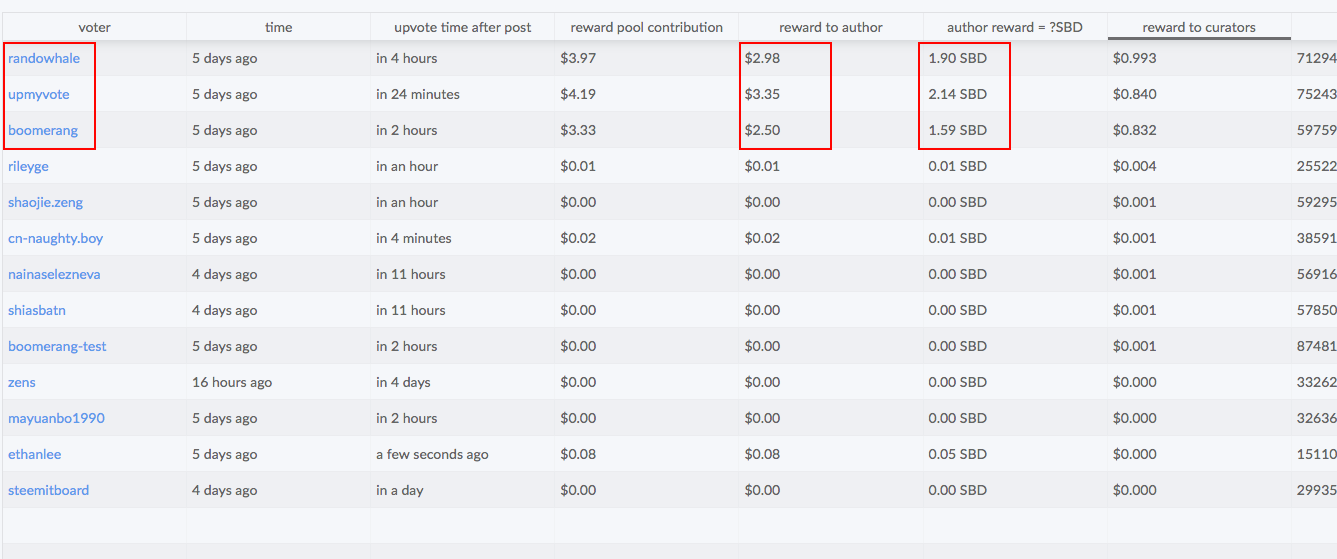 I have sent 2 SBD to @randomwhale, 1.5 SBD to @upmyvote and 2 SBD to @boomerang. If you look at the 'reward to author' column, I get $2.98, $3.36 and $2.5 respectively. If you consider the 50% of dollars will become SBD and 50% will become SP, and 1 SP can be powered up by 1 STEEM, this will be (Steem Medium price = $3.325 and internal price of 1 Steem = 0.9199 SBD):
randomwhale: 2 SBD becomes 1.49 SBD+0.448 SP = 1.90 SBD
upmyvote: 1.5 SBD becomes 1.68 SBD+0.505 SP = 2.14 SBD
boomerang: 2 SBD becomes 1.25 SBD+0.376 SP = 1.59 SBD
The calculation is something like this: 0.448 SP = 0.448 STEEM, if 1 STEEM = 0.9199 SBD, then 0.448 SP = 0.41 SBD. So the 2 SBD I sent to @randomwhale finally equals 1.49SBD+0.41SBD = 1.9SBD, which is 0.1 SBD loss. This means, if I didn't send the 2 SBD to @randomwhale, and can change 0.41 SBD to STEEM and then power up, then I will still get 1.59 SBD in my wallet.
Roadmap
A page to display how much your current vote worth
Multilanguage support
Evaluation on the upvote bots
SP delegation benefit calculation
Consider the 100% Power up case
If you like this service, please consider to donate 0.01 SBD to keep me going :) Please feel free to let me know if you have any comment, feature requests or bug reports. Enjoy tracking steem!
Finally, dinosaurs from my son :)