Steem is a blockchain based on Delegated Proof of Stake. This means that those who invested more have more control over how the network is run and in principle should have greater interest in contributing to the network. This common sense principle should apply network-wide i.e. to all steem blockchain based projects but in my opinion that's not the case, Dtube being notable exception.

The Steem network is based on text. This is the only thing that this network stores. This means that all projects focusing on publishing photos or movies are not well suited to Steem blockchain because neither graphic nor video files in their native formats can be stored in that particular blockchain. At least not in any viable form.
So the fact that such projects as Dtube are actively supported and promoted by those controlling significant stake in the network comes as a very unpleasant surprise. One could say that the shadier the project is then the better chances are that it would be supported ;-)
So let's have a closer look at Dtube and its "achievements" until now.
Dtube is a project aiming at creation of decentralized video platform providing an opportunity to monetize the content through an interaction with Steem blockchain. The idea is really brilliant! But implementation of this brilliant idea has just one tiny little flaw. It just doesn't work.
The whole problem is that creating a decentralized video platform is very difficult, if not impossible. It's not that you put a movie on the Torrent network (or IPFS) and it's already decentralized. For this you need large number of nodes that want to serve as distribution nodes for that movie. And those nodes need an incentive (ideological and/or pecuniary) to serve as such.
But Dtube model doesn't follow that type of logic and in reality is just based on Reward Pool Rape i.e. Steem blockchain inherent crime committed by Dtube operators.
Why? Because they have no interest whatsoever in maintaining movies and making them available for longer periods, because they get paid after 7 days (pocketing 15/25% of earnings). This means that hosting a movie for longer than 7 days does not make any economic sense and will result in loss of money. So what they do? It's very simple. They remove the movie file to make space for new ones which would generate fresh income and be removed after next 7 days...
How many movies survive on Dtube after 7 days money making period expires? It's hard to say, I suspect a maximum of 1%. I made a simple bot that checks it.
Unfortunately, IPFS is a slow and problematic network, so my Bot can't operate very fast. But it has checked 10.000 movies already and found out that less than 3% still work.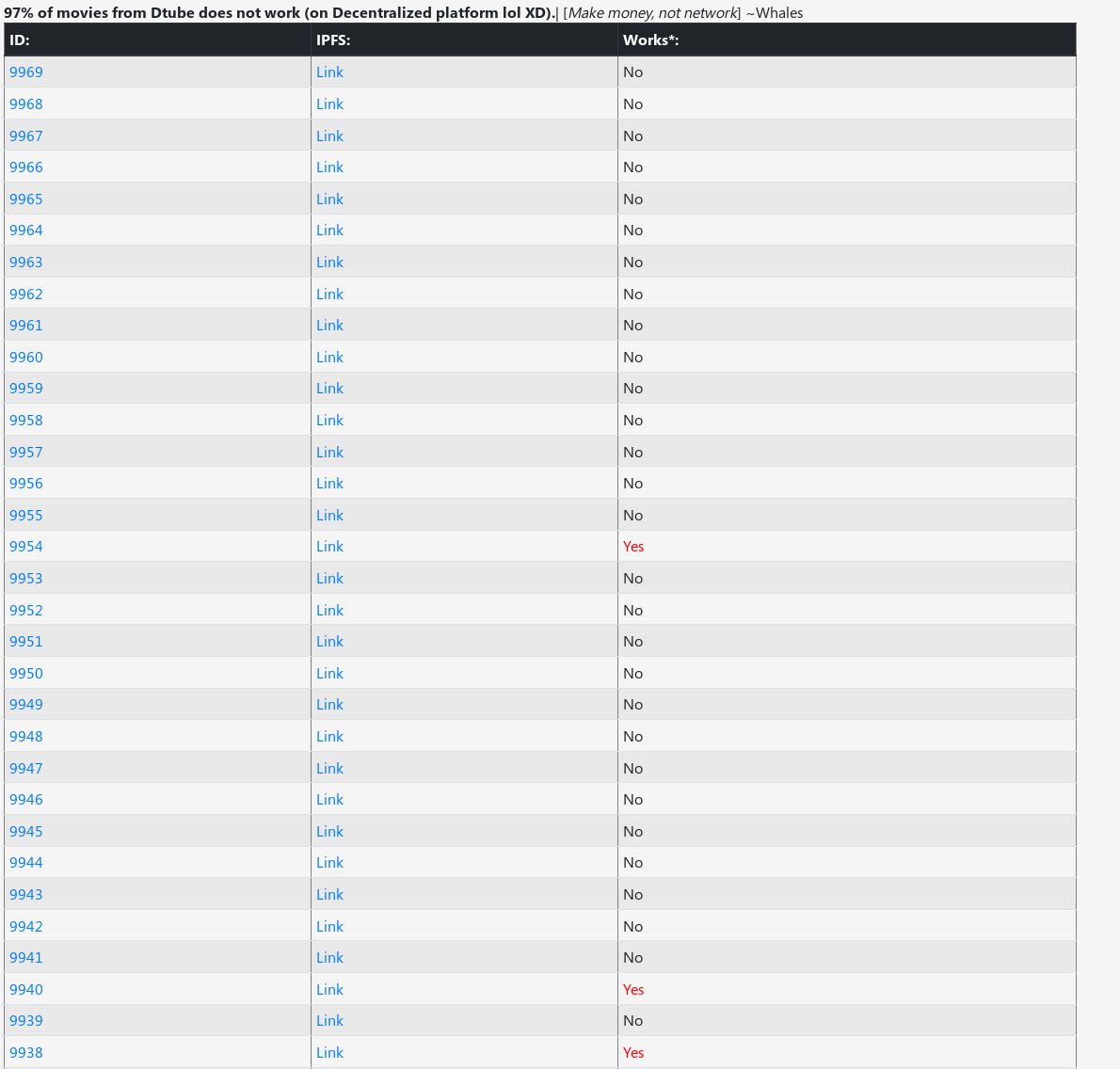 From the perspective of Steem network as a whole this is just plain disaster. But it doesn't seem to prevent Dtube operators to make a living from perpetrating Reward Pool Rape.

Conclusion?
I would really like to know why this video platform is being actively supported and maintained despite the fact that it doesn't really work and its business model is founded on Reward Pool Rape? Am I missing something which would absolve Dtube for robbing Steem network?
Proofs:
Results from 2500 movies (snapshot):
https://web.archive.org/web/20180609140435/http://ressteem.tk/GaeBulg/
Results from 100 movies (in real time):
http://ressteem.tk/GaeBulg/
Source code:
https://github.com/fervi/GaeBulg