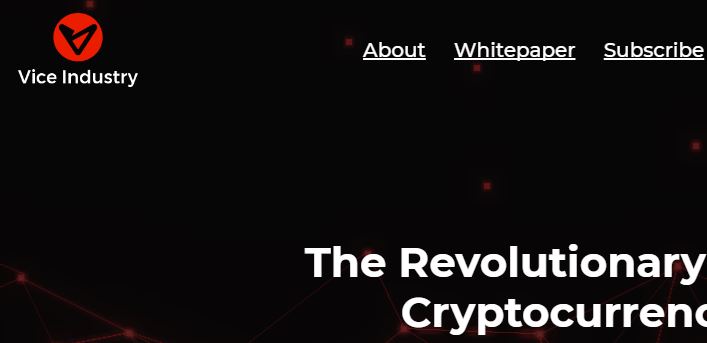 NB! This is article is not promoting VICE. I just heard about VICE 2 days ago (i have been living under a rock), and here i have gathered some information for us all (hattip @nokodemion). Article is safe for work.
What is VICE platform?
VICE is an adult network, where, as their slogan goes, "you get paid for watching porn". Huh, clickety click.
Vice Blockchain is a softfork off the STEEM blockchain from snapshot of block 18,500 (Edit: i question this and perhaps the have made a mistake in their whitepaper. Block 18,500,000 would make more sense. We'll refer to this block from now on), which appeared sometime earlier. It's powered by the same software that STEEM uses - it runs on the Graphene technology.
When the token launches, a whopping 10% (400 mil) will be airdropped to Steem holders at the time of block 18,500,000 (Dec 29, 2017). In their whitepaper they claim block 18,500, but that was back in March 2016 with 0 tx in that block.
---
Here's the differnece between the block they say they took the snapshot at and the 18,500,000 one:


---
So what does the Vice model of "get paid to watch porn" actually mean?
According to them, the current adult videos business model is not about the viewer. As long as the viewer pays nothing or too little, the advertisers hold all the cards and control everything.
But with the same concept as STEEM, good content gets rewarded, good curators get rewarded and you get paid for watching videos.
From their whitepaper:
any viewer earns tokens for watching, any video producer earns tokens for creating content, and any
content curator earns tokens for streamlining the identification of relevant content to the most important party in this equation; the viewer.
So everybody gets paid - viewer, creator, curator
With Steem having autovoters etc, this will probably make it to the Vice as well, in some form. But beware, poor content producers - shitposters ususally get taken off autovoters once they are revealed. So if you plan on earning from your homevids, make sure they are Quality.
Website owners, that use the Vice token system, can use the beneficiary system familiar from Steem network (chainbb, esteem), to benefit from content creators, which in turn will help then cover some of their running costs.
Vice is currently partnered with Penthouse, Exxxtasy, Playmen, RedHot TV, SkineMaxHD and many others.
How are tokens distributed?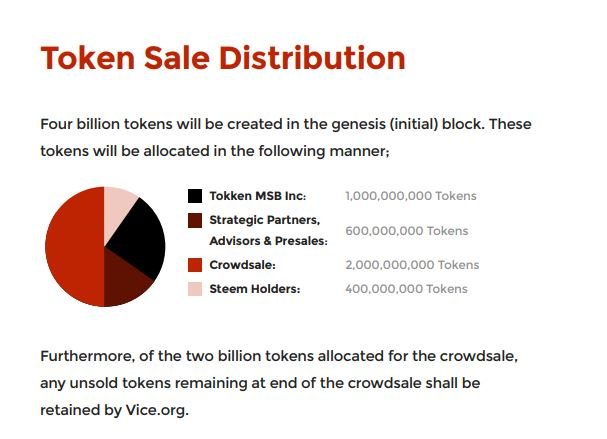 Via Vice Industry Token whitepaper
400,000,000 tokens are distributed among STEEM holders (read above) and 2 billion tokens will be blasted onto the market during the crowdsale with the price of $0.05 per token and a 2000-token minimum purchase limit (approx 100 USD ). The crowdsale starts on February 1st.
Want to get your hands on VICE even earlier and cheaper? Sure - there is a presale for accredited investors, with minimum purchase of $50K and a price of 0.02.
The Vice Industry Token network is an inflationary system, in which new token generation (inflation) will start at a 10%, degrading to 1% over ten years, at which point it remains constant. These new tokens will be generated by the system as rewards for producers, participants and curators.
When's this all taking place?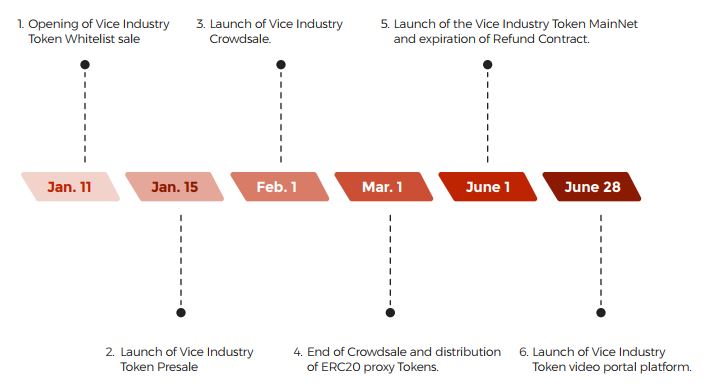 Via Vice Industry Token whitepaper
CONCLUSION
Vice is just the start. Steem blockchain and the underlying software are bringing in bright minds from various areas of business. It's a revolutionizing system that will change, how content is paid for, forever.
---
Much of the info here is collected through VICE Telegram group and via their whitepaper
Some of the aspects seem a little raw and there are gaps in information, but it's a promising start to 2018 for STEEM and everything related. Bear in mind Vice is a startup and there a bound to be some mishaps.
---
Thanks for reading, let me know your thoughts in the comments section
---
---
Check out Chainbb, an alternative frontend for STEEM network. If you like forum style, that's the platform for you.
---