I've been trying to make the rounds of thought here on the Blockchain and gauge just where sentiment is at.
If you take a look at trending on STEEM right now, you will find that something relating to TRON vs. STEEM is pretty much dominating it.
No surprises there, really, and given the circumstances, it would be shocking if those posts weren't trending.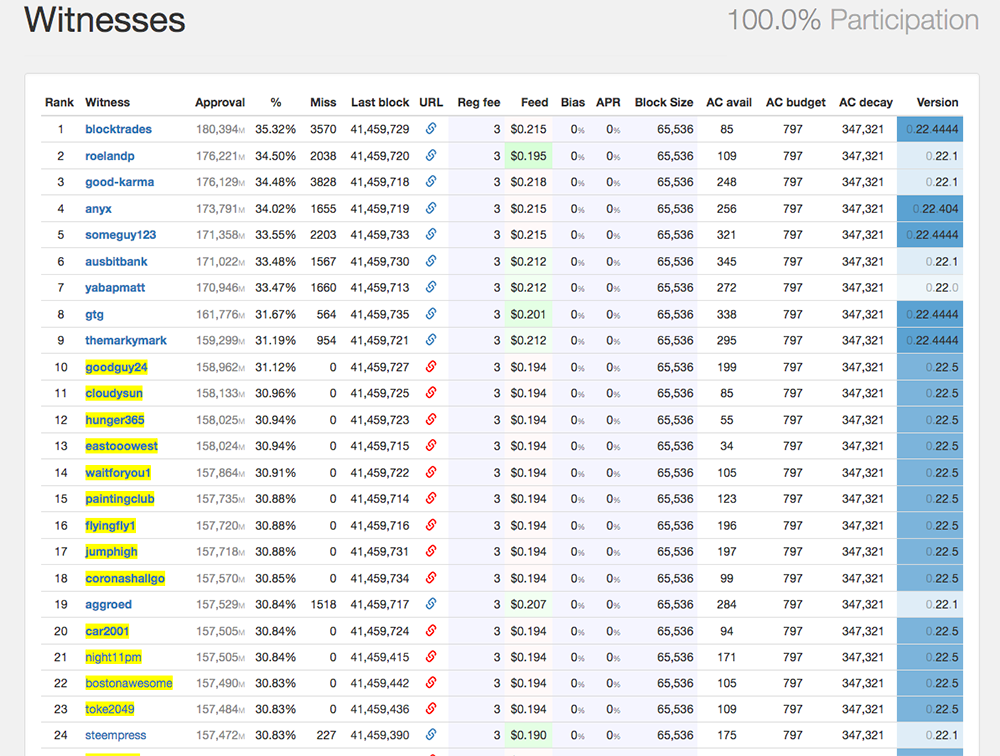 Among those TRON vs. STEEM posts are appeals, many from witnesses themselves, that everyone should be voting for "human" witnesses, as opposed to the 20-in-all witness imposed by TRON and kept there by whichever of the crypto exchanges are still helping out (Poloniex for sure since Justin Sun basically owns it, Huobi and Binance).
Despite those many appeals, however (okay, some of them sound a little more demanding than that), the STEEM blockchain remains deadlocked as far as witnesses and consensus goes. At the time of this writing, STEEM human witnesses hold spots 1-9 and 19, while TRON's one witness to rule them all has 10-18 and 20 (plus 21).
I'm going to make an observation. Perhaps someone has already made it, and I just haven't seen it yet, so I'm not going to claim it as original thought. I will just push it as far as my double dolphin voice in the middle of a crisis can project it.
The STEEM Community Is Speaking
And to me, it's increasingly loud and clear.
We each have 30 votes to give, yet, we don't have 30 human witnesses atop STEEM. The SP is clearly there, given that the top 7 now have accumulated between 170,000-180,000 (MV), which for now is at least 11,000 (MV) above the Tron-a-tron's first witness.
Why is that? Clearly, the SP is there. Why is it happening?
Could It Be The Community At Large Wants A Deadlock?
It seems clear what the witnesses and quite a few others want—get back control of the blockchain. It's also clear what TRON and the exchanges want—basically, the same thing. Each group wants control to do what they want to do with it.
And yet, here we are, at less than a supermajority for either human witnesses or the digital version. TRON will try to move more of itself up the ranks, and then STEEM counters, yet never really fully bringing the other witnesses up.
Maybe that's purely coincidental. A strategic allocation of SP to fend off TRON and nothing more.
Or maybe it's more than that.
I've basically been asking myself a question as this battle prolongs.
While no one has total control of the blockchain, what has been happening with quite a bit of regularity (although not much productivity—yet)?
Talking, Maybe?
Well, so far, there's been at least three, maybe more conferences (you can call them townhalls if you like) between either Sun or a representative of TRON, and witnesses (and maybe some other folks).
As the stalemate continues, we've been hearing from different corners of STEEM with proposals/demands/whatever you would like to call them, as well as from Binance, TRON and Sun.
In the period between the acquisition of Steemit Inc. to the point the softfork was imposed, there was only one set of talks (that I know of) scheduled, and that was between the TRON team and what was the Steemit team. After the soft fork, we got promises for a meeting with witnesses and a townhall with whoever wanted to join.
While the Steemit meeting did occur, it was overshadowed by the softfork, and word of it didn't really make the rounds as far as I can tell because the softfork essentially took over.
The meetings TRON/Sun asked for with the witnesses got pushed up and have continued, but only after the deadlock began. In the brief period of time before that, Sun was calling witnesses hackers (didn't that used to be cool though?) and a roadmap was published which, among other things, included a very brief power down period, three days, which even to those from the community proposing a decrease from the current 13 weeks sounded excessive.
In A Nutshell
I could be wrong. It wouldn't be the first time, and it wouldn't be the last.
I think the community is speaking with the deadlock. I think the community wants talks between Sun/TRON and itself, through whatever consensus eventually emerges.
I think different groups, witnesses and prominent individuals will play a role, and perhaps do most of the back and forth, but in the end, it is the community that has facilitated these talks.
Not by voting up all human witnesses, but by not voting up all 20-plus one.
Things have been happening quickly, so who knows how long the deadlock will last, or who will make the next move. I tend to have lousy timing with things like this, so something may already be in motion.
We shall see what we do with the time we have.
Image from steemd.com